Story by James Malamas
Former Indianapolis Colts tight end and Super Bowl champion, Ben Utecht, suffered multiple concussions throughout his career and as a result began losing his memories. Utecht wrote a book that is a love letter to his family and daughters titled, 'Counting the Days While My Mind Slips Away: A Story of Perseverance and Hope.'
He came on to discuss the subject matter recently on the Brad Cesmat Show. The book gave Utecht a voice of vulnerability and an outlet to talk about things that scare him the most. Throughout his playing career he suffered five documented concussions, although he knows there were more than that.
"There have been a few handful that I knew were concussions but kept my mouth shut," Utecht said. "Because you know, you want to be there for your teammates, and you want to be there for your coaches and your organization."
Writing about my life, the NFL, and the concussions was never a part of my plan, but I did.https://t.co/9zxD9T2uli pic.twitter.com/8if2NIf8OR

— Ben Utecht (@BenUtecht) July 26, 2016
After his fourth concussion in Indy, it resulted in a diagnosis of amnesia. The day after he got the concussion, he went back to watch film of the injury. Utecht saw his body go unconscious and lay on the floor for about 15 minutes.
He then watched himself re-gain consciousness and run to the sideline to high-five his teammates and talk to his coaches. The thing that struck him was that he remembered none of that sequence.
"That was the first time that I ever actually realized that moments from my life were removed," Utecht said. "Like erasing a blackboard."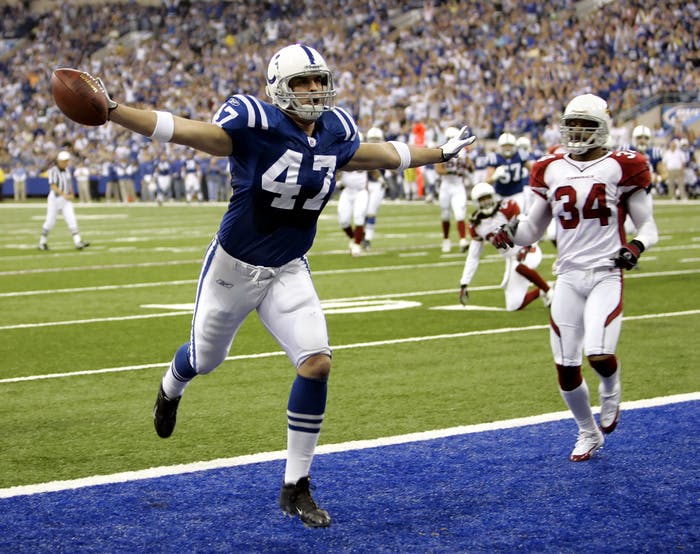 After that fourth incident, Utecht and his wife started to notice cognitive changes in his working memory both long-term and short-term. On the field, the tight end had a great season and went on to sign a big contract with the Cincinnati Bengals. He checked the injuries and affects off as part of the game.
While Utecht was writing his book with his co-author, he was in a very intensive brain training program that was built by LearningRX.
It was a three-month, 100-hour program. Utecht believes that it helped him escape from a concussion fog he was in. There was such an improvement from his pre and post psych evaluation that it was hard to comprehend.
"I am probably stronger cognitively now than I have ever been and that's because I took the initiative to strengthen my cognitive weaknesses," Utecht said. "Caused, I believe, from years of just head on head trauma."
Utecht is also using his journey as a guide and example for other football players that there are programs and treatments out there that can help. They aren't alone.
"Currently I am in a really good place and it's part of my message, especially to players," Utecht said, "Is to seek these types of treatments because they are there."
Neural pathways in the brain don't atrophy like muscles, meaning they don't break down like muscles if you don't work out. It is a much longer process. Utecht has joined a maintenance program where he can check in monthly and keep the levels of cognition where it needs to be.
"That's something I am going to do annually every year," Utecht said. "Because if I am one of those players that does have a diagnosis in the future, which I pray I don't, but if I do, I want to do whatever I can now to build as strong a neuropathway cognition that I can do to prevent it."
Once he started to realize what it was like to not remember, he began to look at his life differently. Throughout his journey, Utecht has learned about what makes you relevant in the world, aside from the gridiron.
"The only thing that I can come to the conclusion that really makes you relevant is what you can remember," Utecht said. "It's your memories."
Utecht faced a fork in the road after his playing career. He could allow himself to wallow in self-pity, depression and fear, or he could take his newfound belief and ideology that memory really makes him who he is.
"Every single moment is a memory that creates my significance as a human being," Utecht said. "It's just made me live every moment to the fullest. And I don't do it perfectly, just ask my wife and my four daughters. But I try, I try to the best of my ability because you listen to the stories of some of the players and you realize that once those memories fade, that's really the identity of a human being."
Utecht has also given presentations and TED talks about leadership development and cultural development through serving leadership and what he learned through being on a Super Bowl championship team with head coach Tony Dungy.
When he was asked to give the talk, it was primarily focused on his identity as a man through the struggle of concussions. That topic revolves around what it means to be an MVP. Not only in sports, but in life.
"Memory, value and purpose," Utecht explained. "The more we realize that our memories are what make us who we are, the more we value every one of those moments in our lives and the more purpose we have then every day. And that's also a lesson for us as not only humans, family members and friends, but as business leaders. Because purpose also drives performance."
Last season Utecht returned to the field, not in uniform but with a microphone instead. He performed the national anthem at a Colts home game.
https://www.instagram.com/p/B4s0v8MF_aX/?igshid=rlwq105256g6
Singing has always been an equal passion to sports for Utecht. His father was a vocal music major so Utecht grew up vocally trained. He began performances in college.
This was not the first time that he performed the national anthem at a Colts game, however. When he was signed as a rookie by the Colts, he was sidelined for a year because of injury. So in the first preseason game, Bill Polian, President and General Manager for the Colts, agreed to let him sing the anthem.
"The Indianapolis sports market saw me first as a singer," Utecht said, "and not actually as a tight end."
When faced with the question of what his life will look like when he's 50, 60 and even 70, Utecht didn't know. It's a big question for a lot of professional athletes and some never find the answer.
"I think that is the question," Utecht said. "I think that is the question for most players because it is directly connected to identity. And I'd be lying to you if I said I didn't go through an identity crisis of my own trying to figure out what is next."
Utecht explained that for athletes, their whole life is a sport and all of a sudden it's gone. It is important for athletes to land on a foundation that gives them true meaning.
"For me on the personal side, it's like I said, it's waking up every day and realizing how blessed I am to have my wife and four daughters," Utecht said. "And to understand the role I play in their lives as a husband and as a father."
Throughout his journey and all the obstacles, Utecht still has a great love for the game of football. He's not telling young athletes to stray from the game, but rather letting them know that they aren't alone and there's ways to navigate concussions and their after effects if and when they occur. It's a pro brain, pro game philosophy.
Utecht has been given the opportunity to speak to Congress on behalf of the NFL Players' Association. There is no denying the opportunities and the relationships that football gave Utecht. Even with the effects of all the concussions and mental challenges, Utecht will always support the game.
"I've been a voice of vulnerability," Utecht said. "But one who is in parallel always trying to elevate the game. Because the game of football provided life lessons for me and relationships that are priceless. I wouldn't be who I am today without the National Football League."