The countdown is on as Arizona high school football (fingers crossed) appears ready for takeoff in about three weeks.
There's no certainty with much of 2020 but let's hope Friday night becomes a thing again this fall.
"Zone Read" took a long weekend for the holiday but it's back so let's do this.
US-89 X 2…X 4
COVID-19 has certainly thrown a curve ball to every Arizona high school football player and student-athlete in any sport but you'll be hard-pressed to find a greater example of perseverance, dedication and leadership than Flagstaff senior defensive lineman Javon Tachoney.
Tochoney, a member of the Navajo Nation, has spent the past three yers living in Flag High's on-campus dorms which are provided to students whose families live north of Flagstaff on one of the Indian reservations.
"Parents are looking to give their child a better education that is provided off the reservation," Tachoney explained to the "Zone Read." "They are looking more into their child's future and looking to get them into a more diverse environment."
FHS was forced to close the dorms due to the pandemic but that hasn't stopped Tachoney from working out with his Eagles' teammates this summer as they prepare for their season opener against Cottonwood Mingus on October 2nd.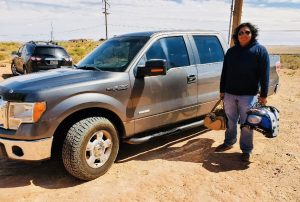 — Dante Haynesworth (@DRH__12) September 4, 2020
Between the lines he's benefited from practicing against high-end quarterbacks and skill players.
Iron sharpens iron.
"It seems like we always have a really good receiving core," he explained. "We compete really hard in practice. We go at each other."
Locked in ? pic.twitter.com/TQU5OdCPly

— Dante Haynesworth (@DRH__12) August 1, 2020
His hard work both on and off the field definitely hasn't gone unnoticed by Hurley.
"Dante is a phenomenal athlete but what makes him so special is his attention to detail in his technique and his desire to improve both mentally and physically. I watched countless videos of Dante doing footwork and speed work during the quarantine so I have no doubt that he is ready to be a senior leader in the secondary but for the defense, as well."
Strap it up — the fun starts against neighborhood rival Horizon October 2nd.
Bermuda Triangle
I can't express to you how much I enjoyed my trip to Eastmark High School earlier this week.
There's a lot to like about Scooter Molander's young program which is about to go to varsity battle with freshmen and sophomores in a competitive, but manageable, 3A Central Division.
The Firebirds' campus is surrounded by perennial big-school football heavyweights Queen Creek, Williams Field and Desert Ridge.
.@Eastmark_FB varsity ? Year 1️⃣: #Firebirds will head to Tucson to take on @PRCAFootball 10/2. #Firebirds HC Scooter Molander & veteran staff will be ready. @eastmarkhs frosh/soph team went 6-2 in 2019. @Sports360AZ @CountyLinePreps @gridironarizona pic.twitter.com/aeHm1uY7nI

— Eric Sorenson (@EricSports360AZ) September 9, 2020
This tweet caused some reaction in regards to the Firebirds' roster size, considering their classification.
Let's try, as difficult as it is for some, to please play nice on social media and not only celebrate this great game but the even greater kids playing it.
Is that too much to ask…especially this year?