It's only a couple of weeks, really a matter of days, before the return of Arizona high school football and the "Zone Read" is counting it down with anticipation.
Here's your first reminder: please use our #FridayNight360AZ hashtag on all your social platforms when you're out at games this fall so we can help people stay connected to all the action around the state.
Here's this week's "Zone Read."
Scottsdale Showdown
As if the 2020 countdown needed any more build up and excitement…how about Chaparral at Saguaro for a lid-lifter on October 2nd?
Two tradition-rich programs.
Two inaugural Open Division Playoff participants.
Two schools separated by five miles.
Two teams who simply don't care much for each other.
After a long and uncertain summer, there seems no more fitting way to kick off a season than with a state rivalry which dates back close to 50 years.
"Oh yeah, there's definitely sone extra juice," Saguaro head coach Jason Mohns said to the "Zone Read." "The minute we saw the adjusted schedules our kids were foaming at the mouth. It has honestly helped us stay focused in spite of the challenges we've faced the past few months."
Great practice tonight! This team has some grit and toughness to them. Excited to watch them continue to grow together ?

— Jason Mohns (@CoachMohns) August 26, 2020
Chaparral head coach Brent Barnes, in some ways, echoed Mohns' sentiments on the showdown.
"With all that's happened during this pandemic all the motivation our kids need right now is simply an opportunity to play the game they love," he explained to the "Zone Read." "Obviously, that first game will bring extra emotions and excitement but it's something that's not a focus until the week of the game."
Another great Arizona HS football season opener Oct. 2: Chaparral at Saguaro. Both teams are loaded. This may be Brent Barnes' best team at Chaparral.

— Richard Obert (@azc_obert) September 6, 2020
The teams have split the last six meetings, each winning three-straight over that span.
Saguaro will try to make it four in a row in a couple of weeks.
The Pullman Pitch
Another Power 5 AZHS quarterback is off the board after Desert Edge junior Adryan Lara made his decision on Monday.
dreams 2 reality pic.twitter.com/iYdhcQmVba

— Adryan Lara (@Adryan_Lara7) September 14, 2020
I remember former DE head coach Jose Lucero telling me about this incoming freshman "who we think is going to be pretty special."
Yeah, he turned out alright.
Now Lara's happy the recruiting process is over.
"I just felt like it was the right time to do it," he said to the "Zone Read." "I'm not trying to get too involved in [the recruiting]. I'm trying to win a championship with my team and just focus on high school football. That's my main priority, along with my grades."
Refreshing, isn't it?
The Cougs offered Lara earlier this spring and recently he and his family went to Pullman to check out the school and one of the most unique college towns in America.
"Washington State was always a place I could see myself," he explained. "Once I got the offer I got to know the coaches and I just made my decision."
Oh, the spread offense new head coach Nick Rolovich brought over from Hawaii didn't hurt either.
"I wanted go somewhere where I could sling the ball around how ever many times I want," he noted. 'That's what I see myself doing at Washington State."
Wazzu getting a good one on and off the field.
Big Ten Back In Business
Wednesday news broke the Big Ten football season will start this fall after all with the first matchups of the eight-game conference schedule for the weekend of October 24th.
Somewhere on the campus of the University of Nebraska one former AZHS standout was smiling.
"I found out from Instagram," former Williams Field High two-way star, now Cornhusker redshirt freshman safety Noa Pola-Gates explained to the "Zone Read." "Everybody's stoked and can't wait."
#letsplayball #big10football pic.twitter.com/EhdgJPLNMu

— Noa Pola-Gates (@Yhbxntpg) September 16, 2020
The news may have been even a bit sweeter for Pola-Gates, considering his family was one of the eight who helped fight to get Big Ten football back on the field this fall.
"It's very heart-warming knowing that the state's behind us, as well as Coach [Scott] Frost. It just showed that us eight really cared about the team, as well as our coaches. This season really meant a lot to us."
WE ARE BACK ☠️? pic.twitter.com/OAd3GK0RG7

— Nebraska Football (@HuskerFBNation) September 16, 2020
Pola-Gates said entering the fall semester without scheduled games, until the ruling, had been an adjustment.
"It's definitely been weird," he explained. "We've been trying to stay ready for the "what if we do have a season." We were just trying to stay prepared. It's definitely been weird..being a student at the time without the "athlete" at the end, as well."
The Huskers have spent most of the fall lifting, conditioning and playing 7-on-7.
That will soon be changing.
Getting Defensive
It will be interesting to see the progress second-year head coach Shawn Copeland makes at Verrado this fall.
The Vipers finished 5-6 in 2019 but went 4-1 in league play and won four of their last five before falling to Notre Dame Prep in the playoffs. It was VHS's fifth playoff appearance in the last six years.
Three of Verrado's regular season losses last year were to Casteel, 5A State Champion Williams Field and 5A runner up Campo Verde.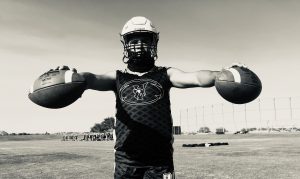 — William Haskell (@HaskellWilliam4) May 9, 2020
Then Hamilton tight end Michael Masunas did this…
Pulling my way through quarantine. @Husky_Football7 @michaelzdebski @JUSTCHILLY @azc_obert @AZHSFB @gridironarizona pic.twitter.com/GtvA0dZl9M

— Michael Masunas (@MasunasMichael) April 8, 2020
Earlier this week Desert Vista's Devon Grubbs took to the water, well…underwater to complete the trifecta and keep that grind on point.
Getting a different type of training in(underwater high intensity cardio). All thanks to coach C for giving me this opportunity!?? @DVHSfootball_ @DanHinds pic.twitter.com/tcgLDlIknt

— Devon Grubbs (@devon_grubbs09) September 16, 2020
Don't mind us here at the "Zone Read." Just counting down to October 2nd like the rest of y'all.
Stay safe and have a great weekend.