By James Malamas
On July 23, the Arizona heat began to wind down. Gary Rath, head coach for Sunrise Mountain basketball, went to Thunderbird park to meet fellow Mustangs teacher, Warren Faulkner, for their bi-weekly hike.
It was a day like many others during the COVID-19 pandemic. At 6 p.m., twice a week, Rath and Faulkner meet up together to hike Thunderbird Mountain.
Two days earlier, Rath went on a hike by himself because Faulkner couldn't make it. During the hike he experienced some chest pains. He put them off as a result of the heat and being out of shape. This time the pains returned, and they came back strong.
"Within 1,000 feet I was exhausted, I was out of breath," Rath said. "I was talking to him like we got to stop, I don't feel very good."
Faulkner asked if they needed to go back, but Rath insisted he needed a moment to rest and he would be alright. After a short break, they walked about another 500 feet when Rath was struggling to breathe again. With his chest feeling tighter, Faulkner suggested they go to the doctors.
"Nah I'm fine, but my chest is tight, and my shoulder. My shoulder kinda feels, not tingly, but numb," Rath said. "I know that's a sign."
Tightness in the chest as well as the shoulder can be a sign of a heart attack. Rath had surgery less than a year ago to remove fatty mass in his shoulder. His shoulder will still get numb and tingly from time-to-time, because of the surgery. Faulkner wanted to call an old friend to make sure this pain was just from the surgery.
Mike Oesterle, a teacher at Sunrise Mountain with Rath and Faulkner, had a heart attack himself about six years ago. Rath started describing his pains and Oesterle was finishing the descriptions like he was there in person.
"That was really scary," Rath said. "Both of us kind of got pale at that point."
Faulkner decided that they were going to the hospital. Rath was still reluctant but Faulkner said he could not live with himself if he took Rath home and heard that something happened afterwards.
Upon arriving at the ER, Rath went through a series of tests and had blood drawn. The doctors said the tests looked okay, so they asked about family history.
Bob Rath, Gary's father, had experienced three heart attacks in his life. The first one coming at the age of 36. Gary is 51-years-old. Bob did not survive his third heart attack at the age of 65.
After hearing his family history, the doctors stopped in their tracks. They needed to run more tests and kept Rath overnight. The secondary tests showed that it looked as if two of his arteries were about 70 percent blocked, while the other two arteries were still unclear.
They scheduled to an angiogram set for two days later. Their plan was to get into his arteries and clear them out. Saturday morning came and they found out the arteries were more clogged than initially expected.
"We had that Saturday morning," Rath said. "And we came back and they said the two were 70 percent, one almost 100 percent, and one 90 percent blocked."
They scheduled to do a quadruple bypass procedure for Monday, but things escalated quickly.
"The next thing I remember is I was lying there, and they asked me to tell them my pain in my chest from one to ten." Rath recalled. "I remember saying two, and then vaguely saying six, my chest really hurts."
"And then I remember them wheeling me down the hallway," Rath said. "And that's the last thing I remember."
At 5 p.m., Shannon Rath, Gary's wife, got a call from the hospital saying that her husband had suffered a massive heart attack. They were going to perform emergency heart surgery. Waiting until Monday was not an option anymore.
About three and a half hours later, Shannon received another call that the surgery was successful. Rath was expected to be sedated for four-to-five days. It went longer than that. Rath was sedated for 12.
"Every time they tried to take the tube out of my throat, something would go wrong," Rath said. "My blood pressure would drop, or my oxygen count wasn't high enough."
On the 12th day, the doctors said that if they couldn't pull the tube out so he could start breathing, they were going to have to do a tracheotomy.
The recovery for a tracheotomy is another 30 days. Rath believes that, even while sedated, he heard that and that helped the removal.
"I think I heard them," Rath said. "Somehow subconsciously, I heard them and kind of calmed myself down a little bit."
This time the tube came out with no issues. Rath woke up later that day, but the 12 days sedated didn't do his body well.
"I looked very weak," Rath said. "And I had been sedated for 12 days so I had probably lost some weight. I hadn't done anything."
Over the next 10 days, Rath rebuilt his strength. That included being taught how to walk and sit up straight again.
"On the first night I was out, they brought me in spaghetti and when I cut up the spaghetti and meatballs I was so tired after I cut them up, I couldn't even eat them," Rath said. "They had to feed me by hand."
After building up his physical strength, Rath also had to do occupational therapy to try and rebuild his memory and speech.
"And that's been the hardest part, the mental part." Rath stated. "I knew the physical part would be, you know I would have to work to get my legs stronger and all that stuff, but the mental part of going through this is tough. It's been tough on me."
It has now been five weeks since the surgery. Rath has returned home and has started cardiac therapy Monday, Wednesday and Friday in addition to his responsibilities as a high school teacher and basketball coach.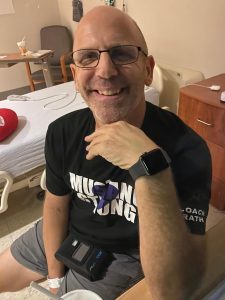 With his surgery just a few weeks before the new school year begun, Rath has received a lot of support from the Sunrise Mountain faculty and community.
"The news about Gary was rough on the staff and community," Sunrise Mountain Principal Vance Setka said. "Our staff collected gift cards, donations, and provided some meals for the family."
Rath added, "The school has been phenomenal. A couple of teachers have taken over my classes, so I don't have to worry about that."
Along with sending gift baskets and donations, there was also a "Mustang Strong" shirt made and those are available for purchase. All the proceeds go to supporting the Rath family.
"And the whole, we say Mustang Nation, has been the flow of support, even gets me emotional." Rath said. "Even now, just what people have done for us with the meals and the gift cards, and people have sent over books and shirts. It's been overwhelming."
With the AIA's announcement to proceed all fall sports as scheduled, that allows for club basketball to get rolling as well. Rath has been in charge of Sunrise's club basketball every year of its existence. This year he will be behind the scenes, however, and a familiar face will help run it in his absence. It will be Rath's son, Brady, who found out about his father's emergency heart surgery while camping with his fiancé and her family.
A graduate of Sunrise Mountain, Brady went to Grand Canyon University while also being an assistant coach for his dad's team. After graduating from GCU, he went to Oral Roberts University in Oklahoma to be a graduate assistant for the men's team.
Recently returning home, Brady accepted the girls' varsity head coach position at Centennial High School. At the age of 25, Brady is now able to call a program his own, something he has wanted since he started coaching.
"To have my own program is something I didn't know I wanted until I started coaching at Sunrise," Brady said. "And I was like I can do this and want to do this on my own and run my own program."
Brady wanted to get back into coaching Sunrise's club team upon returning home. He was involved with the team before leaving for Oklahoma. With his dad still recovering, it will be up to Brady and the other coaches to step up this season.
"We're confident because we've done it for so long," Brady said. "We're missing a big piece with him not being there because he typically runs everything."
Added Rath,
"They've really done it and I've got a great staff that has been there for a while, and we got a couple new coaches but the rest of them have been there for a while, so they know how I like things done," he said of his son taking over. "And I don't worry about that at all."
October is the goal for Rath to return to the sidelines and the classroom. This being his 24th year at Sunrise Mountain, and his sixth year as the head coach, he is constantly on the go. Rath will let his body decide when he is able to get back doing what he loves.
Currently recovering at home with his family, it has been a long five weeks for the Rath family. The precautions don't stop when he gets back to work, however. This has been a learning experience, and family history is something you can't get rid of.
"Now that's been a lesson to me," Rath said. "The hereditary part is the biggest part of the heart disease, it's the biggest thing. You can't control that part of it. I encourage anyone with that part of history to go check it out."