As the sun sets on a steamy day in the north Valley, Devon Dampier takes the snap from under center before rolling to his left and throwing a picturesque, high-arching 40-yard spiral which hits sophomore tight end Duce Robinson in perfect stride down the near sideline.
As Dampier jogs back to the line of scrimmage the Pioneers' coaching staff doesn't say a word.
In some ways, maybe it's what they've come to expect from the humble, hard-working sophomore who's hoping to establish himself as PHS's starting quarterback this off-season.
"I mainly worked on my mechanics this year and also [adjusting] to my bigger body," Dampier said to Sports360AZ.com.
Uh, about that bigger body.
Last season Dampier, who played in a handful of games and at times, experienced the growing pains of playing varsity 6A football as a freshman – stood just 5-foot-6 and weighed 155 pounds. One year later Dampier has sprouted to just under 6-feet (5'11.5) and recently weighed in at 185 pounds.
Not only has Dampier physically matured, mentally he's prepared and ready to lead by example to his teammates.
"He wants to do all the little things right," Pinnacle head coach Dana Zupke explained to Sports360AZ.com. "His attention to detail at such a young age is one of the things that really impresses me."
Poetry in Motion…✍? @GoBigBlue_CFB @Elev8QBacademy @azc_obert @JUSTCHILLY @KevinMcCabeHHF @CodyTCameron @AZHSFB pic.twitter.com/phAYjIJEba

— Devon Dampier (@Devonddampier) August 25, 2020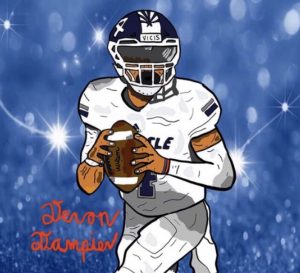 — Under the Radar (@UTRScouting) August 2, 2020
Despite having to replace a number of seasoned players on both sides of the ball, Dampier believes the young – yet talented – 'Neers are on the cusp of another big season after qualifying for the Open Division Playoffs in 2019.
"We're bonding really well this year, better than I expected," he noted of this year' squad. "Everyone wants to do well so I think we have a great thing coming this year."