Waking up Sunday morning I was mentally preparing to expect the unexpected covering the Arizona Cardinals' regular season opener against the Washington Football Club but nothing could prepare me for what I experienced Sunday afternoon in Glendale.
The five-plus hour foray of NFL football inside State Farm Stadium was at times nearly indescribable – especially considering the last time I sat in that press box it was almost overflowing with media for the Ohio State-Clemson College Football Playoff semi-final nearly nine months ago.
Here's my journey through the Cards' 30-15 win over the Washington.
11:32 AM – The first noticeable difference is the Loop 101 traffic heading westbound. As in, there really wasn't any to speak of. There were no ADOT digital signs with time and traffic references like you'd usually see on normal Cardinal game days.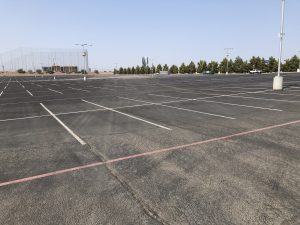 11:48 AM – The usual paper parking pass you pick up in your media packet has been replaced with a digital one which I retrieve off the Cards' app as I effortlessly pull in the stadium park lot. I'm warmly greeted by a staff member who scans my phone and instructs me to please park every other car before entering the stadium. The usually full main lot and Great Lawn area are deserted. Crazy considering these two locations are always packed with pre-game tailgaters.
11:53 AM – Checking in through the media entrance is now a two-stage process. I enter the first tent and scan my phone for a list of COVID-related questions which I answer before zigzagging through the roped off area where I'm greeted by a lady who takes my temperature. After not being satisfied with the results (she says the temp reading for most have run a bit high since media is walking through the sunny parking lot just before entering). I'm instructed to stand under a fan for 10-15 seconds before she takes my temperature again and green lights me to the next security tent close by.
11:57 AM – A host of security meet me as I enter the second tent where I'm asked to empty my pockets and open my backpack for inspection. I pass through the electronic screening successfully and make my way towards the media will call window.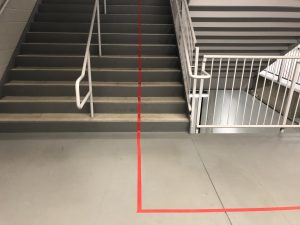 11:59 AM – After picking up my game credential and signing in, I'm asked to follow the roped off area to a nearby stairwell to access the press box. The usual set of elevators are now used exclusively by coaches and staff personnel from both teams. A neatly placed line of red tape trail my path up the few flights of stairs to press box.
12:03 PM – As I enter the box, the first thing I notice are the large, black curtains which separate the Cards' staff members seating area from the rest of the media. New clear plexiglass allows viewing from my seat to the far end of the box located to my left.
12:15 PM – The once designated lunch buffet area for media now has a just a small number of sealed paper bag lunches which include a turkey wrap, side salad, bag of chips and two cookies. The fountain drink station is covered and not in use but there is a small cooler in the corner of the press box with bottles water and canned soft drinks.
12:38 PM – There is no one in the stands less than 30 minutes before kickoff. It has all the feel of a closed scrimmage.
12:47 PM – The field is now empty as both teams file into their respective locker rooms for final pre-game preparations before kickoff.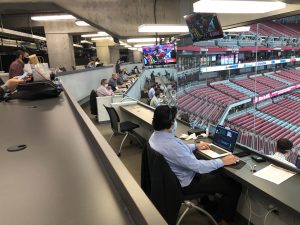 12:53 PM – There isn't the usual "buzz" and energy inside the now socially-distanced press box as the NFL has mandated the number of working media to attend games this season. Most of the reporters, all masked, are working quietly in their assigned seats and no one appears to be socializing in the lobby before the game which is common during "normal times."
12:57 PM – The Cardinals are still back in the locker room as the recorded National Anthem plays inside on the gigantic video boards in each end zone. The entire Washington team stands on their sideline during the rendition.
12:59 PM – Arizona, dressed in all red, runs out of the tunnel as a team and takes the field. There are no fireworks and no usual pre-game "sizzle" as they assemble on their familiar west sideline.
1:01 PM – The roof is closed as the team plays a short tribute to Cardinals' Hall-of-Famer Larry Wilson who passed away late last week after a long battle with cancer.
1:03 PM – Cards win the toss and choose to defer to the second half.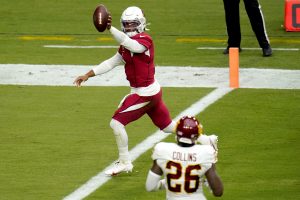 1:18 PM – Kyler Murray marches the Red Birds down the field and caps off the 11-play, 48-yard opening drive hitting DeAndre Hopkins with a four-yard scoring strike. 7-0 Cards midway through the first quarter.
1:36 PM – Hopkins drops his first pass in over two years on a short in-route from Murray.
1:44 PM – Murray sprints past the Redskins' secondary and into the end zone. After the PAT, it's 14-0 Arizona at the end of the first quarter.
1:57 PM – Outside of a poor throw by Murray, which is intercepted, the Cards are rolling and extend their lead to 17-0 early in the second quarter after a Zane Gonzalez field goal. This is the first time I notice there are no cheerleaders, no sign of team mascot Big Red and only a small collection of still and video photographers shooting the game from the sidelines.
2:03 PM – The frequently heard "Thiiiiirrrrrrrd Doooowwwwnnnn!" booms over the stadium speakers from stadium public address announcer Jim Barnett moments before Budda Baker makes a big hit over the middle to force a fourth down and short.
2:12 PM – Murray drops a dime deep that Christian Kirk reels in while successfully tight-roping the sideline. It leads to another Zane Gonzalez field goal as the Cards continue to dominate the first half.
.@ckirk looking for that @SportsCenter love with the insane catch ?

? #WASvsAZ on FOX pic.twitter.com/rVNpjhmWYG

— Arizona Cardinals (@AZCardinals) September 20, 2020
2:39 PM – Halftime hits with Arizona holding a commanding 20-0 lead. Myself and a handful of media head back to the stairwell to find the nearest restroom since the normal one in the box is curtained off and closed.
2:49 PM – The second half begins and I make mention to someone that today feels like we're watching a live game in-person on mute. There's zero atmosphere in the stadium and so little noise of any kind.
3:03 PM – Kingsbury goes deep in the playbook on fourth and short from the Arizona 27. Backup quarterback Chris Streveler runs an end around option pitch to Kirk who gains three to extend the drive.
3:17 PM – Washington gets on the board with a short field goal. It's 20-3 #BirdGang with 3:14 to play in the third quarter.
3:23 PM – One positive from being in an empty stadium and sparsely-filled press box: the WiFi is moving!
3:31 PM – Murray puts Washington's defense, specifically safety Troy Apke, on skates as he glides into the end zone for a 21-yard score capping a 12-play, 75-yard drive.
Untouched.

? #WASvsAZ on FOX pic.twitter.com/SZZ829IpJf

— Arizona Cardinals (@AZCardinals) September 20, 2020
3:45 PM – On a quick run to the recycling bin I notice the rows of untouched, pre-packaged hot dogs sitting out for media consumption. In "normal times," the halftime hot dog bar brought flocks from all parts of the press box. Not so much anymore…
4:00 PM – Washington trying to make this interesting after an Antonio Gibson 11-yard rushing touchdown. 27-15 Cards with about six minutes to play.
4:14 PM – Short Zane Gonzalez field goal and Cards about to improve to 2-0.
4:16 PM – Final: Arizona 30 Washington 15 as the teams meet one another for post-game congratulations at midfield.
4:21 PM – There is no longer media access inside the locker room or usual press conference room downstairs in the stadium. So myself and the rest of the media wait patiently in the Zoom waiting room for availability to start.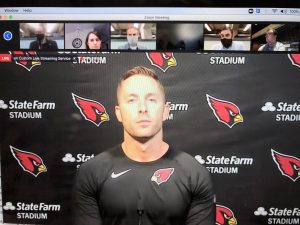 4:40 PM – On his post-game Zoom, head coach Kliff Kingsbury is asked what it was like playing their home opener in front of an empty stadium. "There's nothing going on [inside the stadium]." I think we felt that lull in the second half." Despite the win, Kingsbury knows there's plenty of improvement to be made offensively and notes the urgency to clean up the penalties after his team was flagged 11 times for 97 yards.
4:45 PM – DeAndre Hopkins, who scored his first Cards' touchdown Sunday, on his post-game Zoom: "There was never a doubt we'd start like this [being 2-0]. It's what we expected."
5:30 PM – I post my game story and begin to pick up my work station in the now mostly empty press box.
5:35 PM – As I follow the neatly red-taped stairs down to the first floor and walk the vacant corridor, the only sound outside of the air conditioning is a grounds crew member on a riding mower circling the field below.
5:38 PM – I make my way to my car as the sun begins to set. I'll never cover another game quite like this one. What a day.