Decision Reached
I think the AIA got this one right.
The game of hot potato has ended…for now.
The Arizona high school football season will begin competition between September 30-October 3rd. This revised, shortened season allows teams behind in preparation an opportunity to get back on the field in-person (assuming in-class learning continues as planned) and coaches the ability to set a blueprint to work with.
For now, paint "Zone Read" as the guarded optimist.
Is this attainable? Yes.
Are we certain COVID will cooperate and run the right route? No chance.
Global Game
You just never know who's watching.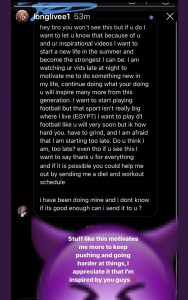 Add nine plug and play, impact-level transfers to the mix and it's easy to see why Ortiz is thrilled with the balance of a young, yet experienced roster for a team which finished 10-3 last fall. The Cobras lost a 28-27 heartbreaker to eventual 4A State Champion Mesquite in the semi-finals.
Next Big Thing
Saguaro is rich on football talent and tradition across the board but the Sabercats have been producing college-ready offensive linemen at an alarming rate over the last handful of years.
The latest Power 5-level road grader is junior Parker Brailsford who is expected to be an impact player not only at guard but along the defensive line as well for #SagU after cracking the starting lineup last fall on offense and displaying incredible physicality in the trenches for an underclassman.
"My technique was pretty good last year but I want to perfect it," Brailsford said to the "Zone Read."
He's also learned about how to handle his business on and off the field from senior Bram Walden and 2020 Saguaro alum Jaylan Jeffers – who will be reunited as Oregon Ducks next season.
"Bram is sort of like a mentor to me, him and Jaylan," the 6-foot-3, 265-pounder said. "They really helped me with my technique, helped me push through things. Going [all out] all the time…especially in the classroom. Be respectful to your teachers. Work hard in class."
All the hard work is paying off.
Brailsford has four offers, including his biggest a few weeks back.
I am EXTREMELY blessed and honored to announce that I have been given the opportunity to continue my academic and football career at USC!!! #FightOn ✌??? @CoachMMartinez @CoachMohns @CoachDrev @USC_FB pic.twitter.com/ziFg0XCCmf

— Parker Brailsford (@parkerb_79) July 17, 2020
"Coach [Jason] Mohns told me I was going to have some really good news coming later [that day]," he said smiling. "I had no clue. I think [USC] followed me on twitter but that was about it."
Even with two years of high school ball left, Brailford's long-term ceiling, like his 6-foot, 7-inch plus wingspan, is massive.
"I had a college coach tell me he thinks he could play center in the NFL," Mohns said to the "Zone Read." "That's high praise."
Indeed it is.
"Kids gravitate towards him because he's a dude," Mohns noted. "He's easy to get along with. He's got a good personality. He does the right thing. He works his tail off in the weight room. He takes care of business in the classroom."