Hope everyone is having a great week and staying in safe whatever you do.
Here is this week's 'Zone Read."
Remembering An Icon
The high school community was rocked earlier this week with the passing of Chandler High teacher and swim coach Kerry Crosswhite due to complications from COVID-19.
A staple on and around campus for many years, the news hit hard to past and present students-athletes alike, including Wolves' senior quarterback Mikey Keene who was in Crosswhite's American History class.
Heartbreaking. Such an awesome soul and heart. Rest in Peace Mr. Crosswhite. You will be missed by all?

— Mikey Keene (@MikeyKeene1) July 22, 2020
"There would be some days in class when I'd get there at 8 AM and he's playing the bagpipes for our class," Keene said to the "Zone Read." "Just such a caring and loving soul. Such a good heart. If you met him, there's no way you wouldn't like him. That's why he's missed by so many."
About those bagpipes.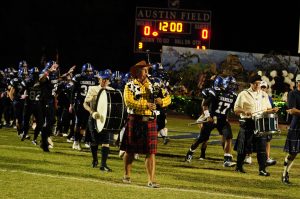 Governor Ducey said Thursday afternoon there will be options for in-person and distant learning in K-12 schools in the coming weeks.
The high school sports road map here in Arizona still isn't exactly crystal clear but here's the latest from the AIA.
With Governor Ducey's latest announcement that the start of in-person school has not changed, AIA fall season will move forward as scheduled. Aug. 17 is first date of practice.
Season start dates/info: https://t.co/H3ogrnA57U
Video Q&A w/ David Hines: https://t.co/tVSDG9gMh0 pic.twitter.com/gVWipuNyCs

— AZPreps365 (@AZPreps365) July 23, 2020
"We are paying attention to Governor Ducey's executive orders," AIA Executive Director David Hines said in a Zoom call last week. "At this time we are looking at the return of in-person ability of education to be able to start our seasons…just taking the information we're able to get to look at if we're able to come back, what things are we able to do."
Could this still change? Absolutely.
With that being said, we're nearing the end of July and the closer we move to the middle of August, it appears (for now) the plan is in place, despite whatever the COVID numbers look like in less than a month.
The school districts will dictate when and how their schools will open.
Hines is scheduled to speak again at some point next week.
Small Town Squeeze
The COVID-19 impact certainly hasn't just been felt in Arizona's big cities.
Chinle will be dropping all fall sports. I will answer questions in about 30 minutes.@azc_obert @AZSPORTSNETWORK

— Alan Barwick (@AlanJBarwick) July 23, 2020
This sort of issue certainly isn't immune to Chinle as Sports360AZ.com's Devon Henry explained.
How about some of the more populated areas that may not necessarily "neighbor" these smaller communities but fall within the general vicinity on the map in northern Arizona.
"We have experts and politicians for that," Flagstaff head coach Todd Hanley said to the "Zone Read." "My job is to be ready when we finally get the green light. It's up to the districts and parents to decide when it's safe. I just try to keep our athletes motivated and strengthen their mental health, as well as their physical [health]."
The Eagles have been practicing since June 3rd and Hanley has been happy with the work his team has been doing preparing for the upcoming season.
The Sprint To Commit
Following Canyon del Oro running back Stevie Rocker's recent commitment to Arizona, 15 of the top 20 2021 players (according to 247 Sports) have already committed to their college of choice.
Is this trend COVID-19 inspired, paired with everything surrounding the uncertainty of the upcoming season, or is this going to be the new trend moving forward?
"Zone Read" caught up with a Top 15 2022 player to get his thoughts.
"Once the first couple of kids starting committing in the '21 class, it started to [snowball]," Tucson Salpointe Catholic junior quarterback Treyson Bourguet explained. "Roster spots started filling up and I get it. As tough as the decision is, you need to do what's best for you…I feel like it's because of COVID, people are rushing [their commitments]. "
Blessed To Receive My First D1 Offer From The University Of Arizona ?⬇️ @NzoneFootball pic.twitter.com/BJAeXGb3Ew

— Treyson Bourguet (@treysonbourguet) June 7, 2019
"As for the 22's, there's no need to rush it right now, especially if we haven't visited the college yet."
Bourguet said many of the 2021 commits are putting quite a bit of faith in the college coaches who recruited them, considering many have actually never stepped foot on the campus they're going to be calling home for the next several years.
Speaking of Salpointe…
Somebody looks ready to go in Austin.
A message from @Bijan5Robinson ?#ThisIsTexas #HookEm pic.twitter.com/3RaqptItfn

— Texas Football (@TexasFootball) July 22, 2020
Big 12 defenses have been warned.