Here's hoping your week is going well and, more importantly, you and yours close to you are staying safe and being respectful for those around you.
Whether it's spiked COVID-19 numbers or wild fires, Arizona is once again under the microscope and the trickle down effect is in the high school football cross hairs as we creep closer to July.
Here's this week's "Zone Read."
COVID-19 Player Protection Plan
AIA Executive Director David Hines went unplugged with "Zone Read's" boss Brad Cesmat earlier this week on a number of topics and scenarios, including possible fall season start delays and/or postponements, transfer eligibly guidelines and the great unknown of high school football – even being played at all, with the Coronavirus spreading throughout the state.
One notable talking point from Hines was the AIA's stance on if a student-athlete. who is competing in sports, tests positive for COVID.
"If you do test positive, the quarantine would take place," Hines explained to Cesmat. "With that you notify the school that, 'I have tested positive' and then the CDC does their contact checks to [make others aware]. We wouldn't be quarantining the whole group. It would be basically on individual basis as the CDC recommends."
This is an ever-evolving situation with no clear end game sight.
Bush Push
'Tis the season for wildfires and here in Arizona our brave front-liners are fighting these blazes with no help from our usual dry, windy June climate.
The human-caused Bush Fire about 25 miles northeast of Mesa has already ravaged nearly 90,000 acres, feasting on tall grass and dry brush. The blaze, as of Thursday, was only 5% contained and led to evacuations in the small community of Sunflower and the surrounding areas.
For Payson High School head football coach Bryan Burke, a 2009 PHS graduate and three-sport standout athlete for the Longhorns, the fire is a top priority and one filled with uncertainty.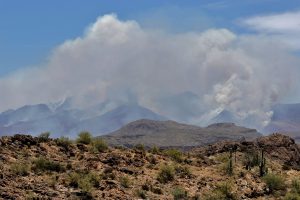 — Coach Davis (@FBCoachDavis) June 17, 2020
Some inside high school football circles aren't as confident we will have a season this fall with so much uncertainly around the virus. Even if schools open, as expected, that doesn't solve the issue of athletic competition and the numerous risks involved.
In short, the longer coronavirus concerns remain in the forefront, the more likely the season will be either pushed back or canceled in full. Some teams may not even be cleared to tackle until early August which, in itself, is a major safety concern. The first games are scheduled for August 21st.
Elite Company
If you don't believe Arizona high school football isn't on the map for their rising talent level, check out MaxPreps just released Top 100 Teams.