Story by Frida Mata
Although COVID-19 has ended the season for many athletes, the future still seems promising for Nogales High School football player, Heriberto Barnett. The defensive cornerback player made 45 tackles, 2 interceptions and one forced fumble his junior year. That kind of record made Coach Eddie Rosas refer Heriberto to Rodney Cox, CEO of Gametime Recruiting and Consulting.
"I checked out his film and liked how aggressive he played on the field. With Heriberto being 5'6″ and 165lbs, he brings 'punch to the party'. He doesn't shy away from contact. He is a Gamechanger," said Rodney Cox.
Barnett has received his first offer to St. Norbert College in Wisconsin, and is excited to get back on the field training to come in heavier and stronger in the fall.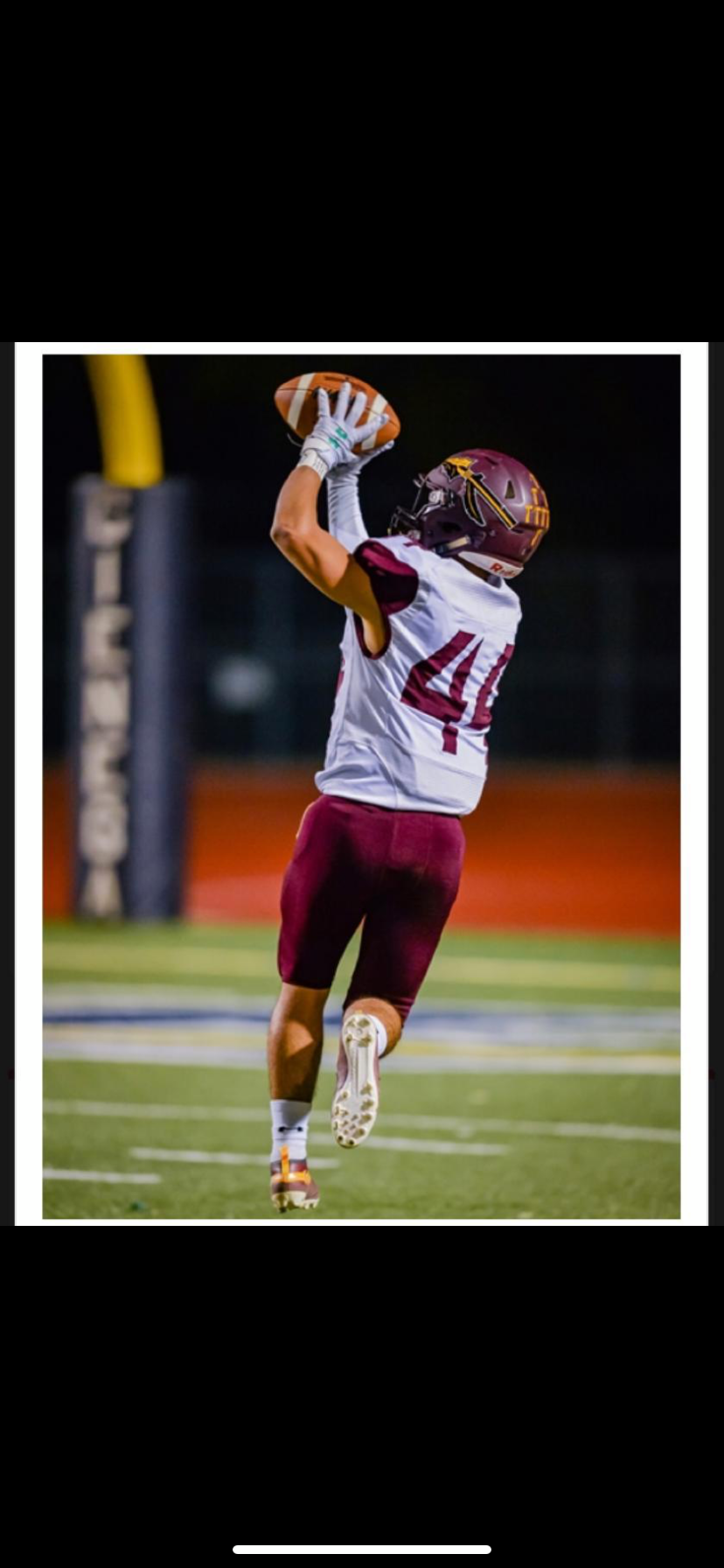 "Recently my cornerback coach asked me and three other players to come in and practice with him. Since he can get in trouble if we practice in big groups, he decided to keep practices small but hard," he said.
To stay active in the meantime, Barnett says he has been going to the field to run drills and helping at home the best he can to stay up and moving. Also mentioning that his parents play a huge role in why he stays active, since they are the ones who always push him to stay healthy and active.
While Barnett may be a natural athlete, he came to football by accident after his best friend in high school asked him to join the team.
"What got me into the sport was my best friend who begged me to try out football with him, I used to just play basketball and baseball. From there I loved the sport and just focused on football," said Barnett.
Barnett says he is mainly inspired to keep playing football and moving forward in life thanks to his dad who has always shown him and his family great support.
"I use my dad for inspiration because he always does the best for us and I want to be like him," says Barnett.
His goal is to not stop until he reaches his dream of playing professional football, and hopes to one day be able to give back to his parents. He is also interested in pursuing a degree in business management, because he plans on one day owning businesses around the world.
"My dream would be to play in the NFL and become some big, just so I can give back to my family and help them the best that I can," said Barnett.
The Gametime family encourages small town athlete Barnett to keep striving forward. They believe he has the potential to make his dreams come true if he keeps pushing forward.
"In life, don't ever doubt yourself. Always keep God first & family always. You will have bad days. When they come, stay motivated and keep grinding. You will get through it and look back to see how far you have come," said Cox.
Gametime Recruiting and Consulting is a family owned, athletic recruiting and scouting organization for all sports and athletes. Their main purpose is to connect athletes, and foster opportunities as a liaison throughout the college recruiting process.