Hello and best wishes to each and every one of you. I hope your week is going well and this "Zone Read" column will bring a little levity to this odd time in our society.
I'd encourage everyone to please continue to be safe and be considerate of those around you in our ever-changing landscape here in Arizona.
Here's this week's "Zone Read."
How and Why
Is the "new normal" getting slightly closer to the "old normal?"
I suppose it depends on your perspective.
Tuesday was a big day in our state after Governor Doug Ducey made official what many thought was imminent for the past several days.
Today, I'm announcing that pools, gyms and spas can reopen this Wednesday, May 13. Major league sports can resume limited reopening, without fans, this Saturday, May 16. 7/ pic.twitter.com/ltjzlVrTyN

— Doug Ducey (@dougducey) May 12, 2020
OK, so how does this impact high school football both now and as we move closer to the season — which the "Zone Read" fully expects to be played?
In the present, there will be adjustments made as players slowly trickle back onto campuses to train, attend meetings, possibly get treatment and return back to the overall "routine" of late spring/early summer football-related activities.
One head coach, speaking off the record to the "Zone Read," is most concerned about keeping social distancing, with weight training at the top of the list. When a player is "spotting" for another during a lift, it's impossible to safely distance, plus the amount players sweat in a crowded weight room isn't exactly conducive to public safety in a confined area, regardless of how big it is in comparison.
However, this source believes doing cardio and field work in the open air will not only be much safer but productive, as well. He said he will require all of his staff to wear masks at all times on campus and players will likely have to wear head and wristbands in hopes of keeping their sweat safe from others.
Good luck trying to get linemen work in when players won't be allowed to hold blocking pads or push sleds.
This Rubik's cube will be an intricate one to solve as coaches around the state attempt to be productive, but more importantly, safe.
Bijan Built
Everything's bigger in Texas – Bijan Robinson will find that out soon enough.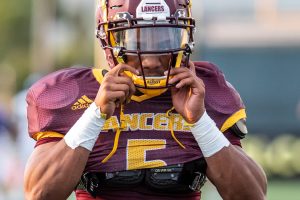 — Tyler Shough (@tylershough2) March 28, 2020
Brady, who Tyler said has put on 10-15 pounds this off-season, is around 200 pounds and has the height (just above 6-foot-2) which intrigues colleges.
Further, his production on both sides of the ball last fall as a junior (36 receptions, 431 yards, 59 tackles, four pass deflections, two interceptions) will likely add value to his recruitment.
The younger Shough, who has been working out with his older sibling during the pandemic, already has an offer from NAU and, according to Tyler, has been getting interest from Pac-12, Mountain West schools and the Academies.
Some WR/DB work after leg day✅✊?@Mike84Johnston @Husky_Football7 pic.twitter.com/ASX1rnq1h2

— Brady Shough (@brady_shough) March 29, 2020
"He's got great fast-twitch muscles," Tyler said.
The video above is certainly a testament to that.
Mustang Power
"Zone Read" will be curious to watch the job former Phoenix College head coach and Mountain Pointe offensive coordinator Mark Mejia does turning around North High after the Mustangs finished 3-7 the past two seasons.
Outside of leading receiver Ryan Gastelum (46 catches, 841 yards, eight touchdowns), most of the top varsity skill level players have graduated but smartly Mejia has hired an experienced staff, including a pair of former head varsity coaches in Dylan Winemiller (Betty H. Fairfax) and Alonzo Highsmith, Jr. (Willcox).
Bernie Busken finished with three-straight .500 or better seasons at North from 2015-17.