I know this is a high school football column but let's start this "Zone Read" by playing meteorologist real quick. Please live in the present and not think about what it's going to be like outside next week at this time in the Valley.
Here's a hint: the summer sizzle is coming.
Speaking of living in the present, here's my latest "Zone Read."
Movin' On Up
This week was a big one in Arizona high school football circles as 2020 schedules were (finally) released.
With a number of schools climbing up a division, including Higley, "Zone Read" decided to reach out to Knights' head coach Eddy Zubey and see if the COVID-19 restrictions/pandemic puts he and other coaches behind the eight ball as they prepare for a more difficult slate this fall.
"I don't think we are behind more than any other team," he explained. "In the summer [7-on-7's], everyone is pretty much in the same division. Every team has been off for the same amount of time. We got moved up to 6A by playing our style of football and that's not going to change for us."
EXCITED to finally be able to release our first 6A schedule! ? #WeBelieve pic.twitter.com/D5AKt0hpZ2

— Higley Football (@HIGLEYFOOTBALL) May 18, 2020
For most teams moving up, the biggest impact may be on the back end of the schedule after going through the physicality and grind of the first seven or so games of the season.
Higley is the perfect case in point – last season they ended with Gilbert, Williams Field and Ironwood. This year, after opening the season against their rival Black Hawks, the Knights final three games are Perry, Hamilton and Highland.
Comic (COVID) Relief
If you're looking for a journey to follow, "Zone Read" suggests our favorite dual threat quarterback turned funny man, Daniel Bridge-Gadd.
The Paradise Valley High star saw his college career at NAU cut short this past season due to an ACL injury. The former Washington Husky was expected to compete for the starting spot this spring with Case Cookus who's trying to earn a roster spot with the New York Giants this summer.
Like many during COVID-19, Bridge-Gadd has seen his work come to an abrupt end.
"DBG" hasn't been doing the 'ole 9-to-5 desk job, he's continuing to chase his dream of being a comedian.
#NewProfilePic pic.twitter.com/iN5FOI8wZ0

— Daniel Bridge-Gadd (@Pvqb10) February 14, 2020
"For about two months I wasn't able to do any form of standup comedy," Bridge-Gadd told the "Zone Read." "Then recently, two days ago, I did my first show since the pandemic started. Even then people were still [uncertain] about going [with] the new social distancing rules in effect."
If you haven't checked out Bridge-Gadd's act, I highly suggest you make it a point to see him perform in person – when you feel comfortable doing so.
Trust me, you won't be disappointed.
Fatherly Advice
Few AZHS players have seen their recruitment take off like Casteel wide receiver Isaiah Newcombe. The 6-foot-1, 175-pound three-sport athlete has already collected 14 offers and the list seems to keep growing every week.
I'm very excited to receive an offer to the University of Utah!! @SafetyPride @Utah_Football @CoachNewcombe @MsRachelN @CasteelFootball pic.twitter.com/CvjSmk8q74

— Isaiah Newcombe (@IsaiahNewcombe) May 4, 2020
Last season Newcombe caught 48 passes for 661 yards and seven touchdowns playing for his dad, Bobby — who knows a thing or two about being recruited by Power 5 schools.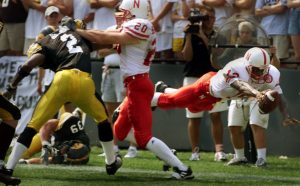 — Trey Reynolds (@TreyReynoldsQC) April 6, 2020
As Trey continues to roll up the offers, "little" brother is doing his best to keep pace.
I am extremely humbled and excited to receive an offer from the University of Colorado. Thank you @CoachMikeCU and @CUBuffsFootball for this great opportunity! pic.twitter.com/C1WE44JiLi

— Porter (@PReynoldsqc) May 19, 2020
"He's a stud," Trey said of Porter, who registered a team-high five sacks at defensive tackle last season as a freshman for the Bulldogs.
One thing's certain, both will like be playing Power 5 football just like their dad, Paul, who balled alongside Pat Tillman at ASU in the mid-90's.
Like father, like son(s).