How y'all holding up? I know this continues to be an unsettling time but please be safe and considerate of those around you. Also, stay cool (yikes, it's hot right now!).
Hopefully the late summer will bring football back on all levels, including Friday nights — not just here in Arizona but everywhere.
For now, here's my latest "Zone Read."
Rock(er) Mentality
Quarantine has stretched our patience but also driven some to find, or even perfect, an untapped passion or hobby.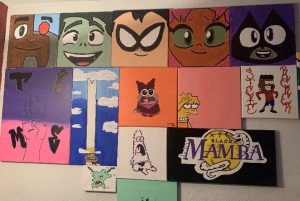 — Angel Flores (@angelf17_) April 20, 2020
He's also been able to throw with some of his CGUHS teammates and friends at local parks.
Scary to think how good this 6-foot-1, 205-pounder is going to be over the next two years.
Fields of Dreams
Two Tempe Union High Schools, Tempe High and Desert Vista, will have new turf fields when the Buffaloes and Thunder take the field this season.
According to the Tempe Union School District, Tempe and DV were deemed the most in need of an upgrade so those schools were selected first. Next year Corona del Sol and McClintock's fields will be addressed – pending approval, followed by Mountain Pointe and Marcos de Niza.
DV will have a Synthetic Turf Field installed this Summer!!!!!! Go Thunder!!!! ⚡️⚡️

— DesertVistaFootball (@DVHSfootball_) May 7, 2020
"It's going to be a game-changer for all our sports," Thunder head football coach Dan Hinds said to the "Zone Read." "I cannot wait to get on it in August."
Both 2020 projects are expected to be completed by August 21st.
21 And Up
21 Chandler High football players now have future college football opportunities.
Idaho, who frequently recruits the Valley, offered a pair of Wolves on Thursday.
After a great conversation with @CoachPTracy I'm Thankful to receive an offer from University Of Idaho @GarretsonRick @AndrewKnoche @CodyTCameron #GoVandles pic.twitter.com/u4xjeRGyzN

— Kyler Orr (@Kylerorr42) May 7, 2020
They've also won 50 of their last 51 games dating back to early in the 2017 season.
Staggering.