The Change at the Tracks
After ten weeks off, NASCAR is executing a plan to get its 40-week season resumed. Between NASCAR's top three national touring series', NASCAR will run seven races in just 11 days in an attempt to restart racing in all series.
No fans. Only five non-broadcast media members on site. Reduced crew sizes. The races will certainly feel and look different, but nonetheless, a weekly live sport returns for the first time since the country shut down in mid-March. FOX learned how to have remote producers and talent during the break with the eNASCAR iRacing Pro Invitational Series. The broadcast will only send former driver, Regan Smith, as on-air talent.
And everyone is watching. EVERYONE. Not only will a plethora of first-time watchers tune into NASCAR, starving for a taste of live sports again, but the biggest sports in the world will keep an eye on what NASCAR implements to create a safe environment while continuing to make TV revenue. The NBA and NHL still have no plan to resume the end of their seasons. The MLB is still bouncing around ideas just to get their season started. The NFL is creating contingency plans and sits, watching patiently as facilities begin to open to specific employees.
The future of sporting events will be on the shoulders of NASCAR. Sunday's The Real Heroes 400 at Darlington will set the stage for both when and how sports and normal life may begin operating again. What NASCAR does, or doesn't do, will set the paths all entertainment takes to revive operations.
?@NASCAR President Steve Phelps said that @NBA Deputy Commissioner/COO Mark Tatum told him a couple weeks ago: 'Someone needed to be bold, someone needed to be first, and we're rooting for you.'

?: 'That's what sports is — it's a community.' pic.twitter.com/uxxLUQfAmm

— Adam Stern (@A_S12) May 15, 2020
The Headliners
Practice makes perfect. Or at least in NASCAR, hours of practice during every weekend give drivers knowledge of what to expect when they go into turn one. After two and a half months away from the track, when the green flag is waved at Darlington, one of the toughest tracks on the circuit, it will be all 40 driver's first time at speed since the Fanshield 500 at Phoenix.
The field was set by a random draw. The top 12 in owners' points were all guaranteed a top-12 spot, while spots 13 through 40 were all random. The following races will determine the starting grid by driver's finishing positions from the race prior. If you finish 21-40, you start in that spot the following race. But the top 20 cars will be inverted, meaning if you finish 20th, you start on the pole in the next race.
Even though this isn't the official throwback weekend at Darlington, there are a few throwbacks in the field. For the first time since a life-threatening crash at Daytona, Ryan Newman will return piloting the No. 6 car for Roush Fenway Racing. Alongside the 21-year veteran, the 2003 Cup Champion, Matt Kenseth, returns to racing in the Chip Ganassi No. 42 for his first race since November of 2018.
Getting Back to Racing
It almost feels like a new season is beginning. The slate has been wiped clean and teams can make a brand new charge to put themselves into the NASCAR Playoffs. In these strange times, some drivers can take advantage and push themselves to victory, even if the victory lane celebration will be without crew members and only for product pictures. Almost the same as usual but without a bunch of people screaming and drinks being sprayed.
After four races completed on the season, here's a reminder on how the points stack up. Joey Logano is still coming off his victory at Phoenix Raceway from March 8. A resilient battle in a late-race restart, similar to his victory in Las Vegas, earned him the win. Tucson native, Alex Bowman found victory lane at Auto Club Speedway and Denny Hamlin claimed his second Daytona 500.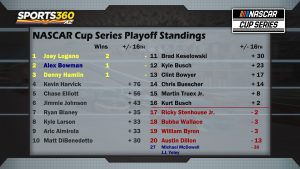 Championship Weekend Still Intack
The plan before COVID-19 hit the United States was NASCAR's Championship Weekend, featuring four different series, to showcase at Phoenix Raceway, the first time the championship would be outside of Homestead-Miami Speedway since 2001. For now, the plan is still to run the four championships over the course of the scheduled three days, Nov. 6, 7, 8.
NASCAR still has to find dates to reschedule four more postponed races to make up its official 36-week season. Mid-week races will likely be utilized with only one more off-weekend remaining from now until the date of the championship.
How cool is this!!! With graduations canceled due to COVID-19, the Buckeye Union High School District teamed up with @phoenixraceway to give their seniors of 3 different schools a once in a lifetime experience around the track!

VIDEO & GALLERY ▶️ https://t.co/nppNUitFqK pic.twitter.com/CC2qy1fzgY

— Devon Henry (@devonhenry77) May 16, 2020