Appreciate everyone's patience as the "Zone Read" stepped away for a week to help the Sports360AZ.com crew with the National Football League draft chaos. Big congrats to Austin Jackson, Brian Lewerke, Bryce Perkins and every other former AZHS player who landed on an NFL roster.
Here's to each and every one of your continued safety during COVID-19. We're getting closer to at least working towards the "old normal" so please continue to exercise caution for yourself and those around you.
Here's this week's "Zone Read."
Homeschooling…For Good?
It goes without saying the current pandemic has not only greatly impacted present day "life" as we know it but will most certainly change "routines" for hundreds of thousands, if not millions, around the country.
When it comes to homeschooling as we're seeing this spring, obviously due to necessity, it got the "Zone Read" questioning if more parents may opt to continue this trend in the fall, considering most class sizes at the bigger Arizona high schools range anywhere from 25-35 students.
Chandler's Rick Garretson, for one, believes even if more kids are homeschooled in the future, it won't necessarily lead to a steep decline in football participation.
Chandler Football-Second to NONE!#StateChamps #TRU @SOC_CHSWOLVES pic.twitter.com/mebv4v4Cts

— CUSDAthletics (@CUSDAthletics) December 8, 2019
Mostly because kids are kids and football is football. The two intertwined make for a unique bond not shared amongst those outside that sacred circle.
"Not sure how many kids [homeschooled] would [impact] say, 6A," he said to the "Zone Read." "That's a parent's decision, regardless of school classification. We have a homeschooled player in our program and it has worked out without any issues."
The "Zone Read" feels the aftermath of COVID-19 will impact all high school sports, in some capacity, as both parents and their children further educate themselves on the virus and its habits moving into the second half of 2020.
Coyote Pack
Several schools and football teams have been selfless during the pandemic, stepping up and helping others in need. Each and every one of these deserve applause for their proactive approach when our community, city and state need it most.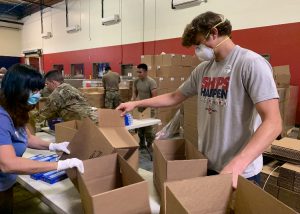 — Cody Cameron (@CodyTCameron) November 2, 2019
One coach who's quite familiar with both sports is Pinnacle's Andrew Hurley, who serves as the Pioneers' defensive coordinator, as well as a number of different roles' in the Neers' boys and girls track programs.
"I think that track is not only helpful for the athlete's speed and acceleration, but it also keeps the athletes competing in something they are maybe not as comfortable in," Hurley said to the "Zone Read." "So yes I think the lack of track season could affect football but if there is anything I know about all football players, they are driven. They are finding ways on their own to lift weights and work on speed and acceleration during these hard times."
It's crazy what you take granted for until it is taken away. All I want to do is go to track and football, coach some athletes, but more importantly make a difference in their lives. It's my passion and it's what I love. PLEASE stay safe and healthy!

— Coach Hurley (@CoachHurley42) March 17, 2020
With that being said, Hurley stressed nothing brings out the best in athletes like competition on the biggest stage of high school athletics.
Waiting On Approval
There's a CENTRAL Phoenix school hoping to get the final green light from their district for something which would be a game-changer for not only said school but neighboring schools, as well. Further, the AIA will have post-season hosting options when it comes to the fall and spring seasons moving forward.
This announcement isn't "officially" public yet so, for now, I suppose all my Zone Readers will just have to connect the dots.
Hey, did you happen to see this tweet I posted a couple of weeks ago?
The things you'll see on a sunrise hike in north Scottsdale (?: @dtigers84). pic.twitter.com/u5j4Twzf2W

— Eric Sorenson (@EricSports360AZ) April 19, 2020
While it's not a completely uncommon site to see in our desert landscape, those BOBCATS are certainly breathtaking up close and personal. I've encountered all kinds of amazing wildlife here in Arizona but that was a NEW one to encounter just after dawn on a warm spring Saturday.
Anyway, when this is pushed through, you can bet said school coaches and officials will FIELD plenty of calls about the much-needed upgrade.
Stay tuned…or just read between the lines above.