I hope this finds each and every one of you safe and I can't encourage all who read this on a consistent basis to please stay home unless absolutely necessary and if you're out, be mindful of your surroundings and the people who you could impact by your decisions.
First "Zone Read" of April drops right now…
Adapting With The Times
In our current new normal of self-quarantine and social distancing, many coaches are keeping their players actively engaged in film work and game-planning through a number of different methods and programs.
At Pinnacle, the staff members are doing Zoom meetings to stay in-sync with one another and every PHS player has a Google classroom where they can find Hudl video presentations. Pinnacle coaches have loaded all of the offensive formations and defensive alignments.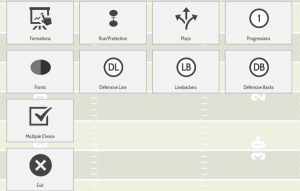 — Eric Sorenson (@EricSports360AZ) March 30, 2020
Don't think for a second it hasn't crossed the minds of some high school players, including the top-rated quarterback in the state.
"I couldn't imagine not playing a senior season of high school football," Mesquite star and Oregon commit Ty Thompson told the "Zone Read" this week. "I don't even want to think about it but it's definitely a reality that we might have to face."
Enough is Enough
Arizona high school players transferring from one school to another, for whatever reason, is quickly becoming the new norm. Some circles believe kids would be best served, depending on the reason for transfer, to simply stay put and work through whatever issues and hardships they are/were experiencing.
I believe certain situations are unique and if a legitimate college-level player wants to transfer for more exposure, that's certainly their right to do so. However, history has proven not every rainbow has a pot of gold waiting on the other side.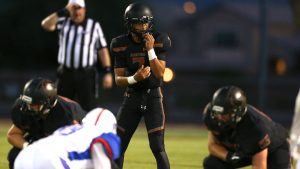 — Liam Hoffmeyer (@HoffmeyerLiam) September 6, 2019
Dallas Goedert, another SDSU alum, teamed with Zach Ertz to form a dangerous pass-catching tight end tandem with the Philadelphia Eagles. He was selected in the second round of the 2018 draft.
"Very humbling," Hoffmeyer said to the "Zone Read." "I was super excited when I got the offer and I also got the feeling that all my hard work is starting to pay off."
Hofffmeyer, who patterns his game after Rob Gronkowski and George Kittle, is a big-play threat over the top for the Raiders. In just seven games as a junior he tallied 426 receiving yards and four touchdowns, averaging over 21 yards per reception.
"I use Mark [Walton] as an example to everyone," he explained. "People from Yuma can make it to Division-I, even against all the odds. You just have to work extra hard."
Bottom line: if you're talented, colleges will most likely find you…especially here in Arizona.