For eight years, Sport360AZ has been committed to acknowledging the best and brightest student athletes in Arizona. We are excited to introduce the Sports360AZ All-Academic Winter Sports Teams brought to you by Venezia's Pizzeria and IBEW Local 640 to recognize the excellence of student-athletes not only on the court but in the classroom as well.
We were overwhelmed by the response from players, coaches, athletic directors and parents and their nominations. This is the largest Sports360AZ All-Academic Winter Team in this recognition's history. Submissions surpassed last year's total by over 500 nominations. Thank you for recognizing these incredible student-athletes!
A few notes on how the team was compiled:
Sports360AZ reached out to every athletic director in the state, as well as every varsity head coach for the above sports requesting nominations based on performance in the classroom. We also opened up nominations to parents and players as well. This is the only way to be named to the all-academic team. Thank you to the high school community for recognizing these student-athletes!
As a thank you for recognizing these impressive student-athletes, Venezia's Pizzeria is offering $3 off any pizza. Just use the code "PRFC3" over the phone, online or on the Venezia's Pizzeria app to receive the discount. Venezia's offers curbside pickup and contactless delivery for all five of their Valley locations. Prepayment would be appreciated for limited contact.
Click the banner below to start your order: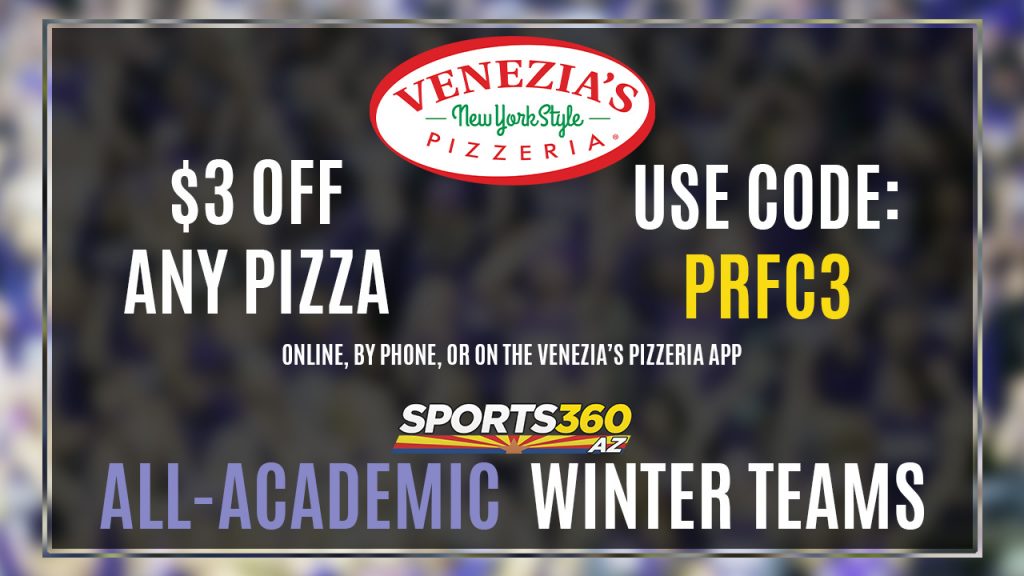 Venezia's NY Style Pizzeria has offered pizza & other great foods on their menu for over 20 years. We now have 5 locations that are located in Tempe, Gilbert, Mesa and North Phoenix. We offer great slice specials that allow you to mix and match with slices, salads and wings that include a drink for under $10! If you are looking to feed a large group you can order one of our famous Party Pizzas which feed 7-10 people. We also offer sandwiches, pasta, salads, desserts and many options for appetizers. Venezia's has dine-in, takeout and delivery and we also cater to many companies in the East Valley due to our vast options on our catering menu. Order online at www.venezias.com or download our App and start enjoying these great options soon!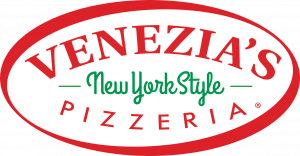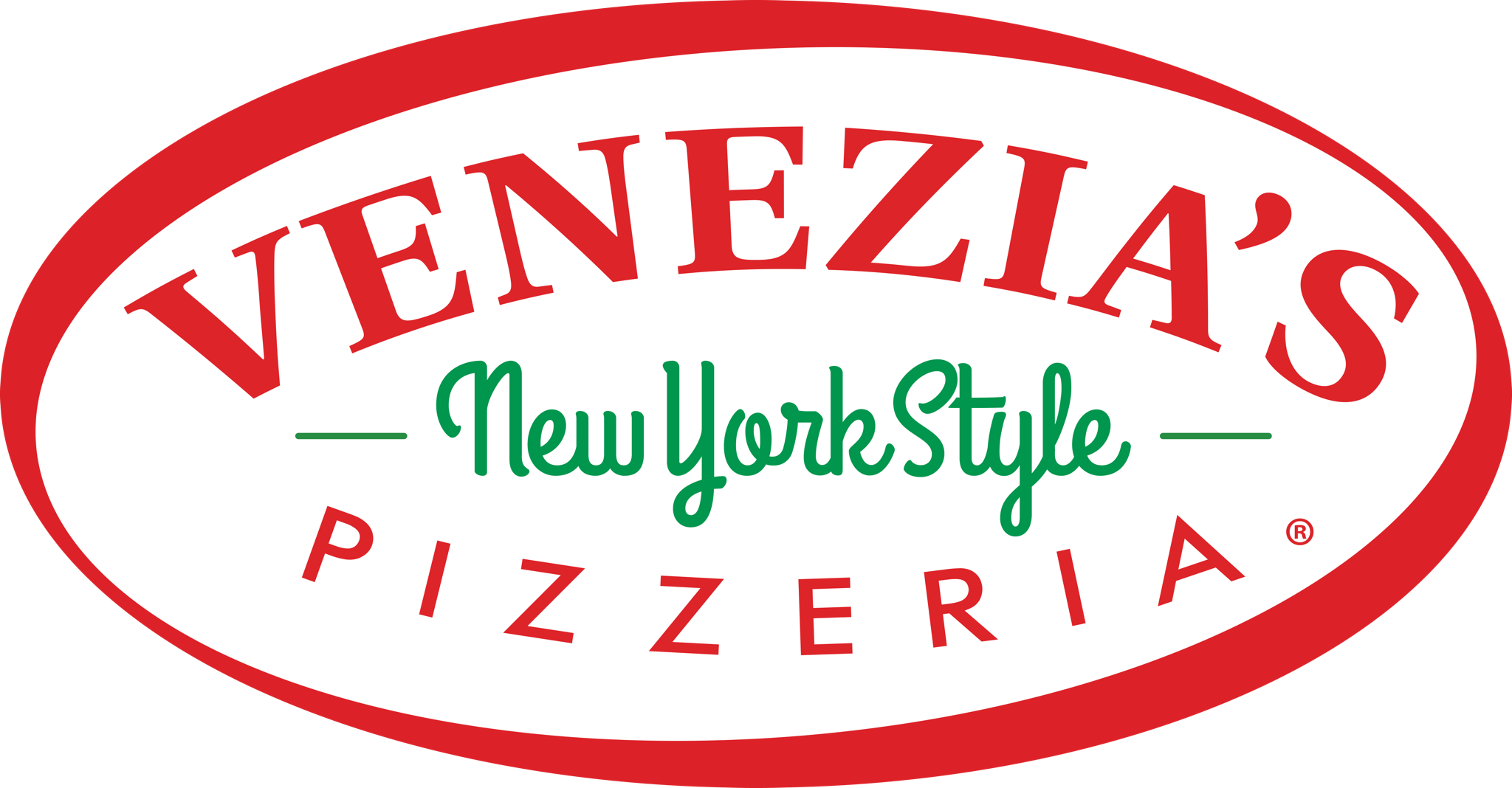 IBEW Local 640 was chartered in 1925 to provide the best-qualified Electricians to our signatory Contractors and provide livable wages, health and retirement benefits for our members. In Arizona, the IBEW is the only organization that certifies the skills and knowledge of a Journeyman Wireman, and then backs that certification with a guarantee to the employers who hire them. Our Contractors and Members have done extensive work at Arizona's largest schools and universities, including large solar installations, and have been involved in most of the major sports stadiums/arenas in the Phoenix Metro area. As new green technologies are incorporated into the nation's power grid, Local 640 leads the way in our ability to train and provide qualified manpower for solar and wind installations in the quantities that will be required to complete these projects.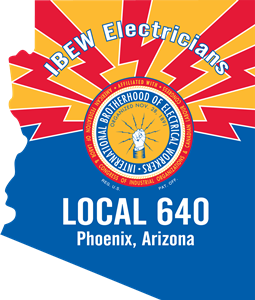 Thank you so much for your nominations, and be sure to use #Sports360AZScholars when sharing these teams on social media.
First Team
Antoinette AudissMarana4.01 weighted GPA
| | | |
| --- | --- | --- |
| Tori Kimball | Horizon | 4.96 weighted GPA |
| Sarina Ramirez | Willow Canyon | 4.76 weighted GPA |
| Zoe Lesher | Paradise Valley | 4.76 weighted GPA |
| Chloe Lobmeyer | Willow Canyon | 4.75 Weighted GPA |
| Kayla Kangas | Basha | 4.74 weighted GPA |
| Macie Woffinden | Higley | 4.73 weighted GPA |
| Graciela Roybal | Hamilton | 4.73 weighted GPA |
| Josie Mejia | Higley | 4.71 weighted GPA |
| Alexandra Zelaya | Millennium | 4.7 weighted GPA |
| Maylee Williams | Catseel | 4.7 weighted GPA |
| Ava Ferraro | Valley Vista | 4.7 weighted GPA |
| Madison Magee | Valley Vista | 4.7 weighted GPA |
| Caidyn Spickler | Canyon View | 4.7 weighted GPA |
| Trinity Lauer | Westview | 4.67 weighted GPA |
| Halle Bryan | Shadow Ridge | 4.67 weighted GPA |
| Daija Arandia | Higley | 4.66 weighted GPA |
| Madison Magee | Valley Vista | 4.66 weighted GPA |
| Ilana Weiss | Pinnacle | 4.61 weighted GPA |
| Tieyah Rosier | Highland | 4.61 weighted GPA |
| Stella Burt | Casteel | 4.6 weighted GPA |
| Alexis Holland | Shadow Ridge | 4.6 weighted GPA |
| Mikela Cooper | Valley Vista | 4.6 weighted GPA |
| Maren Woffinden | Higley | 4.53 weighted GPA |
| Jenna Nguyen | Trevor G. Browne | 4.53 weighted GPA |
| Kayla McDonald | Corona del Sol | 4.53 weighted GPA |
| Leah Millman | Gilbert | 4.5 weighted GPA |
| Mia Martinez | Willow Canyon | 4.5 weighted GPA |
| Ella Schott | Cactus Shadows | 4.5 weighted GPA |
| Jennah Isai | Valley Vista | 4.5 weighted GPA |
| Julianne Meyer | Shadow Ridge | 4.5 weighted GPA |
| Nikkianna Kinsel | Westwood | 4.5 weighted GPA |
| Nichole Engelbert | Seton Catholic | 4.4 weighted GPA |
| Nicole Engelbert | Seton Catholic Prep | 4.4 weighted GPA |
| Lexie Certo | Desert Mountain | 4.4 weighted GPA |
| Sophie Gerber | Desert Mountain | 4.4 weighted GPA |
| Brooke Rodgers | Cactus Shadows | 4.4 weighted GPA |
| Lauren Ponsford | Shadow Ridge | 4.4 weighted GPA |
| Kendall Jeong | Rincon University | 4.37 weighted GPA |
| Shelby Maher | Willow Canyon | 4.36 weighted GPA |
| Airiana Madanski | Highland | 4.34 weighted GPA |
| Talia Dial | Dysart | 4.33 weighted GPA |
| Azariah Morrison | Willow Canyon | 4.33 weighted GPA |
| Isabella (Bella) Barrett | Verrado | 4.33 weighted GPA |
| Kandice McCall | Willow Canyon | 4.33 weighted GPA |
| Molly Proper | Marana | 4.33 weighted GPA |
| Kelsey Ericksen | Shadow Ridge | 4.33 weighted GPA |
| Maria Morales | Metro Tech | 4.3 weighted GPA |
| Nicole Evenson | Gilbert | 4.3 weighted GPA |
| Kamiyah Hurd | Cactus Shadows | 4.3 weighted GPA |
| Autymn Franks | Casteel | 4.3 weighted |
| Maddie Greene | Rincon University | 4.27 weighted GPA |
| Alayna Michelle Benavides-Johnson | Gilbert | 4.26 weighted GPA |
| Amayah Kirkman | Saguaro | 4.24 weighted GPA |
| Katie Stracco | Canyon Del Oro | 4.2 weighted GPA |
| Tamera Rivera | Marcos De Niza | 4.2 weighted GPA |
| Molly Sims | Gila Ridge | 4.2 weighted GPA |
| Alanis Delgado | Valley Vista | 4.2 weighted GPA |
| Alyssa Aranda | Marana | 4.19 weighted GPA |
| Gwen Lund | Highland | 4.18 weighted GPA |
| Autumn Rodriguez | Chandler | 4.16 weighted GPA |
| Isabella Stewart | Highland | 4.15 weighted GPA |
| Kimmy McDaniels | Salpointe Catholic | 4.15 weighted GPA |
| Madie Namanny | Salpointe Catholic | 4.14 weighted GPA |
| Bri Arizmendi | Salpointe Catholic | 4.12 weighted GPA |
| Alexandra Wintemute | Basha | 4.12 weighted GPA |
| Kiara McFadden | Highland | 4.12 weighted GPA |
| Jennifer Smith | Marana | 4.12 weighted GPA |
| Kaylynn Calvin | Canyon Del Oro | 4.1 weighted GPA |
| Nikki Basye | Canyon Del Oro | 4.1 weighted GPA |
| Victoria Castillo | Canyon Del Oro | 4.1 weighted GPA |
| Kayden Long | Gilbert | 4.1 weighted GPA |
| Kierney Murphy | Casteel | 4.1 weighted GPA |
| Lucia Gondra-Castelar | Casteel | 4.1 weighted GPA |
| Missy Kretsch | Gilbert | 4.1 weighted GPA |
| Madison Wilson | Cactus Shadows | 4.1 weighted GPA |
| Isabella Adams | Basha | 4.09 weighted GPA |
| Trinity Binder | Gila Ridge | 4.09 weighted GPA |
| Tessa Hastings | Salpointe Catholic | 4.06 weighted GPA |
| Norah Washington | Highland | 4.02 weighted GPA |
| Antoinette Audiss | Marana | 4.01 weighted GPA |
| Ainsley Good | Basha | 4.0 weighted GPA |
| Michelle Gallegos | Basha | 4.0 weighted GPA |
| Hope Sumner | Dysart | 4.0 weighted GPA |
| Sasha Daniel | Seton Catholic Prep | 4.0 weighted GPA |
| Alyssa Schlosser | Willow Canyon | 4.0 Weighted GPA |
| Eileen Lucio | Gilbert | 4.0 weighted GPA |
| Jaedyn O'Reilly | Desert Mountain | 4.0 weighted GPA |
| Lily Sychtysz | Desert Mountain | 4.0 weighted GPA |
| Maliyah Ross | Gilbert | 4.0 weighted GPA |
| MiLinda Arguellez | Flowing Wells | 4.0 weighted GPA |
| Navine Mallon | Flowing Wells | 4.0 weighted GPA |
| Sydney Lomeli-Capen | Flowing Wells | 4.0 weighted GPA |
| Amyah Reaves | Hamilton | 4.0 weighted GPA |
| Taylor Wasson | Corona del Sol | 4.0 weighted GPA |
| Sierra Labuwi | Cactus Shadows | 4.0 weighted GPA |
| Callyn Butler | Canyon Del Oro | 4.0 unweighted GPA |
| Emma Barber | Estrella Foothills | 4.0 unweighted GPA |
| Faith Ross | Estrella Foothills | 4.0 unweighted GPA |
| Kennedy Harper | Estrella Foothills | 4.0 unweighted GPA |
| Sasha Daniel | Seton Catholic | 4.0 unweighted GPA |
| Vivianna Castillo | Canyon Del Oro | 4.0 unweighted GPA |
| Camilla Norton | Casteel | 4.0 unweighted GPA |
| Bria Medina | Salpointe Catholic | 4.0 unweighted GPA |
| Brodi Stevens | Central | 4.0 unweighted GPA |
Honorable Mention
Abbi McGee – Agua Fria – 3.8 unweighted GPA
Abrielle John – Westwood – 3.5 weighted GPA
Airam Leyva – Metro Tech – 3.0 unweighted GPA
Alaina Sellers – Marcos De Niza – 3.9 unweighted GPA
Alea Ozuna Sanchez – Metro Tech – 3.3 unweighted GPA
Alexandra Nickeson – Estrella Foothills – 3.5 unweighted GPA
Allison Gerbich – Basha – 3.7 weighted GPA
Alliyah Walker – Metro Tech – 3.1 unweighted GPA
Alyssa Gename – Estrella Foothills – 3.42 unweighted GPA
Alyssa Hinton – Agua Fria – 3.3 unweighted GPA
Amanda Barcello – Seton Catholic Prep – 3.8 weighted GPA
Amaya Felix – Verrado – 3.5 unweighted GPA
Ameryka Venegas – Westview – 3.91 weighted GPA
Amiya Josey – Basha – 3.29 unweighted GPA
Annemaris Trojanovich – Seton Catholic – 3.3 unweighted GPA
Annie Sifert – Seton Catholic Prep – 3.0 unweighted GPA
Anyah Hubbard – Trevor G. Browne – 3.5 Weighted GPA
Ari Lara-Aguilar – Canyon Del Oro – 3.1 unweighted GPA
Ashlee Carr – Westview – 3.0 unweighted GPA
Ashlee Guzman – Westview – 3.6 weighted GPA
Athienk Aleu – Central – 3.6 weighted GPA
Ayden Clytus – Skyline – 3.9 unweighted GPA
Bella DiGiovanni – Seton Catholic Prep – 3.6 weighted GPA
Bella Estes – Seton Catholic – 3.4 unweighted GPA
Brooklyn Mitchell – Agua Fria – 3.1 unweighted GPA
Bryanna Matthies – Flowing Wells – 3.3 unweighted GPA
Cali Becker – Yuma – 3.3 unweighted GPA
Cambrya White – Higley – 3.67 weighted GPA
Celina Ortega Quiroz – Metro Tech – 3.7 weighted GPA
Cheyanne Yanez – Flowing Wells – 3.8 weighted GPA
Christabel Longe – Westview – 3.8 weighted GPA
Corina Cunes – Flowing Wells – 3.3 unweighted GPA
Daeja Johnson – Casteel – 3.9 unweighted GPA
Delilah Lunan – Estrella Foothills – 3.59 unweighted GPA
Denisse Holguin – Trevor G. Browne – 3.66 weighted GPA
Devyn O'Brien – Basha – 3.0 unweighted GPA
Emma Rozelle – Marana – 3.14 unweighted GPA
Esmerelda Leon – Amphitheater – 3.53 weighted GPA
Gabriella Lopez – Salpointe Catholic – 3.86 weighted GPA
Grecia Cortes – Trevor G. Browne – 3.86 weighted GPA
Hailey Garalczyk – Cactus Shadows – 3.3 unweighted GPA
Halle Schow – Casteel – 3.6 unweighted GPA
Hannah Beard – Verrado – 3.33 unweighted GPA
Hannah Raney – Flowing Wells – 3.7 weighted GPA
Haylee Weathersby – Apollo – 3.8 weighted GPA
Irany Rico – Metro Tech – 3.1 unweighted GPA
Isabella Barrett – Verrado – 3.83 weighted GPA
Ixzel Rosales – Westview – 3.8 weighted GPA
Jacinda Chavez – Dysart – 3.67 weighted GPA
Jaiden Renne – Valley Vista – 3.5 weighted GPA
Jamie Gillian – Seton Catholic – 3.9 unweighted GPA
Janae Byrd – Verrado – 3.5 weighted GPA
Jaya Nelson – Salpointe Catholic – 3.3 unweighted GPA
Jenae Beneschan – Estrella Foothills – 3.75 unweighted GPA
Jillian Moses – Agua Fria – 3.8 unweighted GPA
Kam Powell – Salpointe Catholic – 3.9 weighted GPA
Kaisha Henry – Verrado – 3.67 weighted GPA
Kaitlyn Elsholz – Cactus Shadows – 3.5 weighted GPA
Kaylee Dietzman – Agua Fria – 3.9 unweighted GPA
Kendal Lyons – Basha – 3.0 unweighted GPA
Knowledge Smith – Amphitheater – 3.78 weighted GPA
Kylee Callahan – Salpointe Catholic – 3.8 weighted GPA
Leamsi Acuna – Flowing Wells – 3.8 weighted GPA
Lee Lee Willis – Seton Catholic Prep – 3.0 unweighted GPA
Leeaira Willis – Seton Catholic – 3.0 unweighted GPA
Lexi McNabb – Seton Catholic – 3.4 unweighted GPA
Liz Cruz – Casteel – 3.3 unweighted GPA
Maddie Fain – Gila Ridge – 3.27 unweighted GPA
Maria Yanez – Flowing Wells – 3.5 weighted GPA
Marisa Davis – Valley Vista – 3.6 weighted GPA
Marley Hayes – Skyline – 3.7 unweighted GPA
Mary Winovich – Estrella Foothills – 3.42 unweighted GPA
McKenna Newman – Basha – 3.7 weighted GPA
Morningstar Scabby – Westwood – 3.2 unweighted GPA
Mya Johnson – Westwood – 3.6 weighted GPA
Nashonti Curley – Westwood – 3.6 weighted GPA
Nereyda Trevino – Douglas – 3.52 weighted GPA
Nicole Vizcarra – Metro Tech – 3.3 unweighted GPA
Nina Borns – Amphitheater – 3.89 weighted GPA
Olivia Niedzwecki – Estrella Foothills – 3.1 unweighted GPA
Olivia Orvallo – Valley Vista – 3.5 weighted GPA
Paaij Smith – Central – 3.8 weighted GPA
Paolo Aguirre Colunga – Metro Tech – 3.2 weighted GPA
Qeirnin Acevedo – Valley Vista – 3.6 weighted GPA
Raegan Farrington – Hamilton – 3.19 unweighted GPA
Rayn Holton – Casteel – 3.6 weighted GPA
Rebecca Venjohn – Higley – 3.87 weighted GPA
Reggie Romo – Canyon Del Oro – 3.9 unweighted GPA
Ruth Valdez – Estrella Foothills – 3.44 unweighted GPA
Rylee Baird – Gilbert – 3.5 unweighted GPA
Ryleigh Robins – Skyline – 3.7 unweighted GPA
Sabrina Garcia – Canyon Del Oro – 3.1 unweighted GPA
Samantha Martin – Westwood – 3.8 weighted GPA
Samara Curry – Hamilton – 3.56 weighted GPA
Sarai Aguilar Gonzalez – Metro Tech – 3.9 weighted GPA
Sedona Anderson – Horizon Huskies – 3.4 unweighted GPA
Sydney Carlos – Westwood – 3.0 unweighted GPA
Syrene Sanders – Cactus Shadows – 3.5 weighted GPA
Tianna Reeder – Estrella Foothills – 3.75 unweighted GPA
Tyraneisha Miles – Agua Fria – 3.2 unweighted GPA
Tyya Skaggs – Agua Fria – 3.6 unweighted GPA
Vanessa Washington – Hamilton – 3.7 weighted GPA
Veronica Gallegos – Casteel – 3.8 unweighted GPA
Victoria Davis – Hamilton – 3.16 unweighted GPA
Yasmeen Alcala – Gila Ridge – 3.84 weighted GPA
Zakiirah King – Hamilton – 3.58 weighted GPA
Zari Watkins – Valley Vista – 3.6 weighted GPA