By Tiara Rose
Autism spectrum disorder won't hold Basha High School senior and Grand Canyon University baseball signee Ryland Zaborowski down.
"Being in the classroom was tough for me, especially with me not understanding the work when I was younger" Ryland said to Sports360AZ.com. "Then whenever I stepped onto the baseball field, I just felt like school and everything else didn't exist. Just the baseball field, the glove and the bat existed to me."
Ryland's escape was in baseball but he had trouble regulating his emotions and making friends off the field.
"His initial diagnosis was anxiety," Ryland's mom Wendy Zaborowski explained, "Then after further having him tested it showed that he was on the spectrum."
Although the term is being used less and less, Ryland was eventually diagnosed with high-functioning Asperger syndrome.
Consistency can be key in helping children on the spectrum to learn appropriate behaviors. Ryland's coaches, teachers, and parents all needed to be on the same page to help him learn. Even though the third baseman showed passion and promise at a young age, his family ran into coaches who refused to help him succeed in the sport.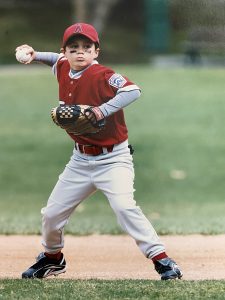 "We had to find coaches who would help Ryland and support him in his behavioral interventions," Wendy said, "Some coaches wanted nothing to do with it."
One person who didn't shy away from helping Ryland was Mike Halasz, a neighbor with a background in baseball and a batting cage in his backyard. The former minor-leaguer said he was hurt when he saw how cruel the neighborhood kids were to Ryland. Halasz opened his home so the young man could practice hitting. Halasz recalled helping the young boy become less frustrated and impulsive on the field by using principles from sports psychology and a book called "Heads-Up Baseball."
"I would talk to him about how he had all the physical attributes to do what he wanted to do," Halasz said, "But he needed to control what he could control which was his attitude and his effort."
Off the field, although Ryland's behaviors had improved, Wendy said the California school system would not move him out of the special education classes. After years of frustration, Wendy, along with her husband Jeff, found a school that would support Ryland's learning in Arizona. The family moved and within a couple of months Ryland had integrated into a typical classroom.
Today, Ryland boasts a 3.6 GPA and was offered an academic scholarship on top of his baseball scholarship to GCU.
Although autism is still a part of Ryland's life, it does not affect him in the same ways as when he was younger. The future 'Lope said that some people don't realize that he is on the spectrum but his friends that know are supportive.
"I only tell people that I have [autism] when they need to know," Ryland said.
Halasz said he was impressed with how Ryland overcame his outbursts on the field, to a point where today he can embrace his diagnosis and give back to others.
Wendy, who is open about her and Jeff's need to get crafty to be able to offer their son the best, hopes their story can inspire others to fight for their children.
"Every human has potential and deserves the best," Wendy said, "and that's all we wanted for Ryland."