By Andres Acuna
Many have been hit hard by the news that schools will not return to campus for the remainder of the academic year. It's a tough and transformative time for all, but especially for the senior class, the class of 2020. Sports360AZ wants to hear from those seniors on how they're adjusting, what they're feeling and how this experience can make them stronger moving forward in a new segment we call "2020 Vision".
Isaac Davis, a track & field star at Casteel High School received news on March 30th that his senior season was cut short due to COVID-19.
Davis was ranked first in the 400-meter race and fifth in the 100-meter dash in the state of Arizona. He also ranked in the Top-10 nationally in the 400-meter.
Yesterday at the Desert Classic Invitational, Isaac broke the meet record in the 200 meters twice in one day with a sprint of 21.7 pic.twitter.com/PJI54gqZPG

— TreetopFitness (@TrevaiaD) March 7, 2020
He was asked his emotions after his senior season and prep track career were cut short.
"Unfortunately it did have to happen, and I understand why," he said in a recent interview with Sports360AZ.com's Brad Cesmat. "They're looking out for people and I can respect that, but it kind of does suck a little because we had really big plans this year."
Blessed to receive these three awards: Outstanding French Student; Outstanding CTE Student, Graphic Design; Scholar Athlete of the Year, Multi Sport. Thank you for the opportunities @CasteelColts pic.twitter.com/HAli4Be7T9

— Isaac J. Davis (@Isaacdavis28) May 25, 2018
Davis talked about his mother, Trevia Davis, who was a Pan-American Games track competitor. Once Isaac became involved in track at Casteel, Trevia started coaching him.
For Isaac's mother, it was a bit of mixed emotions when the news that her son's senior season was cut short.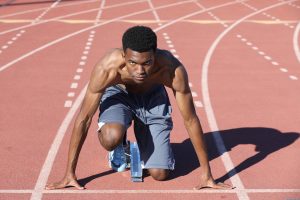 "My first reaction was that I have to be thankful that they are trying to protect all the children during this pandemic," she explained. "My second reaction was that I was heartbroken for Isaac because I know all of the hard work and determination that he showed gearing up for this year."
Both of the Davis' are hopeful Isaac could have a shot at competing in the upcoming Olympics, since he will have an extra year to train due to the postponement of the games to the summer of 2021.
"I'm not 100% sure with the 2021 Olympics," He said. "If it's on my path, I'm definitely aiming for it. If I put in the work then I'm definitely going for it."
Davis will continue his academic and athletic career at the University of Arizona and plans to major in either film or animation.