Connor Soelle understands patience.
The Arizona State redshirt freshman defensive back spent last season working on improving every aspect of his game, much like his early high school days just up the Loop 101 in Scottsdale.
"I think I really just relate it to being at Saguaro," Soelle said to Sports360AZ.com. "Because when I was a sophomore we had that super stacked team [with] a ton of Division I guys. You kind of just have to trust the process."
Soelle, whose older brother Kyle is a junior linebacker for the Devils, is now trusting the process of new ASU co-defensive coordinators Antonio Pierce and Marvin Lewis, who take over for Danny Gonzales who left to become the head coach at New Mexico.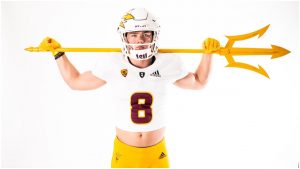 — Connor Soelle (@cmsoelle) July 25, 2019
"You just have to work hard every single day," Soelle expressed. "That's the biggest thing going from high school to college. Once you get into your groove in high school, you can kind of take a few days off here and there and still be the best guy on the field. In college, if you don't bring 110 percent effort every single day they're going to notice it.
"I definitely know what the coaches are expecting and I'm going to go out there and give it my very best shot."