"181"
Jayden Daniels proudly proclaimed his weight number to Eric Sorenson and I Thursday morning standing next to the Tillman Statue at Sun Devil Stadium. "181" is up almost ten pounds from the Sun Bowl game in late December. When I posted a picture of Daniels on social, someone immediately made a comment "I hope you bought him a meal afterwards". With spring football workouts starting on Monday, Daniels will be the center of attention. One of his teammates leaned into a group of reporters at Thursday's media day and boldly predicted that Daniels will be Heisman Trophy candidate in 2020. Much more with Jayden during next weeks Football AZ Show on Fox Sports Arizona…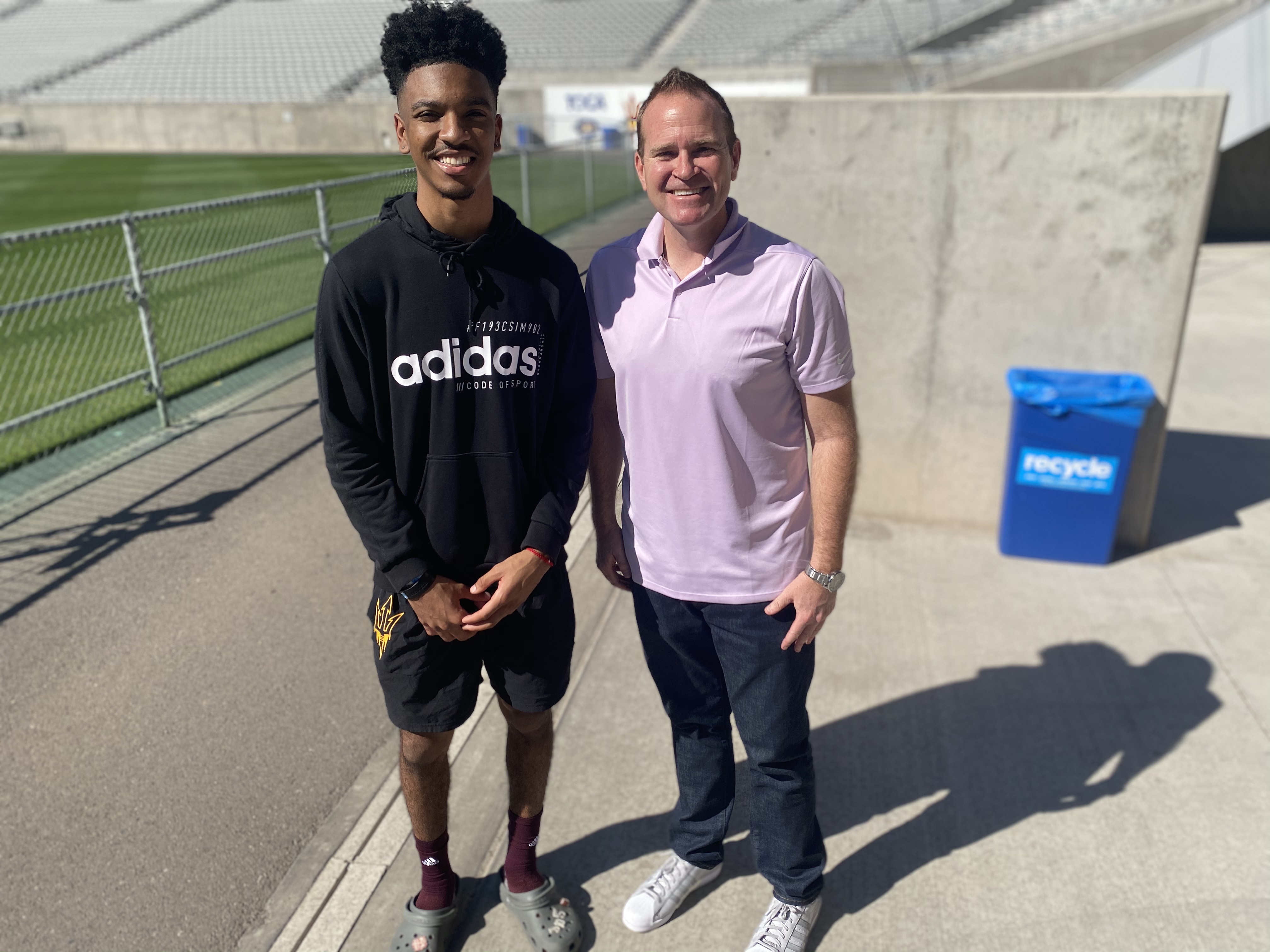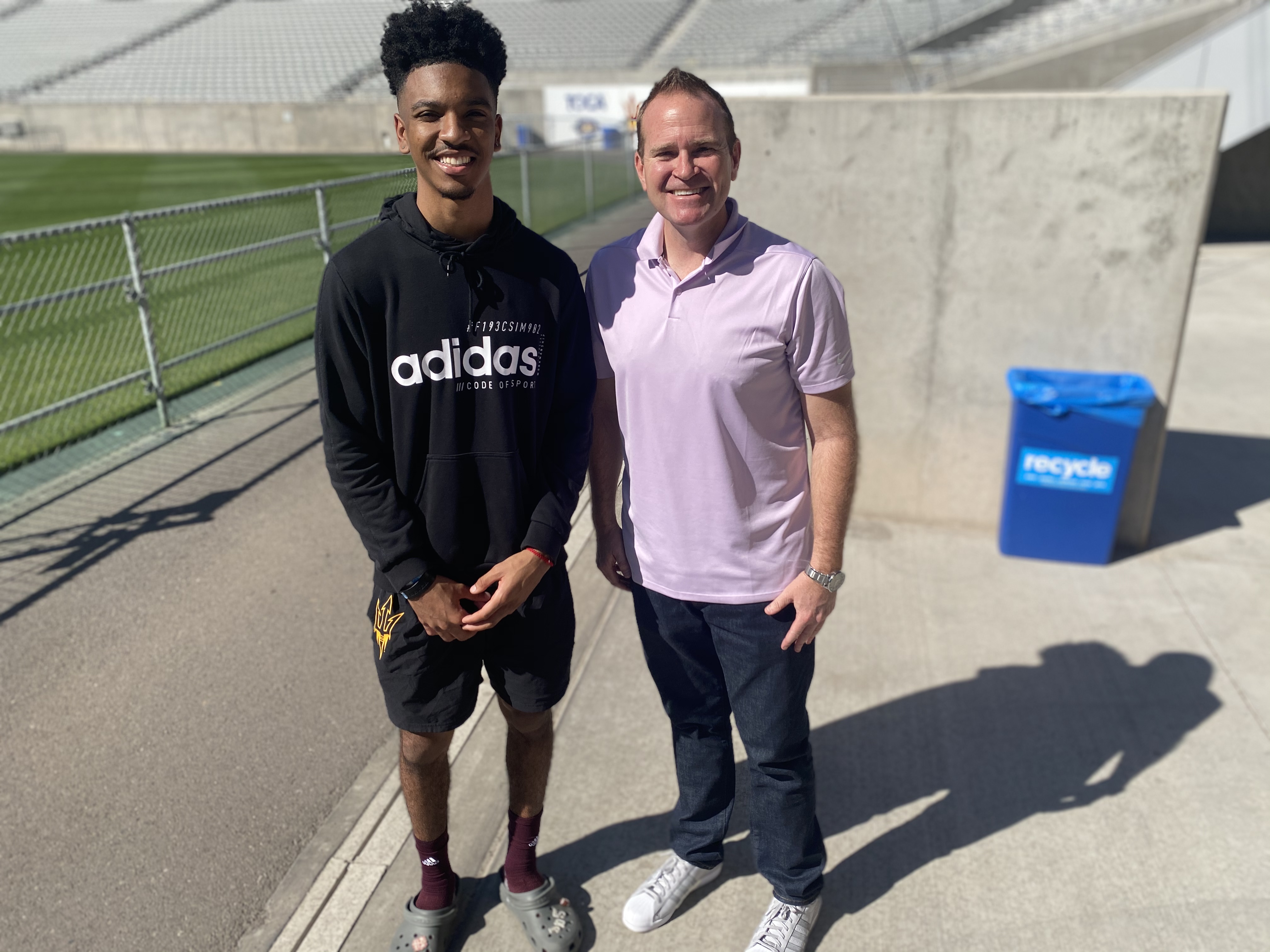 Arizona State media relations deserves a ton of credit for opening up the football program to media on Thursday. Having every coach and many players in the ASU lunch room for over an hour without ANY restrictions or limitations was a brilliant move. Why the rest of the Pac-12 doesn't follow suit is beyond me. For a conference that needs every last bit of exposure, given its lack of financial resources vs other Power 5 programs, spring media days should be low hanging fruit. Any athletic director that doesn't march down the hall and ask "Why aren't we doing this with our program?" is not doing their job. Of course, it could be that their program is so far down, they don't want media to pay attention or they're worried that no one would show up. This isn't brain surgery…
While the six game winning streak by Arizona State basketball has been the center of the college basketball universe in our great State, how about the job that Shane Bucar is doing at Northern Arizona University? Time to remove the "interim" tag…
After tonight at Idaho, I'm thinking about a tweet several weeks ago saying pay attention to @NAUBasketball, because there is something special w/these Lumberjacks.
To that…we now have 15 wins, matching our W total over the last 2 seasons combined!#NAUStrong ⚒?? #BigSkyMBB pic.twitter.com/74VDknS3GN

— Mitch Strohman (@mitchstrohman) February 21, 2020
Mark Grace is going to double-dip his microphone this baseball season.
Mark Grace is back ?

No. 17 will join Marquee Sports Network as a Game Analyst! pic.twitter.com/JfbfYr1nK2

— Marquee Sports Network (@WatchMarquee) February 11, 2020
Yes, he will still be with Fox Sports Arizona for Diamondbacks pre-and post game analysis too.
Ran into GCU President Brian Mueller earlier this week at the Cactus League Hall of Fame lunch. On stage and in our brief conversation afterwards, he couldn't stop raving about the 'Lopes Baseball program. Andy Stankiewicz team has started out the season taking two of three from Oklahoma State and knocking off Oregon. Stanky is one of the very best people you'll find in sports…
Former Perry high school guard Markus Howard set the Big East all-time scoring record last week. He skyped in on our show earlier this week and talked about his controversial decision to leave the Pumas before his senior season to play at a prep school in Las Vegas that has since closed down. "If I had to do it all over again, I would've stayed at Perry"…
There will be some high school football transfer news breaking in the next couple of days, if not sooner…