Shawn Poindexter has always taken the road less traveled.
So to know one's surprise the former Centennial High School and University of Arizona star has been rehabbing in the Bay Area while his San Francisco 49er teammates are already in Miami preparing for Sunday's Super Bowl matchup against the Kansas City Chiefs.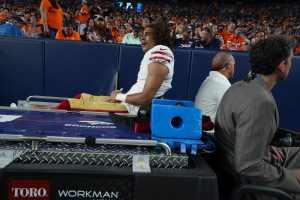 I chronicled Poindexter's well-traveled life the past five or six years last spring as he was preparing for the NFL draft.
"Even now, in this circumstance, coming off the torn ACL," Poindexter said. "It's like, 'Ok, you're an undrafted free agent and you tore your ACL in your first year and it's like, I can play at this level and I'm not going to let anything stop me from playing at this level.'"
Chase your dreams!

— Shawn Poindexter (@throw_it_up19) November 30, 2019
Poindexter said he's planning on joining the team in Miami later this week to "experience the Super Bowl environment."