What a week for the Sun Devils.
On Thursday, Arizona State earned public commitments from Folsom wide receiver Elijhah Badger and running back Daniyel Ngata at the Under Armour All-America Game.
On Saturday, they continued that momentum with a public commitment from Serra wide receiver Lavon "LV" Bunkley-Shelton at the All-American Bowl.
The All-American said Arizona State was an attractive option because of the coaching staff's track record to play the best players no matter the experience level.
"Coach Herm said, 'If you can play, you'll start. If you can't play, you won't start. That's how it goes around here,'" Bunkley-Shelton said. "I know I can play, I know people know I can play, and I'm about to prove it on the next level."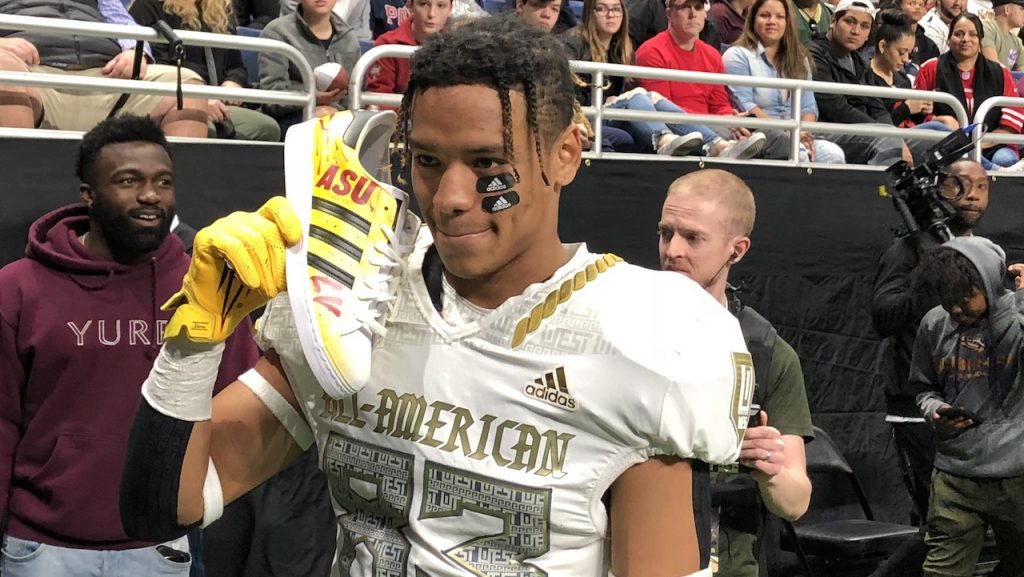 He believes he can bring a versatile and consistent target for Jayden Daniels.
"I would say that I'm quick, shifty," Bunkley-Shelton said. "I have hands and I can run any route in the toure tree and I'll go get the ball."
He was also considering USC, Oregon, Michigan and Texas.
In his last two seasons, the 6-foot, 185-pound wide receiver caught 132 passes for 1,642 yards and six touchdowns. He also played defensively and had six interceptions in two years.
This now makes for four four-star wide receivers from California in ASU's 2020 class: Chad Johnson Jr., Johnny Wilson, Badger and Bunkley-Shelton.
ASU has signed its best WR AND RB classes in history:

Four-star WRs (ranking):

– Johnny Wilson (No. 16)
– Elijhah Badger (No. 23)
– LV Bunkley-Shleton (No. 37)
– Chad Johnson Jr. (No. 60)

Four-star RBs (ranking)

– Daniyel Ngata (No. 2 APB)
– DeaMonte Trayanum (No. 22 RB)

— Chris Karpman (@ChrisKarpman) January 4, 2020
Additionally, the Sun Devils continue their heavy footprint in the Golden State. Of ASU's 16 signed players, 11 of them come from California. This is also the eighth four-star recruit in this year's class for Herm Edwards.