Football players have personality. Sport360AZ was there to capture a few glimpses of that this year.
In its third year, we present the Best High School Football Celebration GIF Award field. 16 GIFs from 16 teams. It's a bunch of celebration, a bunch of personality, and that fun is one of the reasons we all love high school football so much.
Before we look at the field, let's revisit our past winners:
2015 – Bozton Sanders – Centennial
OK….so this GIF actually sparked the idea of this award. Sanders never actually had to beat any other nominees for it, but being creating the inspiration for this whole dang thing means he wins the honors for 2015.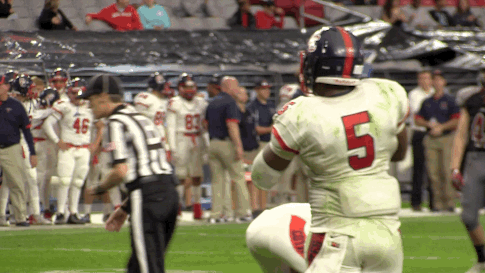 2016 – T.J. Green – Chandler – "The State Championship Shuffle"
Green capped off a 2,000 yard senior season with a state championship ring. He only wanted one dance partner that night, and that was the 6A title trophy.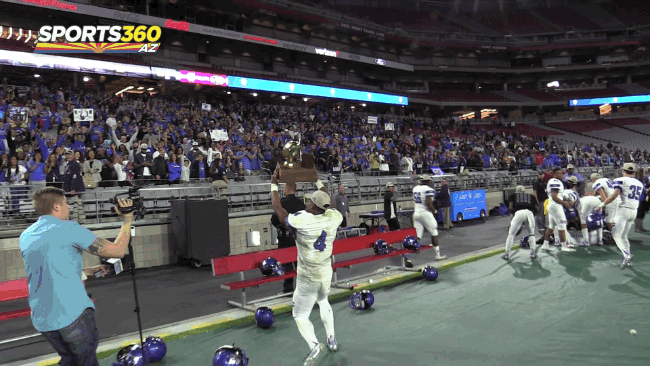 2017 – Brock Purdy – Perry – "Are You Not Entertained???"
Purdy wasn't known for showing too much emotion, good or bad, while on the field. But the 2017 state title game brought something out of him. After rushing for the game's opening touchdown, he ended the night with six scores, the Perry quarterback ran to the Puma student section to show them some love too.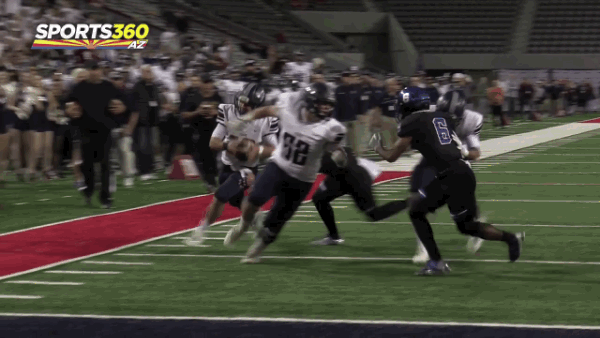 2018 – Ty Robinson & Truitt Robinson – Higley – "Brothers Gotta Hug"
Many know Higley defensive lineman and All-American Ty Robinson. But in this GIF, he was giving some love to younger brother Truitt, who – oh I don't know – took a 73-yard reception in for a touchdown to earn a playoff win. There's so much brotherly love in this that I may need to call Joey Lawrence.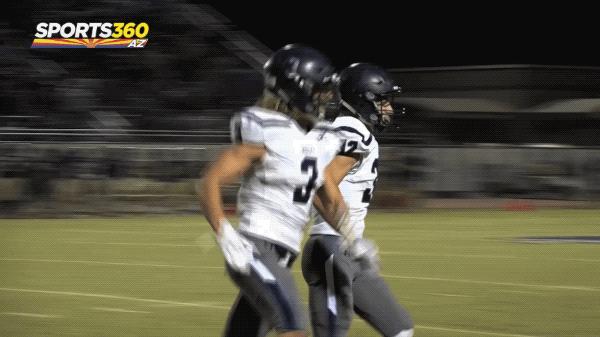 We now present this year's field, and the order has been selected at random:
Group 1:
"Punch the Sky" – Tommy Christakos – Chaparral
At this point in the season, Tommy Christakos hadn't played much due to injury. So was he pumped to kick off the Firebirds' rivalry game against Saguaro with a touchdown? Um. Yeah.

"The Stomp" – Isaiah Newcombe – Casteel
The Newcombe family is usually reserved on the Casteel sideline, whether it be head coach Bobby or junior athlete Isaiah on the field. After a postseason touchdown against Williams Field, Isaiah had some fun.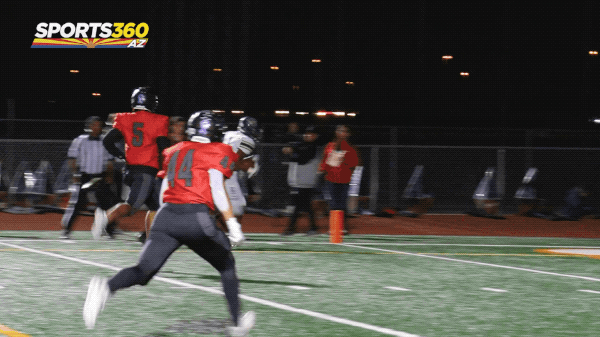 "Oh, Hey There" – Kelee Ringo – Saguaro
Kelee Ringo's speed is no secret. He is one of the elite track stars in the nation and is one of the many skills that helped him become the best cornerback in the country. In the Open Championship, he took a second to wave to everyone on the field after scoring a touchdown.
"Running It Back" – Anthony Gonzales & Demarcus Ellis-Dennard – Brophy
Jason Jewell's young defense was consistent as can be throughout the season, and they were clearly pumped up after a big play in their upset win over Hamilton this year.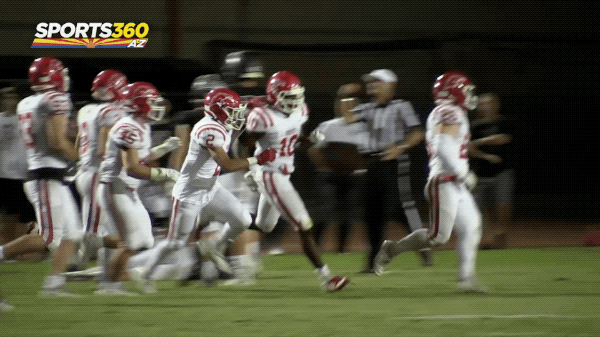 Group 2
"Shrug" – Brandon Buckner – Chandler
Try to explain how someone who only plays eight games in a season has 14.5 sacks in Arizona's 6A Premiere region. That's what Brandon Buckner did as a junior and his reaction is the only one I can give when reading his impressive statline.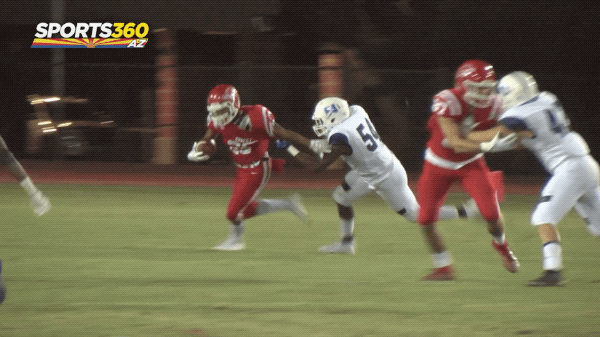 "Flip It" – Alex Lines – Higley
Alex Lines could run by you, through you (I think his preferred method) or over you to get to the end zone. The senior tight end was a staple in the Knights offense because of the versatile ways he could pick up extra yards.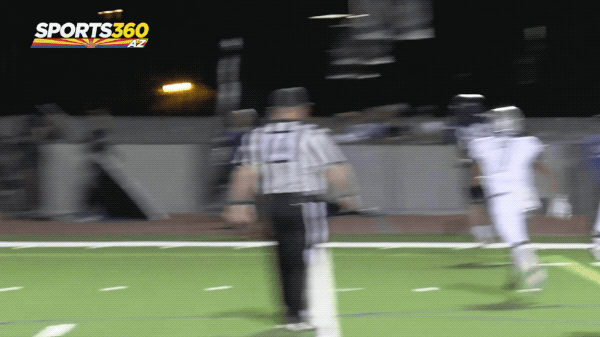 "Take a Bow" – Elijah Ervin – Desert Vista
Elijah Ervin needed plenty of ways to celebrate touchdowns this year, notching 18 receiving scores as a senior. We particularly like this one where it looks like he was going to chest bump Braeden Belnap, but they opt for a bow.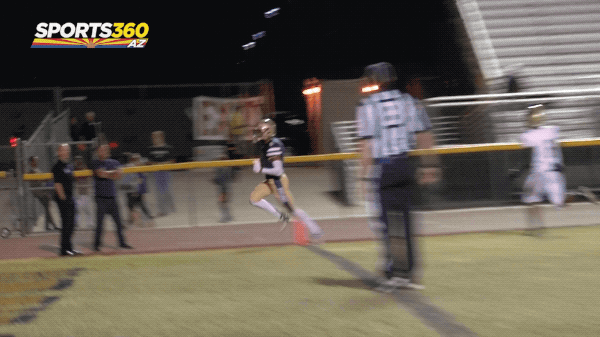 "Sealed It" – Jordan Wollangk – Mesquite
This is the moment many Mesquite Wildcats realized they had just won a state title. Athlete Jordan Wollangk had the game sealing intereption, got to the ground and pointed to the Wildcat faithful.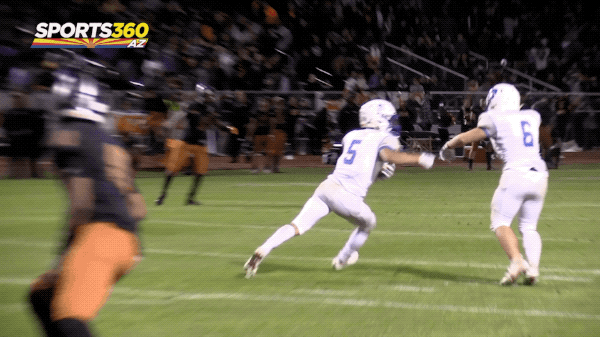 Group 3
"Salpointe Swagger" – Jonah Miller – Salpointe Catholic
The first thing you notice about Salpointe Catholic's Jonah Miller is his size. The 6-foot-6, 290-pound tackle is an elite o-line prospect, but his size does not slow him down on the field or apparently in his pregame dances.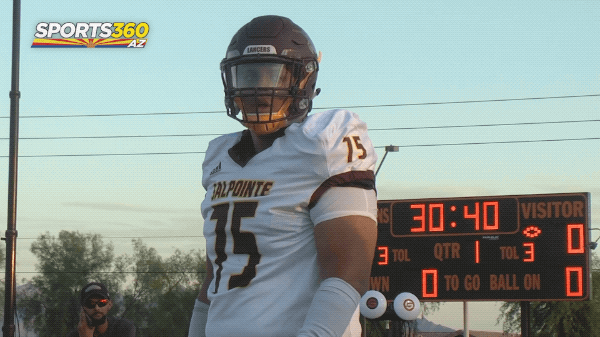 "Ball Don't Lie" – Jalan Early – Millennium
Millennium do-it-all Jalan Early knows the ball dictates the spot, and he wanted to make sure the referees – and our cameras- knew the ball crossed the goal line.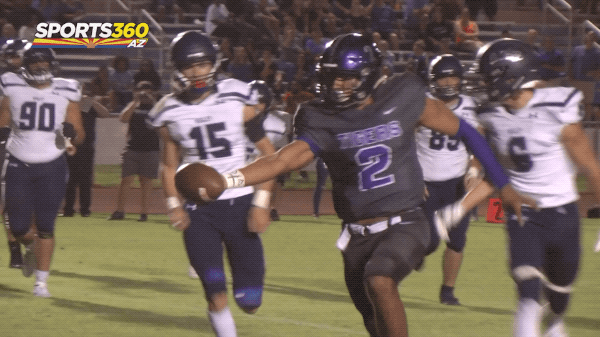 "Sweet Feet" – Jihad Marks – Desert Edge
Every good receiver has to have good feet to run their routes and stay inbounds. Desert Edge receiver Jihad Marks, who had one of the most impressive seasons at the position in 2019, showed off that skill even after scoring a touchdown.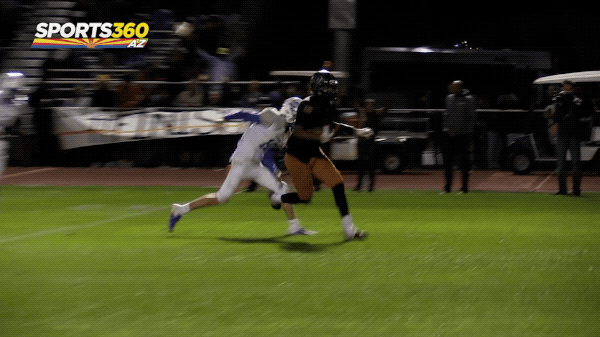 Group 4
"Rivalry Pump Up" – Brenden Rice – Hamilton
Brenden Rice always shows his passion on the field and didn't need any motivation when Hamilton took on rival Chandler in his senior season. This reaction came after his second touchdown of the night.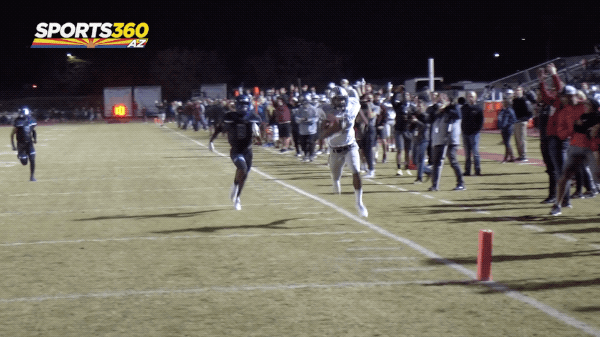 "Man of the People" – Jace Accurso – Liberty
After a seemingly improbably playoff run to a 6A state title. Liberty senior Jace Accurso needed to be with those who supported him. While the climb may not have been the smoothest, he ultimately got to the intended destination, a good metaphor for Liberty's season.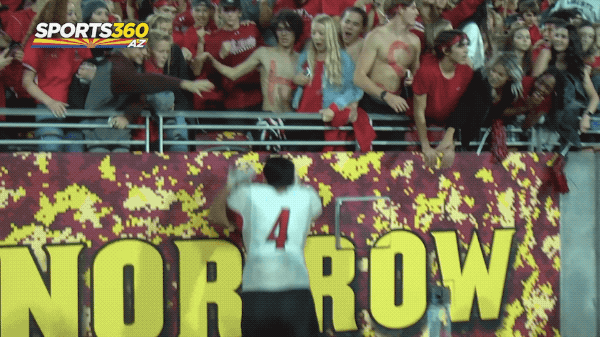 "CELEBRATE" – Shadow Ridge Parents and Faculty
You don't mess with what works, and every time Shadow Ridge scored, the Stallion faculty and parents would roll out this celebration. It worked, as Shadow Ridge ran away with the game.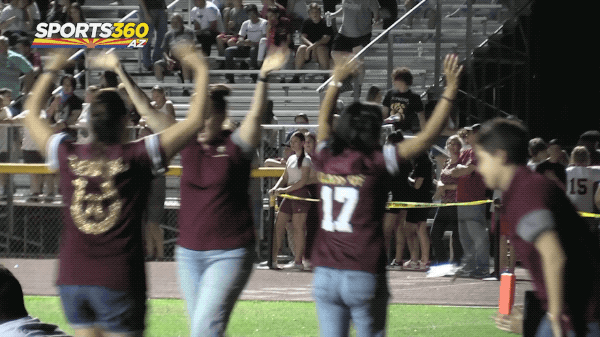 Those are the 16. Make sure to rock the vote for the best celebration GIF from 2019. Below are the tweets with the groupings. Once voting has completed, the final four will be revealed and voted on.
Who had the best celebration GIF from Group 1?

VOTE FOR EACH GROUP: https://t.co/NTUBkNxVLj

— Sports360AZ (@Sports360AZ) December 22, 2019
Who had the best celebration GIF from Group 2?

VOTE FOR EACH GROUP: https://t.co/NTUBkNxVLj

— Sports360AZ (@Sports360AZ) December 22, 2019
Who had the best celebration GIF from Group 3?

VOTE FOR EACH GROUP: https://t.co/NTUBkNxVLj

— Sports360AZ (@Sports360AZ) December 22, 2019
Who had the best celebration GIF from Group 4?

VOTE FOR EACH GROUP: https://t.co/NTUBkNxVLj

— Sports360AZ (@Sports360AZ) December 22, 2019