(photos courtesy: Frank Ruben, Kelly Kassen)
On a team littered with Division I talent, Connor Toci likely won't be the first name mentioned among Saguaro High School football stars past or present but for head coach Jason Mohns the senior athlete's impact goes well beyond any stats you'll find in a box score.
"That guy embodies everything we're about," Mohns said to Sports360AZ.com. "He's as Saguaro football as you get. It's been awesome to watch and I couldn't be any more proud of him. He's going to be very successful in life because of the way he's been able to lead this team despite his inability to play on the field."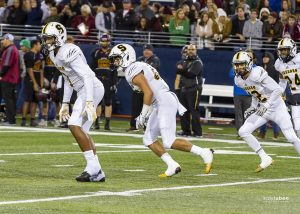 — Connor Toci (@connortoci) November 28, 2019
The 6-foot-1, 200-pounder hasn't just talked the talk, he's walked the walk: torn ACL and all.
Whether in meetings, weights, at practice or in games Toci has been both an inspiration and source of stability since that fateful spring practice back in early May when he seemingly had his football life in the palm of his hand until the fragility of the sport unmercifully told him otherwise.
"He's the hardest working player I've ever seen," starting quarterback and close friend Tyler Beverett said. "I've known his since eighth grade and we've grown up [together]. He's the definition of this program. He loves Saguaro football and bleeds black and gold. He's helped our team any way he can."
Mohns' words hold special meaning to Toci, not just this season as Saguaro looks for their seventh-straight state championship but moving forward in life, as well.