It's a tie game late in the second half and Queen Creek High School Athletic Director Paul Reynolds simply can't help himself.
The former Arizona State star linebacker is pacing back and forth under the goal post moments before son Trey scores the eventual game-winning touchdown in a tight road victory over Corona del Sol.
When dad isn't focused on Trey, a 2021 Power 5 recruit who has offers from Washington, Wisconsin, Duke, BYU, Utah State and Illinois he's probably watching Porter Reynolds, his freshman defensive lineman who is already flashed plenty of promise.
Blessed to receive an offer from the University of Illinois! Thank you @milessmith44 for this great opportunity! pic.twitter.com/2DdpMbu61x

— Trey Reynolds (@TreyReynoldsQC) November 3, 2019
"They pick things up so quick, way quicker than I ever did," Paul said with a chuckle. "I tell Trey and Porter all the time, they have way more knowledge at this age than I did. It's unbelievable."
Paul credits much of his son's success to first-year QC head coach Joe Germaine and offensive line coach Travis Schureman. Both have seen the Reynolds' boys grow up on and off the field over the years in the far southeast Valley.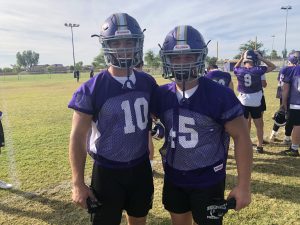 He also leans on Trey to help young Porter handle the grind of 6A varsity football in one of the the toughest regions in Arizona.
"I'll definitely yell at him and stuff," Trey said laughing. "He knows when he makes a mistake so I try to lift him up and really try to tell him that he's doing [well]."
Porter leads the 7-3 Bulldogs, who host Boulder Creek Friday in the first round of the playoffs, with five sacks and seems to take everything seriously: including his diet.
"I just know it's not good for me," Porter said of the junk food and desserts most young teenagers can't say no to. "I just use it as motivation to not eat it."
On the field I asked Paul how motivating it is for Porter, who wears #46 like his dad did at ASU, to see his older brother (who has played quarterback, running back and linebacker this year) being courted by big-time college programs from around the country.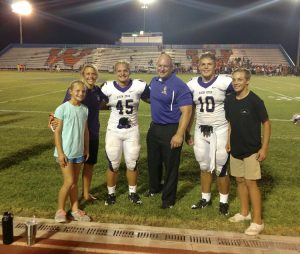 "A lot," Paul said laughing. "I've created a monster a little bit. I can't keep [Porter] away from the weight room. That's all you really want from your kids is to work hard and keep being persistent through things. I think it's helped seeing his brother get those offers."
The Reynolds' brothers are bound closer by family and football…and a dad who's usually watching from the back of the end zone on Friday nights in the fall.