Oregon State outside linebacker Hamilcar Rashed Jr. is coming off the field after a dominant day against the University of Arizona where he notched three sacks, a forced fumble and two tackles. It's a stat line that's become a regular occurrence for him this year.
Rashed passes another member of the Beaver defense.
"Ham, would you mind saving some sacks for the rest of us?" the teammate asks through a smile.
Rashed shrugs and grins.
His teammates will get over it, but opposing offenses will feel those hits, and the impact they had, for weeks to come.
Rashed, a Phoenix native and graduate of Chandler High School, is the nation's leader in tackles for loss and the conference's leader in sacks. Utah's Bradlee Anae is tied for second in the conference for sacks and second in tackle for loss. Rashed has four more sacks and is nearly doubling the tackles for loss over Anae and has played one less game.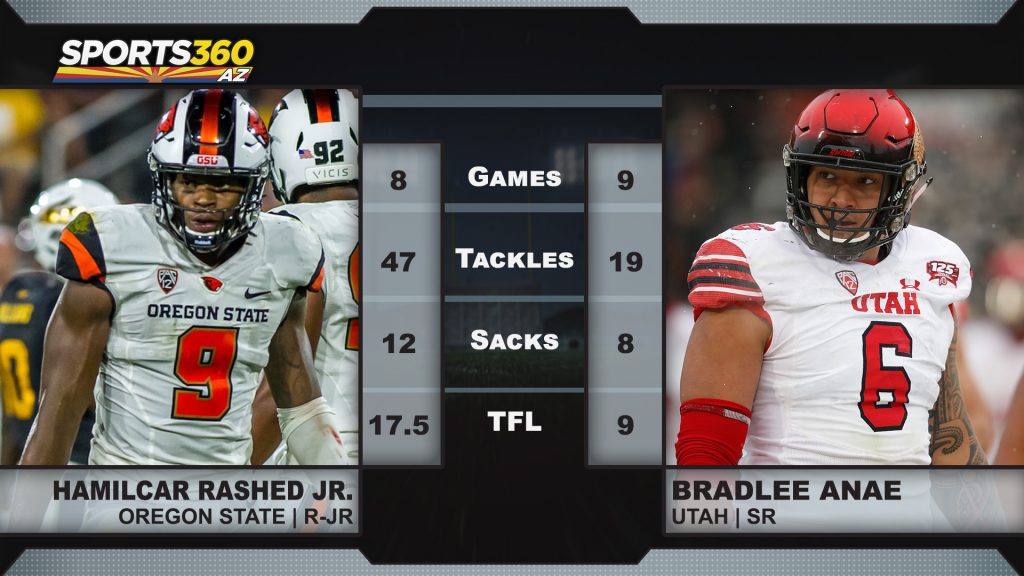 He credits his coaching staff for the dominant performances.
"I love (defensive coordinator Tim Tibesar) to death," Rashed said. "He's taught me how to read (offensive lineman) and stuff like that I didn't even know about."
Despite notching 33 sacks as a junior at Cesar Chavez High School and a senior at Chandler High School, Rashed's recruitment didn't match his strong stats. He had offers from some Power 5 programs like the Beavers and Nebraska, but the mix of that stat sheet and measurables typically mean at least a dozen offers.
The slow recruitment was partly due to his grades as he transitioned to a new school. He said he had to essentially get straight A's his senior year to just qualify with Oregon State.
But he did and committed to the Beavers minutes after getting his offer. His brother played basketball for Oregon State, and to Rashed, it didn't matter how many offers he got, just as long as he got the right offer.
Oregon State turned out to be exactly that.
Ham >>>>>>>@HamilcarRashed x #BuildTheDam pic.twitter.com/eAqabvIEXH

— Oregon State Football (@BeaverFootball) November 5, 2019
"People passed up on me and honestly that's their fault," Rashed said. "They took the chance, and I'm blessed for it now."
In Corvallis, Rashed has not only thrived on the field but in the classroom. While pursuing a degree in public health, the outside linebacker says he is slated to graduate early.
And while he's dominating the Pac-12, he still keeps a close eye on how the Chandler Wolves are faring, remembering the people who helped give him an opportunity to chase his dream and play college football. When the Wolves were brought up to him postgame on Saturday, he proudly discussed their 10-0 record and win over the rival Huskies the night before.
"The coaches and the little details they do, it's all great," Rashed said. "That's my other family and played well. They just beat Hamilton, and I'm proud of them."
People say all the time that they just want an opportunity.
Rashed got exactly that with Chandler and Oregon State.
This is what it looks like to take advantage of that opportunity.