While the Open Division system has been far from perfect so far, it has sparked plenty of discussion. With these season finale results, including two losses for Open 8 teams, and the final rankings out in a few hours, that discussion is sure to continue. As a reminder, here are this past Tuesday's rankings: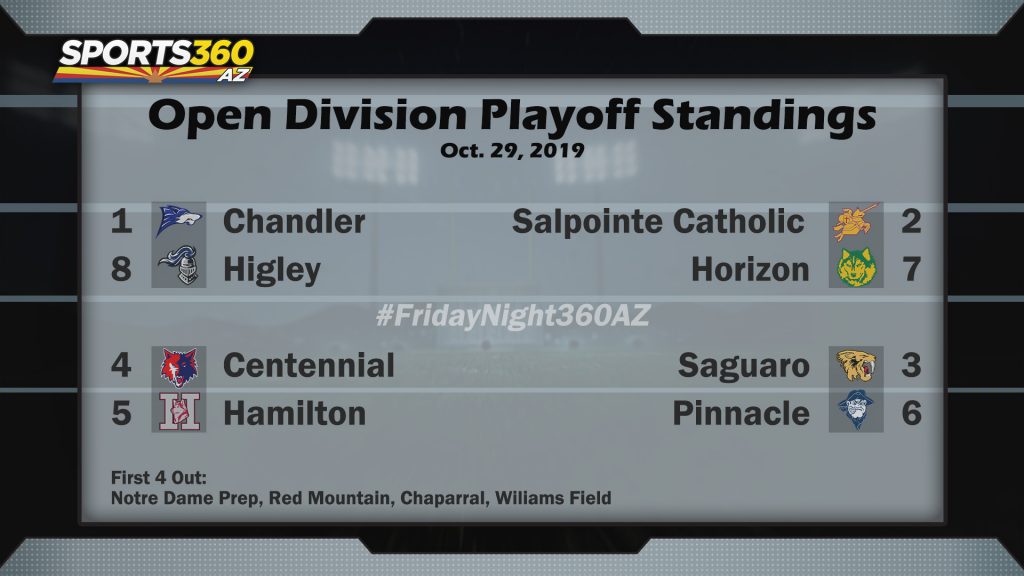 Who is Ocho?
So the conversation starts with who that eighth team will be. After beating #8 Higley, could Williams Field leapfrog three teams to enter the Open Division themselves? In the final week, Notre Dame Prep, Red Mountain and Chaparral all won and are all within .1 points in their ratings. Is Notre Dame's lone loss the #7 Horizon able to push them to the Open 8 over Red Mountain's quadruple overtime loss to Perry? Is Chaparral's notably stronger strength of schedule the factor that could make them leap up the rankings?
We'll know in about 12 hours…
Runnin' With the Huskies
It will be interesting to see where Hamilton ends up in the rankings. The #5 team had a last second loss to #1 Chandler on Friday, but how much will they drop, if at all? The Huskies had the Wolves on the ropes, something no team has been able to do all year, and showed they belong. I don't think their positioning will change all that much.
While we're on the topic, Mike Zdebski and this coaching staff deserves a ton of credit. There was so much transition last year, which resulted in a 3-7 record, but clearly the Huskies have bought in on the field and in their offseason programs. In addition to that, Dick Baniszewski helped keep the program together and afloat when they faced a ton of adversity a few years ago. He helped lead the program and tab Zdebski as the man who could help bring the program to the next level for years to come. It feels like Hamilton is just getting started.
Woke Up Wolves?
Speaking of the Battle of Arizona Avenue, let's talk about the top-seeded Wolves. Chandler hasn't really been tested this year. They've been downright dominant. They rarely play from behind, but they did on Friday. Remember when that scenario came up for Chandler last year? It was the state semifinals against Highland. How did Chandler respond? With one of the most impressive state championship performances to take the 6A title. Don't be surprised if they bounce back similarly this season.
Let the postseason fun begin…