Hope everyone's week is going well and I apologize this is coming to you a day late. No #FridayNight360AZ game for me this week as I'll be taking a quick trip back to my alma mater to watch some Big 12 football in Fort Worth, Texas.
With that, let's get into this week's "Zone Read."
Good For the Game
If you've been reading this notes column over the last few weeks you know I've had a few issues with the Open Division (keep reading for more on that) but no one can argue The Open 8 has been, to this point, wonderful for Arizona high school football. There is a "buzz" about who gets in, who gets left, if anyone can beat Chandler and several other storylines we didn't have in the past.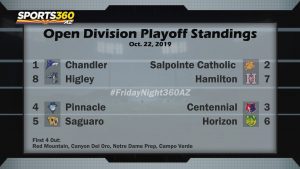 — Hunter Barth (@hunter_barth_) October 20, 2019
Oh, did we fail to mention all five came from Power 5 programs, headlined by #FightOn pictured above?
"They've been talking to me for a while," Barth said to Andrew Luberda at CountyLinePreps.com about the SC offer. "I was just extremely excited. I immediately thanked the coaches…I love it at USC. It's amazing there…I'm excited about what's to come."
We've seen in the past a player's first offer can quickly multiply and Barth's was no different. Iowa State, Duke and, most recently, Washington State round out his list.
Also doesn't hurt he's a three-sport standout (football, basketball, track) with a 4.5 GPA.
Big things coming, Hunter.
Mountain Men
Quietly Sunrise Mountain is having another nice season under head coach Steve Decker.
The Mustangs lost a slew of talent last season, most notably quarterback Keegan Freid, but SMHS (6-2) rides a four-game win streak into their game Friday at Apollo before hosting Centennial to end the regular season.
Gianoli for a 10yd TD, 2pt conversion is no good. 6-0 Mustangs. #smhsfootball pic.twitter.com/lopdNSfLmN

— Sunrise Mountain (@SunriseMustangs) October 19, 2019
Alexander Gianola has played extremely well behind center (32 total touchdowns, six interceptions). Fellow senior Nathan Duran leads Sunrise in catches (32), yards (453) and touchdown receptions (nine).
Defensively, the Mustangs haven't allowed more than 14 points in their four-game streak after surrendering 41 and 50 in back-to-back September losses to Liberty and Gilbert.