(Photo courtesy: NAU Athletics)
By Carson Field
Ceejhay French-Love knew a change was necessary.
"I felt like I was running out of time," the 6-foot-4, 245-pound tight end French-Love said to Sports360AZ.com. "I wanted to get as much college playing time as I could."
At Arizona State, he was best known for his game-clinching 30-yard reception in an upset of fourth-ranked Washington two years ago in Tempe.
However, French-Love never found his niche in ASU's offense and ultimately decided to transfer 157 miles up Interstate 17 to Northern Arizona University. A Big Sky member, NAU participates in the Football Championship Subdivision of college football.
The Lumberjacks' use of tight ends in their system was his primary reason for landing in Flagstaff.
"The offensive scheme made me come here," French-Love said. "They use the tight end a lot."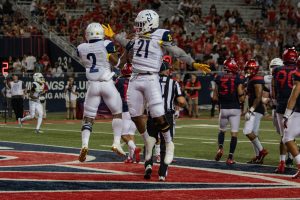 Just as the 'Jacks were the right fit for French-Love, French-Love was the right fit for NAU. Despite coming from a power-five program, French-Love showed no entitlement from the moment he stepped foot on campus. Instead, he was fully on board to lead by example.
"It seems like he's been here for five years," tight ends coach Robin Pflugrad said. "He's never once said, 'I came from a Pac-12 school,' which is very refreshing in today's football society."
At a school where French-Love wasn't familiar with most of the personnel, playing under coaches with connections to his former program helped ease this transition.
Pflugrad coached at ASU in the 1990's as the school's wide receivers coach. His son, Aaron, played wide receiver for the Sun Devils and is now NAU's offensive coordinator. NAU head coach Chris Ball was the Sun Devils' defensive coordinator from 2012 to 2015.
"It was so easy," French-Love said. "It's like family. We always get along and they're always there for me."
However, for French-Love NAU is just the last stop in his college football journey. Before joining ASU in 2017, he played for Colorado Mesa and East Los Angeles College. At the latter of those two, he accrued more than 400 receiving yards while catching nine touchdowns.
These seasons at low-level schools sharpened his work ethic.
"It just taught me how to grind," French-Love said. "Go hard and don't take no for an answer."
Remember what is done in the dark will soon come to the light.

— 1K. (@2GREEEDY) September 23, 2019
Three schools and four years later, French-Love is now a senior.
His final year of eligibility hasn't gone as planned, however. Before the season, French-Love sustained a knee injury. Prior to Week 6, he had appeared in just three games and hadn't logged a reception.
While French-Love didn't have as many chances to perform on the field during this time, he found somewhere else to contribute: in the locker room.
"He instantly became the guy who carried the flags in doing all the little things right in the rehab and making sure you're in class, making sure you're not doing the wrong things out late in downtown," Pflugrad said.
Things changed for French-Love in the Lumberjacks' sixth game.
He started the game at tight end and appeared as a blocker on most run plays. He even caught his first pass of the season — a 14-yard touchdown in the fourth quarter to seal NAU's win over Northern Colorado.
(Q4 | 6:26) NAU 41 – UNC 23@captaincookus10 finds Ceejhay French-Love for a 14-yard touchdown #NAUStrong ⚒️?? #BigSkyFB pic.twitter.com/veXz6soXZY

— NAU Football (@NAU_Football) October 6, 2019
"It was great to have him out there," Ball said after the win. "(That play) was run to perfection, and I'm so happy for him to be able to get that touchdown."
In addition to his touchdown, French-Love's blocking stood out against Northern Colorado. He helped the Lumberjacks rush for 131 yards and 4.0 yards per carry.
"He's an absolutely tremendous blocker," Pflugrad said. "I don't know if I've been around one as good as Ceejhay, and that includes some great tight ends at ASU, Oregon and Washington State. He just brings more force and has great footwork in his blocking abilities."
Now 3-3, Northern Arizona sits fifth in the Big Sky with six games remaining. With the next few games pivotal for the Lumberjacks' playoff hopes, they will need to fire on all cylinders if they hope to climb the conference ladder.
Ball is convinced French-Love will help with the offense's output.
"He makes a difference when we want to run the football," Ball said. "He really helps us."
In the midst of all these hardships, one thing has gotten him through: his faith.
"It's the only reason why I'm still going," French-Love said. "All glory to God."
When NAU's season comes to a close, it will be the end of an era for French-Love — at least at the college level. He hopes to find a spot on a professional roster after he graduates.
But he isn't worried. French-Love has put his trust in a force greater than himself.
"I would like to [play professionally] but if not, then I know that's not God's plan for me," French-Love said. "I'm just enjoying it, giving my all. If I can do it, I'm gonna do it."