September, we hardly knew 'ya.
We all knew this season would fly but considering some teams are nearly to the halfway point seems almost unfair. There's already plenty of buzz about the Open Eight, who may get in and who could get left out, but for now let's start with two schools separated by just five miles who simply don't like each other.
'Cats vs. 'Birds…Saguaro makes the short trip up Scottsdale Road to #ChapTown this week. The Firebirds haven't beaten the Sabercats since 2013 in one of the most spirited high school football rivalries in Arizona.
"The atmosphere is electric and you know everybody in Scottsdale is going to be there," former Chaparral head coach Charlie Ragle told the "Zone Read." "In those years when we played (Ragle was Chap's head coach from 2007-2011) we were two of the top teams in the state. It was one of the top games in the state…the Chaparral-Saguaro game is one that makes high school football so special."
What do I expect Friday night? Probably the unexpected, considering we're still not sure if Jack Miller, Tommy Christakos and other CHS stars will be back from injury. I'm hopeful both teams will be at full strength but don't expect it. 'Tis the season for bumps and bruises.
Regardless, this a rivalry which needs to be played EVERY year despite the two-conference differential.
Kyle vs. Kyler 2.0?…Former Desert Mountain star Kyle Allen competed against Kyler Murray at Texas A&M before both got sick of Kevin Sumlin's flip-flopping antics and transferred out. Allen went to Houston and we all know how Murray's post Aggie-career went in Norman, Oklahoma.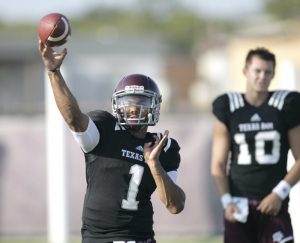 — Carolina Panthers (@Panthers) September 18, 2019
Last week Baltimore tight end Mark Andrews, a high school teammate of Allen at Desert Mountain, torched the Cardinals with eight receptions for 112 yards and a touchdown.
Tony Tabor had a first-hand view of both player's rise to stardom as their head coach at DMHS.
"Those guys deserve the success that's coming their way," Tabor, now the defensive line and special teams coach at Mesa Mountain View said to the "Zone Read." "Always humble, hard-working, good students in the classroom and the game. Great people."
"They had the physical tools but most important, the mental tools."
Another cool storyline in Glendale Sunday afternoon will be watching Allen on the opposite sideline of his best friend, Cards' wide receiver Christian Kirk.
Three-D(iaz)…It probably isn't too uncommon for two brothers to share the same varsity field but the Diaz brothers pulled the trifecta so-t0-speak last week when Brophy traveled to Glendale to take on Copper Canyon.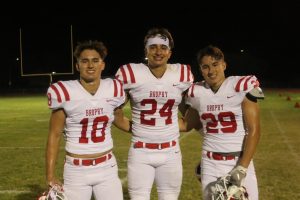 — Chilluminati (@JUSTCHILLY) September 19, 2019
Two weeks ago in their home-opening win over rival Horizon, the 'Neers hit another home run with this look on PHS's Salute to the Military Night.
Pinnacle Pioneers with the 63-46 victory over the visiting Horizon Huskies pic.twitter.com/BpfvVPgy0y

— ?️INNACLE FOOTBALL (@GoBigBlue_PHS) September 7, 2019
Don't forget when you're out at games this weekend and throughout the season, please use our hashtag #FridayNight360AZ on all your social media platforms.