The season is moving and some teams appear to be hitting their mid-season stride as we welcome fall football and the weather which accompanies it with open arms.
Without further ado, here are some musing from my keyboard and this week's "Zone Read."
Larry Legend…By now, Kyle Allen's return to the Valley last weekend has been well-documented. The former Desert Mountain High star, whose unconventional path to the NFL is one fit for a Hollywood script, made the Cardinals' overmatched secondary look foolish Sunday at State Farm Stadium.
Everyone saw what happened on the field but few realized what materialized off of it, moments after the Carolina Panthers 38-20 win over the Cards.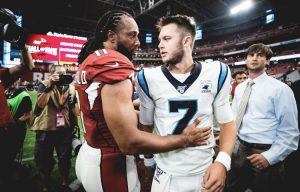 — The Rock Show ? (@Srocker22) September 4, 2019
Peace said expect to see an even improved product that the sophomore who rushed for 1163 yards (nearly nine yards per carry) and 12 touchdowns last fall.
"I personally want to see him carry the ball, just to see the growth that we have witnessed physically finally play out on the field."
Scary.
Taking Shape…I saw first hand last week the improvement Higley has shown since starting the season 0-2. The Knights, who made the cross Valley trek from Gilbert to Goodyear, dismantled a then-unbeaten Millennium squad and seemed to put to rest any whispers of this being a "rebuilding year" for Eddy Zubey's team.
Nine transfers are now eligible and one from 2018, running back Isaiah Eastman, ripped through the Tigers defense as Higley won their third-straight to improve to 3-2.
5A teams are you really going to let a WR lead the entire region in rushing? ???

S/O to the multi-talented @IsaiahEastman_ https://t.co/qeBVYRAb9H

— ArizonaVarsity.com ???? (@AZHSFB) September 21, 2019
A University of Colorado assistant I spoke with on the sideline was raving about the skill set of junior quarterback Kai Millner, who has a chance to blow up this off-season. the 6-foot-2, 180-pounder has only thrown four interceptions in 120 pass attempts.
After a trip to Maricopa Friday, the back half of the section schedule is pretty stout with matchups against Casteel, Campo Verde, Gilbert and Williams Field.
#SagU Crew…Pretty cool experience Tuesday morning at Saguaro High School where former stars, now Arizona Cardinals, D.J. Foster, Christian Kirk and Byron Murphy surprised the student body at their fall pep rally, speaking to and taking questions from all in attendance inside the packed gym.
Some professional athletes give back because they're asked/required to, these three give back because they want to.
Really cool seeing former @saguarofootball ?'s, now #AZCardinals @ckirk, @byronmurphy and @ASTATE_8 giving back this morning @SaguaroSUSD ?! #SagU ➡️➡️ #BirdGang pic.twitter.com/LMYwyBCsAZ

— Eric Sorenson (@EricSports360AZ) September 24, 2019
Their different personalities (Foster-outgoing, Kirk-cordial, Murphy-quiet) blend perfectly together and the trio were engaging, personable and, most importantly, honest when taking questions from the crowd.
Don't Forget…When you're out and about Friday night and every game moving forward, please use our #FridayNight360AZ hashtag on all your social media platforms so we can better spread scores and breaking news each and every week.