By Carson Field
Billy Hatcher had time to kill.
Minutes after his flight touched down in Flagstaff on Thursday, Sept. 12, the former MLB star realized he had several hours before his primary obligation of the day: participating in the Grassroots Tour Clinic, .
When he departed the plane and exited the terminal, Hatcher immediately acquainted himself with Jeff Idelson and Jean Fruth, two of the tour's key members.
Fruth, the co-founder and photographer of this brand-new endeavor, which provides the youth with more exposure to baseball, suggested venturing to where Hatcher's baseball dreams began: Williams, Arizona. That way Hatcher could interact with students at Williams High School, the school from which he graduated.
"It was a last-minute decision," Fruth said.
What began as something to pass time and collect photos turned into much more. Moments after Hatcher entered the building, he was immediately recognized. Dozens from the 229-student school surrounded him, asking questions and taking pictures with the former Major Leaguer.
The town of Williams, located in Coconino County, is home to just over 3,000 citizens. In a town that small, Hatcher is more than just a successful former resident; he's a hero.
Look who stopped by Williams High yesterday! Billy Hatcher pic.twitter.com/7fHIwXxsBD

— Williams Unified School District #2 (@williamsusd2) September 13, 2019
"I've had a chance to play in a lot of baseball stadiums and in the World Series, but just the feeling I had today with the kids ranks right there with them," Hatcher said. "I think I got more out of it than they did.
"Feeling appreciated and the way they made me feel; it was awesome."
Hatcher played 12 seasons in the Major Leagues with six different teams. The highlight of his career is the 1990 World Series in which he helped the Cincinnati Reds win their fifth title, finishing the series with a .750 batting average. He ended his career with a lifetime batting average of .264 with 54 home runs.
After his playing career, Hatcher began coaching. He served in the Tampa Bay Rays organization from 1998 to 2005, and has worked in the Reds' organization since 2006.
His journey to the bigs, however, began long before his MLB days. Hatcher connects his professional success to growing up in Williams.
"They gave me whatever I needed to succeed at the next level," Hatcher said. "They kept me out of trouble; they kept me grounded."

In addition to keeping him grounded, the town's communal love for the high school's athletic programs further enhanced Hatcher's competitive nature.
"The town of Williams would basically close down and everybody would come to the athletic events," Hatcher said. "The community supported all the teams there; it was unreal."
Though Hatcher's homecoming in Williams was surreal for the retired MLB slugger, that was just the beginning of an inspirational day giving back to his home state. Hours later, Hatcher, Fruth and Idelson drove 33 miles down the road to Flagstaff, the site of the Grassroots clinic.
Former @MLB Billy Hatcher returned to AZ yesterday with @GrassrootsBB at @BGCFlag The 12-yr. veteran reminded kids to never give up pursuing their dream, with hard work and perserverance dreams can come true, just like his did while growing up in nearby Williams. ?@jeanfruth pic.twitter.com/MP4hRox1M5

— Grassroots Baseball (@GrassrootsBB) September 14, 2019
Grassroots was initially founded from Idelson's and Fruth's love for the game, which led Fruth to publish a book titled "Grassroots Baseball: Where Legends Begin." This passion gave them a grand idea: launch a tour to instill their love of "America's Pastime" into the country's youth.
At these tours, former Major-League stars speak and teach the fundamentals of baseball. They also, with the help of sponsors, provide brand-new Rawlings gloves to clinic participants.
Hatcher's clinic in Flagstaff marks the second-to-last stop of the inaugural Route 66 Tour. The group hopes to jumpstart higher participation for baseball by providing exposure and opportunity.
"Some of these kids can't afford it, so hopefully they will start trying to play a little more baseball," Hatcher said. "Hopefully we can get more kids involved in baseball."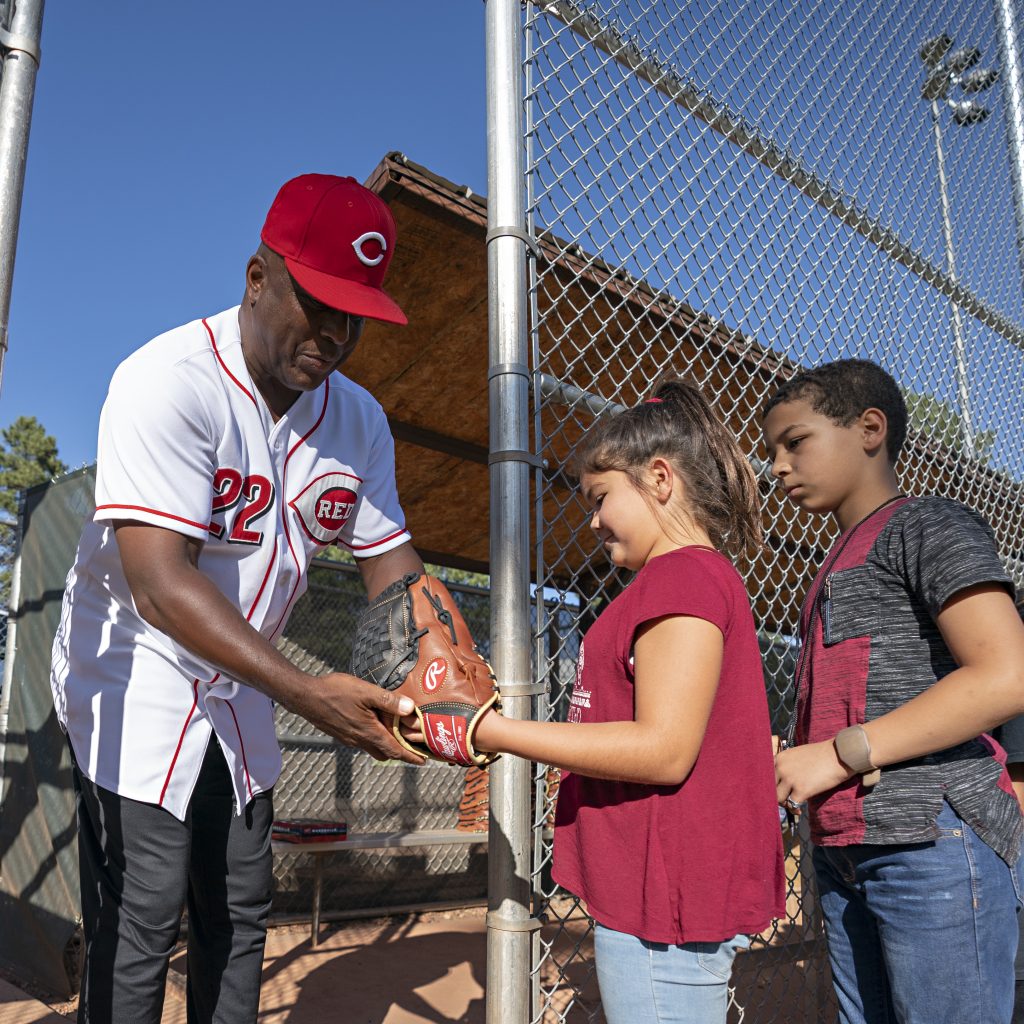 Almost 50 kids attended Thursday's clinic and had the chance to learn from Hatcher. That's 50 kids that may have never picked up a glove in their young lives if not for Grassroots.
According to Idelson, whether or not these kids make it to the big leagues doesn't define the clinic's success. It's all about spreading their love for the "child's game."
"Bringing Billy Hatcher in, making an impact on their lives so that some kids have discovered something new that they didn't have a chance to try," Idelson said. "Maybe even have that become part of their daily repertoire: playing baseball."