Welcome to the latest "Friday Night Rewind" and hope your #FridayNight360AZ weekend is off to a good start.
For the second time in three weeks I made the trek to Goodyear, so let's start there.
Family Ties…On a team filled with bigger, flashier stars no Higley Knight stood out more to me Friday than Cannen Hall. The senior linebacker was everywhere as the HHS defense smothered Millennium 36-7 in the far southwest Valley.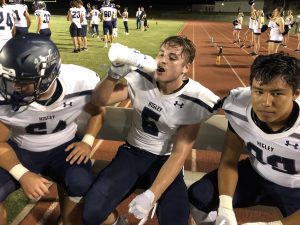 — David Hines (@DavidHinesAz) September 20, 2019
All the hard work with a core senior group, who have played varsity since their freshmen or sophomore years, are now 4-0 after plastering Tucson Flowing Wells 63-30 at home to improve to 4-0.
"Really just a tribute to our kids hard work," Davis said Friday night. "Lots of things we need to get better at but really proud at the way these seniors and the rest of the team have found ways to win."
The Trojans' offense, paced by senior quarterback and North Carolina State commit Ben Finley, is averaging over 50 points per game this fall.
I'd expect PV to be 8-0 when they end their regular season slate at home against Horizon and Notre Dame Prep later next month.
Three and Out…Three scores which caught my eye from Week Four.
1. Gilbert holds off Sunrise Mountain 50-47 at home.
I mean, let's be honest, have we come to expect anything less from Derek Zellner's team? The Tigers have been involved in some wild shootouts the past few years and Friday was no different over a suddenly slumping Mustang squad who dropped to 2-2 after opening 2-0.
After the @WyattZellner INT, @willplummer15 hits @Anthony_Yanez20 for the TD! Tigers extend to 22-6 lead over Sunrise Mt. 3:20. 2nd. #OnwardTigers pic.twitter.com/VZrY4Nwxir

— Freddy Yanez ☘️ (@feyanezjr) September 21, 2019
Senior quarterback and University of Arizona commit Will Plummer is doing it all for the undermanned Tigers, who play in a loaded San Tan Section.
2. Liberty takes out their Nevada namesake 36-33 in Henderson. Mark Smith's team has bounced back quite nicely from a season-opening loss to Brophy back in Week Zero.
Great win guys!!!! Congrats on claiming the first ever out of state victory in Liberty history!

— Devon Henry (@devonhenry77) September 21, 2019
The Liberty Lions (4-1) outscored the Liberty Patriots 10-7 in the fourth quarter to hold on for the out-of-state win.
After managing just six points against BCP, the Lions' offense has come alive averaging nearly 39 during their four-game win streak. Next week they're back at home against Doug Madoski's much-improved Mountain Ridge Mountain Lions who edged Tolleson Friday to improve to 4-1.
Mountain Ridge went winless (0-10) in 2018.
3. Hamilton blows out Mountain Pointe 42-13 in Chandler.
Look, we all know this has been an extremely difficult week for everyone in and around the Mountain Pointe program but the Pride are now 1-3 with upcoming games against Queen Creek, Highland and then the annual 'Tukee Bowl against rival Desert Vista.
Gabriel Armenta is having himself a night. This 26-yard TD run is his 4th of the night.

42-13 Huskies | 5:48 4Q #VXLive pic.twitter.com/taBHujO33T

— Zach Alvira (@ZachAlvira) September 21, 2019
Rich Wellbrock's team is having trouble scoring points, which a recipe for distaster playing a schedule loaded with teams who can light up the scoreboard in a hurry.