Derek Kraus wants to hit the showers early and call it a game and a championship. With four races remaining, clinching a title before even getting to Arizona's ISM Raceway to close the season would be a relief. Over the past three races, the 18-year-old hasn't found victory lane. Arguably, Kraus has gained something even better.
Kraus has gained 21 points on the entire field in the last three events extending his points lead over teammate Hailie Deegan to 29 points. In NASCAR, every single position on the track is worth one point, meaning Deegan is in essence, 29 positions on track behind Kraus.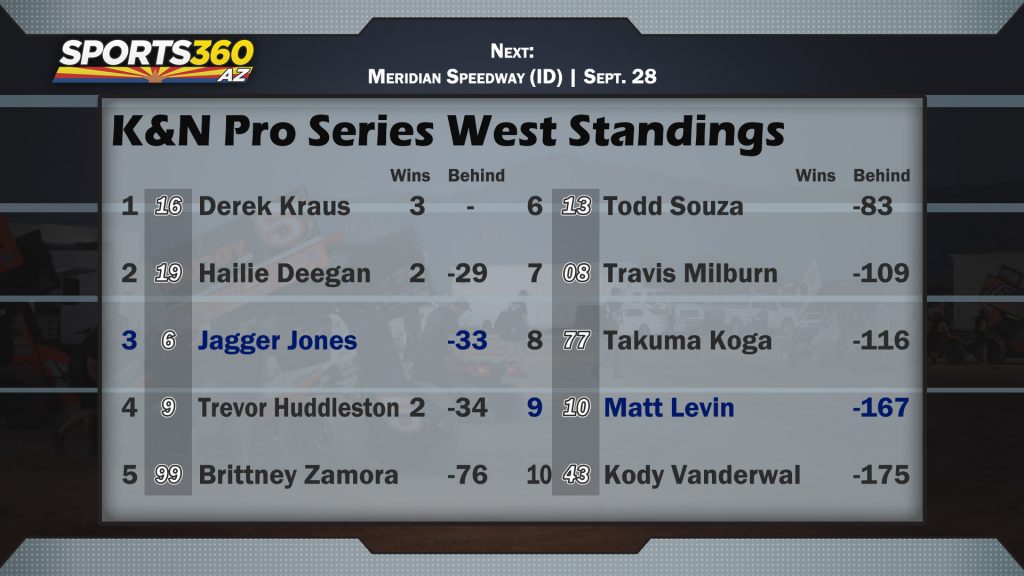 It's been over a month since the last race in combination with the East Series at World Wide Technology Raceway at Gateway and everyone's ready to get back in the saddle. It was once again a troublesome combo race for the west drivers as Kraus was the only West Series pilot to finish in the top five.
Now the haulers head to Idaho at Meridian Speedway for the NAPA Auto Parts Idaho 208. While Deegan wants to look ahead to catch Kraus, she's now in the grasp of Sunrise Ford drivers Jagger Jones and Trevor Huddleston, only four and five points behind.
There may be no better place for Deegan to try to catch Kraus and leave the Sunrise Ford drivers in the rearview mirror than Meridian, the site of her first career NASCAR victory. Deegan made history with a last-lap pass to become the first woman to win a NASCAR K&N Series race and second to win a NASCAR sanctioned event at just 17 years old. Since that victory last year, the Temecula, CA driver has posted two more NASCAR wins, both coming in 2019.
I can't thank everyone enough! @ToyotaRacing @NAPARacing @BMR_NASCAR for taking a chance on me and making this dream come true! We've had our ups and downs, but everyone who has stuck behind me, my crew chief @_kevin_reed and all the crew guys, WE DID IT? pic.twitter.com/LhB4mTui63

— Hailie Deegan (@HailieDeegan) September 30, 2018
You may recognize the Deegan name from the birth of freestyle motocross or your favorite Metal Mulisha t-shirt. Hailie's father, Brian Deegan, is one of the fathers of freestyle motocross, a Supercross winner, and a 14-time X-Games medalist in motocross and Rally Cross. After multiple death-defying experiences on two wheels, Brian races in the Lucas Oil Off-Road Truck Series as a series champion.
Hailie has grown up racing off-road like her father jumping on dirt bikes and competing as Brian's teammate in the Lucas Oil Trucks. She's making her own name, winning multiple Pro Mod Kart championships and now getting an opportunity to race in NASCAR through Toyota. She already ranks in the top five of all NASCAR drivers in social media value without ever racing in any of NASCAR's national touring series.
With only three races until the series heads to Avondale to battle at ISM Raceway, four drivers are still healthy in the title hunt, but Kraus controls his own destiny. Every race, the picture is becoming clearer of which drivers will be in contention for a championship come Nov. 9 at ISM Raceway. Can anyone close in on Kraus this weekend?
Be sure to keep up with a new Drive to the Title notebook before every race weekend here at Sports360AZ. Join the conversation on Twitter with @Sports360AZ, @devonhenry77, and #KNWest.
[PIT BOX] K&N Pro West Starts Championship Drive At Meridian

?→ https://t.co/0Mqwd9mtNg#KNWEST | #NAPAIdaho208 | @meridianspeed pic.twitter.com/iUmCloWhpT

— #MyTrackMyRoots (@NASCARHomeTrack) September 23, 2019