The wait is officially over.
This week, much like our Valley temperatures, Arizona high school football heats up with games everywhere.
Before I get started, I'd like to thank the following programs for having me out the past couple of weeks: Paradise Valley, Horizon, Saguaro and Pinnacle. I'm looking forward to visiting many more in the coming months but that quartet of schools, coaches and players always play great hosts. I thank you.
There's plenty to get to so let's not waste anymore time. Here's this week's "Zone Read."
Batman & Robbins…You just never know who you're going to see pop up on a high school sideline or in a coaches box. At Casa Grande High School, head coach Jake Barro is now boss of his boss. Well, sort of.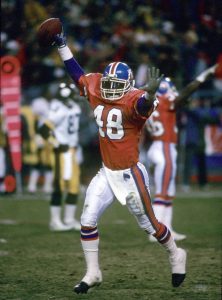 — Israel Benjamin (@Isbenjamin20) January 24, 2019
A team captain, the well-liked and respectful Benjamin has a laundry list of offers from some of the top academic institutions in the country including Ivy League members Brown, Princeton, Harvard, Dartmouth, Yale, Columbia, Penn and Cornell. Others include BYU, NAU, Army, Navy, Lehigh, Georgetown, Colgate and many more.
You getting all this, Arizona Cardinals?
Getting Defensive…Don't be surprised if Pinnacle flips the script with an defense this season. The Pioneers certainly won't be the biggest unit but they do bring back quite a bit of speed and experience under d-coordinator Andrew Hurley and his 4-3 base look.
Leading tackler Alonzo Maya, Trevor Crawford, Clay Zupke and Drew Anchor all return with a working knowledge of the system. Maya and rising two-way star Shane Sunday tied for the team lead with four sacks each last fall.
Here we come. pic.twitter.com/xI6xmCjIvQ

— Pinnacle Football Recruiting (@GoBigBlue_CFB) August 16, 2019
The schedule is certainly manageable but the 'Neers will be tested, starting Friday against old nemesis Chubba Purdy and the Perry Pumas. Pinnacle will also take on national power Eastside Catholic (WA) and make a late-season trip to #ChapTown for a showdown with Jack Miller, Tommy Christakos and the Chaparral Firebirds in north Scottsdale.
Showing Respect…Pretty cool seeing long-time Desert Ridge Head Coach Jeremy Hathcock's tweet pop up on my timeline earlier this week.
All AZ FB coaches: I'm asking that you please take a moment of silence before your game this week, to honor the life and legacy of Paul Moro. He passed away way too early this year. He sacrificed his life for the betterment of kids with his years of public service. @AIA365

— Jeremy Hathcock (@CoachHathcock) August 21, 2019
I didn't know Moro well but I have the utmost respect for what he did both on and off the field impacting so many young lives around Arizona. He won a jaw-dropping 13 state championships at Blue Ridge High School and had 318 career wins with the Yellow Jackets and 336 overall. Hathcock played under Moro at Blue Ridge, winning three state championships.
He passed away on January 26th in Gilbert after suffering a stroke. He was 66 years old.
A Simple Request…I'm so ridiculously excited for the high school football season to start. So many great coaches, players, storylines and moments to capture over the next four months. Here's hoping certain instances, players, even media members don't tarnish this beautiful game.
Arizona is continuing to get better and better, as well as more respected nationally as one of the top prep football states in America…the numbers speak for themselves.
Let's all do our best to keep it trending upward.
#FridayNight360AZ.