At this time next week, there will be high school football games being played in Arizona kicking off with Canyon del Oro hosting Flowing Wells Thursday night in Tucson. The next night the fun really starts with teams around the state taking the field.
With that as a backdrop, here are some storylines and tidbits which caught my attention since the last time this column dropped.
Without further ado, this week's Zone Read.
Passing the Torch…You'll be hard-pressed to find a school in the west Valley who had more production from dual threat quarterbacks than Sunrise Mountain. First it was Chase Cord who carved up opposing defenses and lit up defenses like Christmas trees. He's now the front-runner to start at Boise State as a redshirt sophomore this fall.
First college touchdown! Will never forget this moment. Thankful ?? pic.twitter.com/9zgslcQBBJ

— Chase Cord (@chasecord) September 3, 2018
Then it was Cord's understudy and good friend Keegan Freid who amassed over 7600 total yards and 101 combined touchdowns during his four years on varsity. He's now a freshman wide receiver at Air Force.
So the logical questions is: who's next?
"Alex Gianoli will be the next quarterback in the system," Decker said to The "Zone Read." "He fits exactly what we're trying to do. Smart kid. Great football IQ. We're very excited to see him play this year and keep the tradition of quarterbacks going for us which I believe he will."
Here's coach Decker working on mechanics with sr QB Alex Gianoli. He started at safety last season, and makes the transition to offense for 2019 pic.twitter.com/75lLOuEH74

— Eric Newman (@enewmanwrites) August 8, 2019
At 6-foot-2, 180 pounds Gianoli has the size and skill set to make an impact behind center this fall as a senior after playing safety last season. Making his transition easier will be an experienced offensive line and Chase's little brother, junior Bryce Cord, who has close to 500 rushing yards and five touchdowns at tailback.
Defensively, the Mustangs' strength is at linebacker with Micha Scott, Tommy Arnold and Justin Wilda all coming back with varsity experience.
The schedule is challenging but Sunrise does get Williams Field, rival Liberty and good 'ole Centennial all at home this season.
All Knight Long…In an area littered with talented players, Kellen Gibson may not be a name you hear much about in the southeast Valley but you probably will over the next two seasons.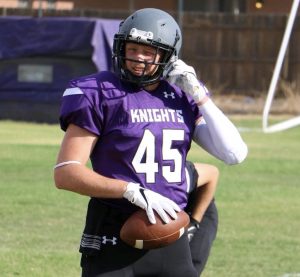 — Aaron Greene (@aarongreene47) May 8, 2019
Just down State Route 69 sits Bradshaw Mountain. I chronicled the Bears magical ride in 2018. BMHS is young but returns quite a bit of talent under Chuck Moller, including junior running back Josh Grant (327 yards, five touchdowns) and stud middle linebacker Noah Shaver (team-high 115 tackles, 14.5 for loss, eight sacks).
The Flagstaff schools, according to Zorn, have their most skill and depth in quite some time. Flag High returns 1,300-yard rusher Luis Jaramillo for first-year coach Todd Hanley, while in-city rival Coconino also has a new head coach in Mike Lapsley and a talented back in Zack Bennett (over 1200 yards in 2018).
One team who could have a bounce back season is Lee Williams in Kingman. The Volunteers went 3-7 last fall but return a slew of talented defensive players.
Crown Jewell…It's going to be fun watching Jason Jewell pace the sidelines next week when his Brophy Broncos jump feet first into the season hosting the always tough Liberty Lions at Phoenix College.
"We came out of fall camp healthy, which is important," Jewell said to The "Zone Read." "I like the character of our kids. They are approachable and play hard. We start off with a tough one against Liberty. We will know where we stand very quickly."
Nobody knows for sure how Jewell will be as a first-year high school head coach on the field but he's already made a positive impression on campus and, as we all knew he would, brought in numerous college programs to check out the Broncos' student athletes.
Brophy Fall Camp officially in the books. Ended with Mom's practice tonight and 70 play scrimmage yesterday. Couldn't be more excited. Scrimmage at Pinnacle Thurs and then all focus on those Liberty Lions. #GoBroncos

— Jason Jewell (@jason247scout) August 11, 2019
As I've said in this column before, I'm far more interesting in the people of Arizona high school than I am the process (wins/losses, etc.) and you won't find a better person around than Jason Jewell.
Appreciate the Greatness…One of my friends recently asked me what makes Centennial such a consistently dominant program year in and year out. The list is a long and extensive one but I simply stated to him, "they make you play their style on both sides of the ball and when you do, the game is over."
FAST FACT: Upon further review. . . I've broken down the year-by-year totals for Centennial with a member of their coaching staff. Here's the updated (and official) totals for HC Richard Taylor:
With Centennial: 247 – 80 – 3
Overall: 296 – 118 – 6

— Gridiron Arizona (@gridironarizona) August 14, 2019
Sure, the Coyotes have been blessed with skill players and back-end defenders who have gone on to play big-time college football (far too many to list–just check out the walls of their weight room) but Taylor's old-school philosophy won't ever change: win in the trenches.
Centennial's offensive lineman work on their get offs and striking through the chest plate at this afternoon's practice. 105 degrees with 25% humidity for today's padded practice @Cehsfootball @g_roed67 @OscarAbundisJr1 @MilesCaiden pic.twitter.com/Mhs6HgFUNP

— Cody Cameron (@CodyTCameron) August 2, 2019
A couple of years back I was talking to Taylor and assistant coach Steve Isaac after a spring workout and they told me the previous year (2017) Centennial ran the ball "around 70 percent of the time."
I can only imagine being an opposing defensive coordinator and knowing what's coming but still not being able to stop it. Quite a different approach from your now mostly traditional spread attacks you see being used.
Outside of their 17-0 loss to Eastside Catholic (WA) last season, the Coyotes scored at least 35 points in every game. They manhandled annual heavyweights Vail Cienega, Higley and Notre Dame Prep by a combined 163-27 in their last three playoff games.
Overall, the 'Yotes have performed well against national teams. This year's BIG test is Mater Dei (CA) on September 6th in Peoria. Tighten up the chin straps for that one.