Schools are back in session which means high school football (the real version) will be appearing under the Friday night lights in just a couple of weeks. It didn't seem that long ago we were crowning 2018 champions but I, for one, can't wait to see what the 2019 version looks like.
The news cycle is getting heavy so here a few things which caught my attention in this week's "Zone Read."
A New Chapter…It's safe to say Kerry Taylor's summer is ending far better than it started. The once-embattled Arcadia head coach is again solely focused on football and judging from what I saw at a recent practice, AHS now looks the part.
The Titans, who won six games last fall, are working hard to prove 2018 wasn't a fluke, while Taylor and his staff are in-sync again heading into the fall.
The HARDEST group of Seniors I know. @TitanFootballAZ 17 Days away from kickoff. Hope y'all got your popcorn ready. #TitanUp #ForTheCulture pic.twitter.com/MSbomTPHNS

— Kerry Taylor (@KerryTaylor15) August 6, 2019
"The summer's been good, I haven't missed a beat," Taylor recently said to the "Zone Read." "Even when we [the coaches] were away, we were planning on coming back. We knew what the situation was and we're back now and looking forward to this year."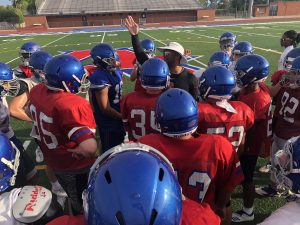 — Justin Stinson (@justinstinson17) June 21, 2019
The 6-foot-4, 190-pounder already has the size and skill-set to play at the next level.
The biggest question now is: where?
Stinson, who also runs track for the Trojans, has dedicated himself to the weight room and has the body to develop into a Power Five cornerback, safety or potentially outside linebacker, according to Sundberg.
Model of Consistency…While Salpointe Catholic gets most of the southern Arizona sizzle, Vail Cienega continues to put out an incredible product. Some in and around the Bobcats' program may even consider last season's 9-3 campaign a "down year," taking into account Pat Nugent's team lost just two games the past two seasons combined.
Past. Present. Future. Cienega Football. #TheBoysInVail pic.twitter.com/bWDr6DgbVK

— #TheBoysInVail (@CienegaFootball) July 26, 2019
The 2019 'Cats are still very much an unknown. Gone is Swiss Army knife Terrell Hayward, quarterback Luis Morales and Cienega's top five tacklers but one piece to build around is senior Damaggio Strevay.
"He is a three-year starter and will be a starter [this year] on both sides of the ball," Nugent said to the "Zone Read." "We have a great line and he is our leader."
The 6-foot-3, 255-pounder, who carries a 3.9 GPA, has given back to the program by helping out with Cienega's youth camps this summer, as well as volunteering his time in the weight room mentoring and training underclassmen in football, as well as other on-campus sports.
The Bobcats open by hosting Cholla August 30th before taking on Sunnyslope and long-time nemesis Centennial in consecutive weeks.
One Last Run…Is it unfair to call a player who's rushed for 3400 yards and scored 72 touchdowns, underrated?
Maybe.
You can call Glendale High's Kevin Daniels anything you want, just make sure you include the word "talented."
The senior running back rushed for nearly 2000 yards alone as a junior and appears primed for another big year, even with a different look in front of him.
480 lbs on full squat. 3rd guy in program history to make the "Ton Club" (2000 pounds) pic.twitter.com/MaOZiGqylq

— Kevin Daniels (@kev2Savage) April 26, 2019
"Kevin looks good," head coach Rob York told the "Zone Read." "This being year three in our offense he has a very good grasp on all of our concepts. He has been doing a good job working with our very young offensive line."
The once luxury will be a key storyline to follow after the Cardinals went 9-2 in 2018 and qualified for the 4A playoffs.
Foster-ing Good Thoughts…When talking about "the greatest running backs" in Arizona high school history, D.J. Foster's name isn't always the first mentioned which is crazy when you consider just how dominant the Saguaro High star was. I was reminded by azcardinals.com's Kyle Odegard in this phenomenal feature on the trio of #SagU standouts now playing for the Cardinals, the video game numbers Foster racked up for the Sabercats.
His senior year stats were simply jaw-dropping: 3,058 yards and 54 touchdowns in 13 games, including 508 and 10 TD's in a playoff game against Sunrise Mountain in 2011. It's safe to say no one will be touching that record anytime soon.
What's not safe to say if Foster will be able to secure a spot on the Cards' regular season roster. His torn ACL from last pre-season is recovering but not at the rate he'd hoped. The versatile player will likely have to beat out fellow young running back and return specialist Joe Logan, who will be used much more in Kliff Kingbury's system than the previous regime.
Here's DJ Foster & Christian Kirk when they were @AZCardinals High School Players of the Week pic.twitter.com/3YSjhYl3Gl

— Mark Dalton (@CardsMarkD) March 14, 2019
Regardless of what happens in the coming weeks, Foster's legacy as one of, if not, Arizona's best need not be forgotten.