(photo credit: Audrea Walshire Photography)
Few will argue the heart and soul of the Arcadia football team stands around 5-foot-9 and weighs maybe 180 pounds. You see, Paxton Earl may not stand out in the warm up lines but when the lights go on, it's a completely different story.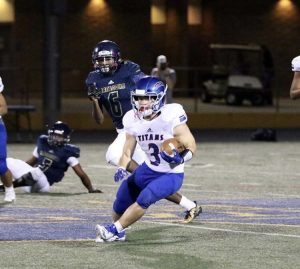 — Kerry Taylor (@KerryTaylor15) July 11, 2019
From Taylor's first few days on campus, it became evident Earl would be one of the cornerstones and building blocks in reconstructing the Titans' program.
"Paxton's always been a leader," Taylor said. "He's a team captain. He's going to make sure everyone's in line doing what they're supposed to be doing. We're definitely thankful to have him."
The same can be said for some residents in the Arcadia area.
When Earl isn't playing football, or his other hobby-ping pong, you may find him assisting local residents while they're out-of-town.
"I take care of their houses," the young entrepeneur explained. "It's a property management business and a dog-sitting business…I do anything that my clients ask me to do that will make it so that when they return, their house is just how it was when they left."
The business, which was first suggested by Earl's dad, has begun to grow-much like Earl's college offers.
Thankful to have received an offer from Whittier College in California. Thank you @CoachNeale for this opportunity! pic.twitter.com/4Z8r43eshw

— Paxton Earl (@paxton_earl) July 26, 2019
"He's tough," Taylor said when asked what college coaches like about Earl's game. "He can play multiple positions. He can play special teams. Anywhere you need him, he can fill in. He's a guy that just does it all."
Truer words may have never been spoken.