The story behind star running backs and their offensive linemen is one of the more unique ones in all sports. The relationship is not different at Arizona State where star running back Eno Benjamin never forgets to "give back" to the young men who last fall helped pave his way to college stardom in Tempe.
"I feel like, the more time you spend with them, the more you do stuff with them makes them like you more," Benjamin said to Sports360AZ.com. "That means how much harder they'll block for you."
The Sun Devils' big men helped the talented back rush for 1,642 yards and 16 touchdowns last fall as head coach Herm Edwards restructured the ASU offense to cater to Benjamin's skills.
The offensive linemen even catch themselves watching their star a bit.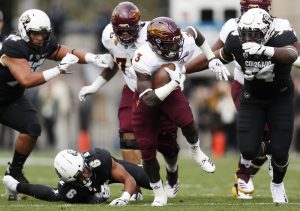 — Charlie Renfree (@CharlieRenfree) October 1, 2018
One surprise that may have caught Cabral and the other big men off-guard was when Benjamin took his entire starting offensive line to Mastro's Steakhouse after his 30 carry/312-yard/three touchdown performance in a blowout win over Oregon State last September at Sun Devil Stadium.
Benjamin joked his wallet didn't take quite the beating that evening because not all of the linemen eat red meat.