Story by Andrew Bell
Three days after he was announced as the official majority owner of the Arizona Coyotes, Alex Meruelo met with the media on Thursday afternoon.
Sitting next to President and Chief Executive Officer Ahron Cohen and General Manager John Chayka, Meruelo delved into the happenings, both good and bad, of Arizona's professional hockey franchise.
As a native of Cuban descent, Meruelo is the first Hispanic owner in the history of the National Hockey League, and he addressed the weight that comes with it.
"I am the first hispanic owner, which makes it even more special and at the same time, more difficult," Meruelo said. "My story is one of a lot of hard work, a lot of passion, and it's never easy. But nothing is. I have worked all my life in many aspects and in many businesses."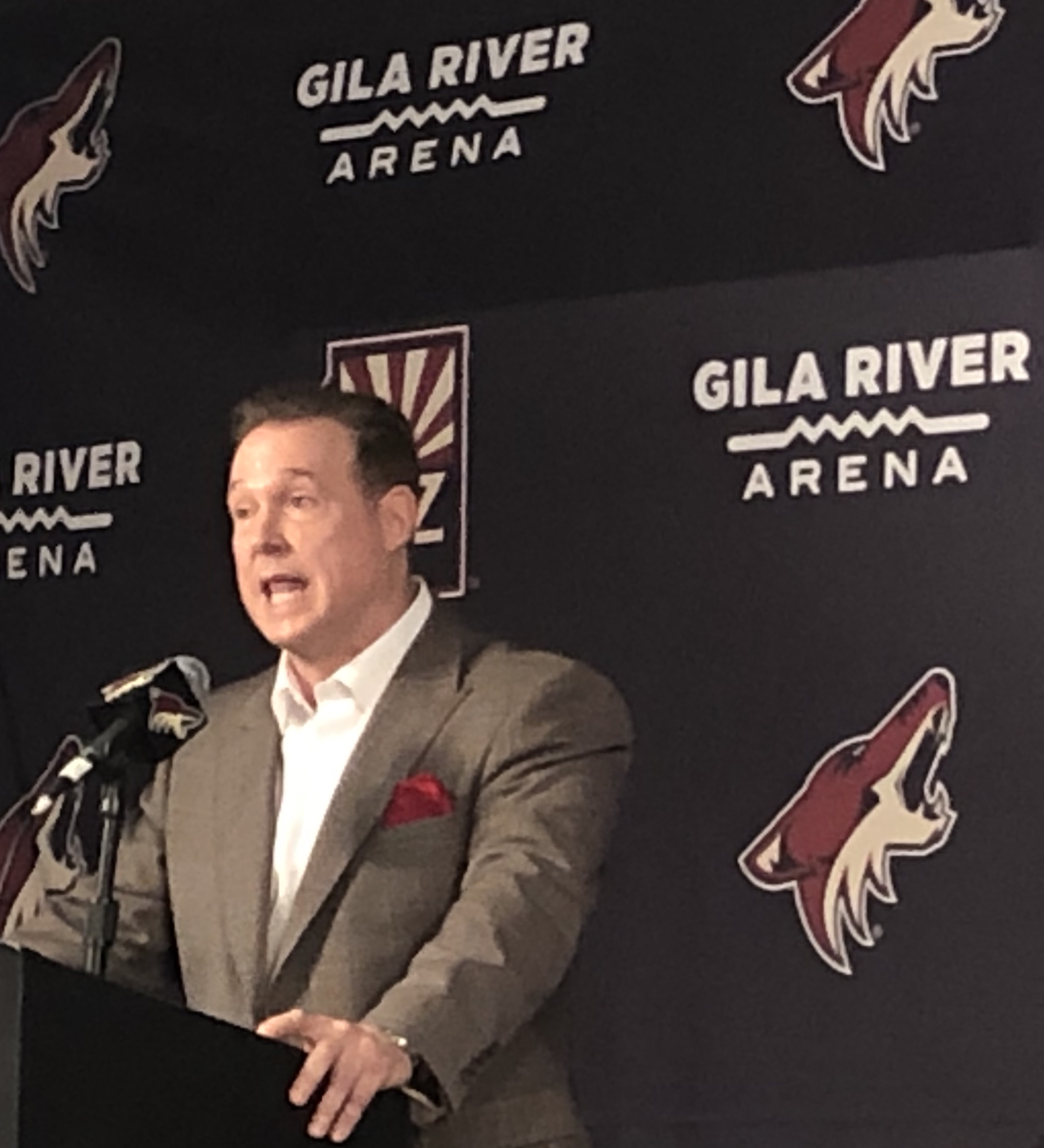 Now with a latino owner, the drive to tap into the hispanic market is something that looks to be addressed with both Meruelo and Cohen at the forefront. Meruelo even answered one question in Thursday's press conference in spanish, and the topic of hispanic broadcasts was brought up. In other western NHL markets such as Los Angeles and Las Vegas, spanish broadcasts are already taking place.
"That's something that I take responsibility for. We have not done a very good job over the last several years of reaching out to the hispanic community," Cohen said. "We have the right person now to really connect with that community…We really hope to grow that relationship."
As Meruelo mentioned above, he has worn a variety of hats in the business spectrum as well. He is the owner of two Nevada casinos (one in Vegas and Reno) named the Grand Sierra Resort, he owns a real estate and construction firm named the Meruelo Group, and he owns media properties in Los Angeles as a part of his group named Meruelo Media.
However, the industry he is joining is one that he has never been a part of until now. As a part of a lifelong dream, the businessman is an owner of a professional sports franchise for the first time. Meruelo previously made an attempt to attain the Atlanta Hawks, but things didn't fall through.
As for Meruelo's inexperience, he noted that he will use the tools that he has acquired from any business.
"Hockey is a sport, but it's also a business. I've had a lot of experience of growing businesses and turning them around," Meruelo said. "I've got good people who I work with that I consider my team and my family, and that makes me who I am today…Together, I know that we can make this a viable business."
Of course, Meruelo's beginning endeavors don't come without challenges. Front and center is the arena situation in Glendale, as the Coyotes 41 home games are played further away from the east valley, creating commute and treks out to the west side of town a dilemma for the average fan.
The Coyotes ranked 29th in attendance in 2018-19, just two spots away from dead last. Their average haul for fans was just under 14,000.
In June, NHL Commissioner Gary Bettman labeled the Coyotes current home, Gila River Arena, as "not viable longterm," in a report with ESPN's Emily Kaplan.
Meruelo put forth his thoughts on the situation.
"I think that viability is difficult. It's a difficult situation…It's difficult because the fan base is more in the valley. It's not so much out here," Meruelo said. "The corporate sponsors aren't really out here. We don't have a longterm lease. All of those are really big challenges that I have to address, and that we have to address as a team. But I am committed to making it work whether it be here or someplace in the valley. I want to be a part of this state. That's my sole interest."
Playing at a new site that is closer to metro Phoenix would seem more plausible, but only time will tell. For now though, the Coyotes are looking to build with their new majority owner. Chayka has made moves and acquisitions this offseason that has the team looking toward a first playoff appearance since 2012.
"My goal here with the rest of the team, the executives, the players, and the coaches, I will not stop until we bring a Stanley Cup to the valley," Meruelo said. "That's my goal, my commitment, and hopefully my promise to keep to all of you guys."