Five-star Salpointe Catholic running back Bijan Robinson is coming off back-to-back 2,000 yard seasons and back-to-back state championship appearances with the Lancers.
Just about every major program had offered the 6-foot, 200-pound Robinson, but on Friday he made his commitment to Texas.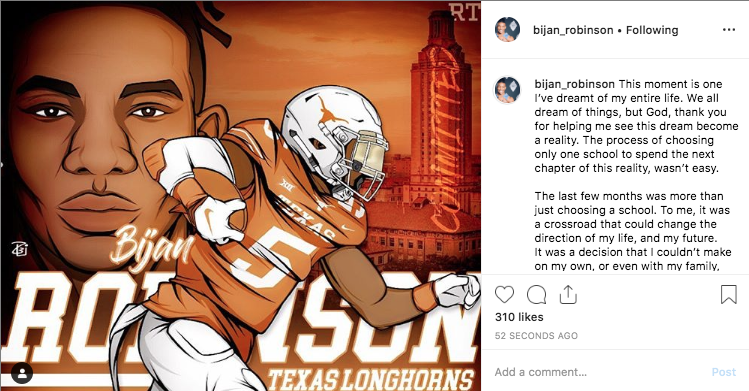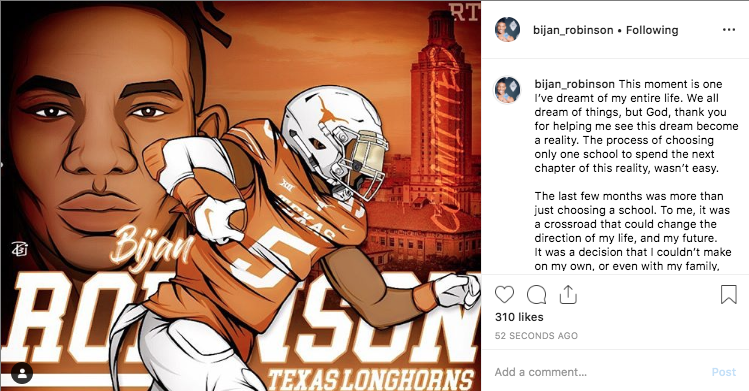 It's been a busy few weeks for Salpointe 2020 recruits: safety Lathan Ransom committed to Ohio State on July 16th and offensive lineman Bruno Fina gave his verbal to UCLA on Thursday.
Robinson came in-studio with Sports360AZ to talk about the decision, how he's looking to be the bell cow in the Longhorn backfield, growing up with Ransom and not knowing who Matthew McConaughey was when the two met on a visit.
Alright, alright, alright

Salpointe Catholic 5-star RB Bijan Robinson meets Matthew McConaughey at Texas' spring game. pic.twitter.com/s2ie8gewlH

— Justin Spears (@JustinESports) April 14, 2019
"The word 'great' gets overused so much, but he is truly great in every way, more than a player, he is such a special kid," Salpointe Catholic head coach Dennis Bene said in a message. "I have been truly blessed to be along for the ride. He makes EVERYONE around him better. That is his true gift."
Robinson spoke of the entire Tucson community who supported him since his youth football days. He said his family has helped him in every aspect along the way and wanted to recognize a few other individuals:
For "Coach Carlos," Robinson's Pop Warner coach, it was teaching him life lessons at a young age.
"He mentored me a lot coming up on how to be a man and when (big decisions) come up, how to take control of it, who to seek to help me," Robinson said.
At the high school level, Robinson was grateful for the entire Salpointe staff and said he couldn't be where he is without coaches like Dennis Bene and running backs coach Zach Neveleff.
"Coach Bene, he is the one who got me seen to the world. Just how he helps me through life, through school and to be a better football player. That's probably one of the biggest things that helped me become who I am."
Tom Herman has done a good job recruiting Arizona the past two years. Robinson joins 2019 Longhorn signees Jake Smith and Brayden Liebrock as commits from the Grand Canyon State.
In addition to Bijan Robinson, Texas is also in the mix for Saguaro playmakers Kelee Ringo and Damian Sellers.