How we feelin' out there? I'm hopeful no one melted or wilted away this week here in the Valley of the Scorch. We're gaining on the start of the 2019 AZHS football season so here are a few things which caught my attention as we jump back into 'Zone Read.'
Moneyball…earlier this week former Saguaro High star, now Arizona Cardinals rookie cornerback Byron Murphy was nice enough to come in-studio and sit down for this week's featured segment on our FOX Sports Arizona show, 'Brad Cesmat's Football AZ' (check your local listings for show times).
Appreciate @byronmurphy coming in-studio today — always good seeing you BJ ?!!#SagU ➡️ #UDub ➡️ #BirdGang pic.twitter.com/0n2MhEQN6r

— Eric Sorenson (@EricSports360AZ) July 16, 2019
Before he left, I privately pulled Byron aside and, half-jokingly, asked him to explain his emotions/reactions seeing his first NFL check.
After a minute or so of him sharing the story of first seeing the multi-million check (most of it was his signing bonus) on his mobile banking app, he explained to me how his family and representation have the account set up where Murphy can only access a very small sum of money each week to live on.
Smart.
Extremely smart.
For decades we've heard countless tales of pro athletes burning through their money far too prematurely. Kudos to you and your family BJ for having your financial priorities in place.
Far More Than Football…Devontae "Money" Ingram simply continues to impress me. Last week in Ash Fork I watched the South Mountain High senior two-way star make the extraordinary look ordinary as the Jags put in five productive days in northern Arizona.
But it was what I saw him do off the field, which caught my attention more.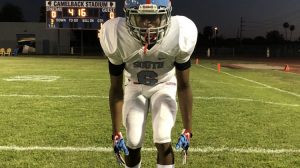 Why the big turnover? I reached out to Eaton for his take.
"There's a variety of reasons," Eaton said to the 'Zone Read.' "The pay, or lack thereof, could be a factor. Most head coaches don't make more than a $4,000 stipend for football. Other reasons could be younger coaches that have expanded their families and just don't have the time. Also, new [administrators] and athletic directors add to the turnover when they want to hire 'their guys.'"
All of the above certainly factors into a scenerio I can't see changing as Arizona high school football continues to evolve and the stakes get higher.
Personal Touch…Tuesday afternoon Tucson Salpointe's Lathan Ransom made it official, committing to Ohio State.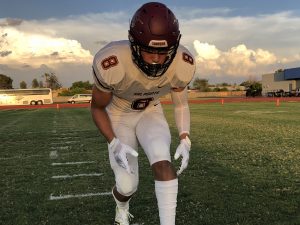 — Dennis Bene (@LancerFBcoach) July 16, 2019
In an era of private coaches and trainers, it's nice to see one of the most decorated players ever to play prep football in Arizona include his high school coach in the biggest decisions of his life to this point. Sports360AZ's Jordan Hamm went in-depth with Ransom about why the Buckeyes were the best fit.
With nearly every defensive starter back this year and, most importantly, Ranson's close friend Bijan Robinson, Lancers gunna be a handful again this fall.
Welcome Back…I was excited to hear 3TV/CBS 5 hired her a couple weeks ago.
?Y'ALL! I am SO excited to share that I am staying in Phoenix and joining KTVK 3TV & KPHO CBS 5 @azfamily as their newest sports reporter on Monday! ?⚾️ I am so blessed, humbled, and excited for the opportunity. God was so good to me this past season. It's back to business ?? pic.twitter.com/QP3devibG7

— Tresa Tudrick (@tresatudrick) June 29, 2019
Tresa is one of the hardest working reporters in this market and has a true passion for high school athletics all around Arizona.
Most importantly, she's a quality person.
Looking forward to seeing you on a sideline soon, Tres.