FRISCO, TX –
The week wasn't how Jack Miller had planned it would go.
The Chaparral quarterback and Ohio State commit was hoping to dominate at the Elite 11 and earn MVP honors, much like Pinnacle quarterback Spencer Rattler did in the previous year.
But after the morning session of Day 1, something didn't feel right. He had been dealing with a latissimus dorsi injury earlier in the summer that had been reaggravated.
"I have a strain in my lat, it happened about a month ago at 7-on-7 tournament at NAU," Miller said. "Basically, they said with rest it could heal in a week or two weeks. I will probably take about a month off before the season, probably get my arm right and get it feeling good again."
While Miller was disappointed, it was a goal he had set for himself in the seventh grade, he knew the Elite 11 was so much more than performing on the field. It was lessons in leadership and managing the game between the ears as well.
"I've taken away a bunch: how to handle myself in interviews, how to really carry yourself as a person and really treat people," Miller said. "It's really taught me a lot, and I'm super happy for the experience."
Miller was able to pick the brains of former NFL quarterback Trent Dilfer, current Oklahoma quarterback Jalen Hurts and Yogi Roth to learn about what it takes to be a big-time college starting quarterback.
"(I was) just talking to them to see how they work and what a grind college is, how much you really want. You have to love the game to be in their shoes and be where they're at."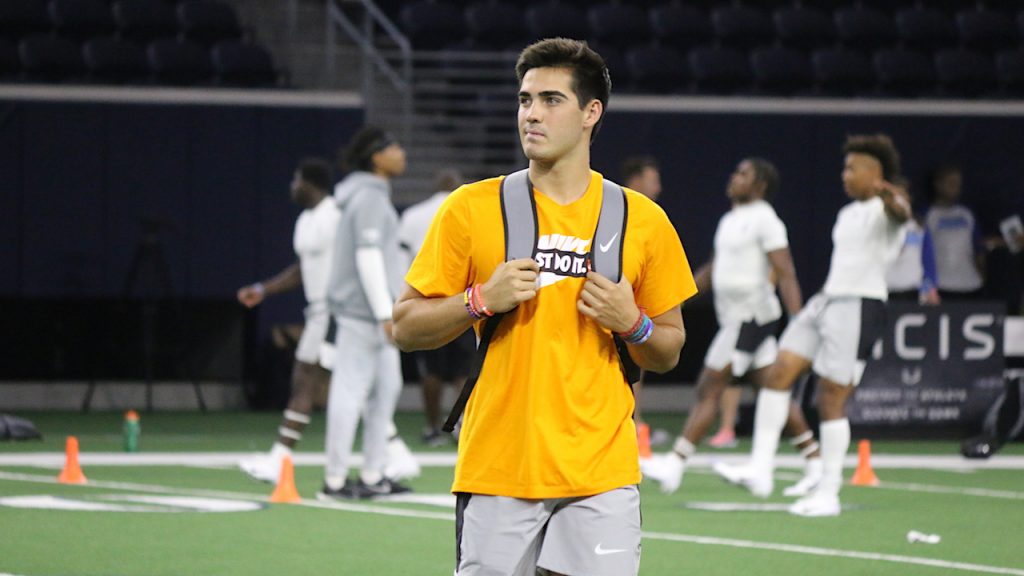 The Opening was also an opportunity to spend time with his fellow Ohio State commits and potentially add to that group.
There were multiple Buckeye targets participating at The Opening including Salpointe Catholic safety Lathan Ransom. Ransom, along with teammate Bijan Robinson and Saguaro cornerback Kelee Ringo are some high-priority Arizona targets for the Buckeyes.
"It would be huge for us," Miller said. "Lathan, Kelee, Bijan, they could all make an impact at Ohio State right away I think. They're really big targets for us, and we're trying really hard."
Y'all, there's still more ?

— Jack Miller (@jackjamesmiller) June 29, 2019
In less than six months' time, Miller will be on-campus in Columbus, and he's hoping to use this fall to prepare to the Horseshoe.
"I'm trying to gain as much knowledge as I can and really try to get the whole mental side of the game down really the coverages, the plays, just learn as much as I can in these next six months, and gain some weight and get ready for college."