Where is the summer going? Seriously.
It amazes me how quickly the "off-season" of Arizona high school football moves. While most teams will take a break next week for the holiday, a number of others will be back at it getting ready for Week Zero on August 23.
Buckle up, the season is coming fast.
For now, this week's "Zone Read."
Never Forget…I frequently get asked, "what's the best part of my job?"
Quite simply, it's the people I meet along the way.
I've done hundreds of stories on all types of student-athletes who participate in a wide variety of sports.
I've met some special ones. Ones I connect with, who I stay in touch with. Ones I try to follow long after their athletic careers end.
Tehran Thomas fits said description.
The former Desert Edge dual-threat quarterback, who helped lead Edge to a state championship in 2015, is now a junior running back at UC-Davis. The Aggies won the Big Sky Conference championship last year.
Earlier this month Tehran's father, Larry Thomas, died of brain cancer after being diagnosed back in March. He was just 45 years old.
Our thoughts and prayers go out to the the entire Thomas family. Coach Thomas had an amazing impact on the lives of many young people. Rest In Peace Coach Thomas and God bless you.

— Desert Edge Football (@DEdgeFootball) June 13, 2019
This week Tehran reflected back to the "Zone Read" about what his dad meant to him.
"The thing I remember most about my father is the lessons and the wonderful memories he gave me," he explained. "My father was my guidance, my mentor, my coach…my everything."
"I'll never forget my dad. I'll just continue to build on his legacy. I'll take him with me everywhere I go, beyond the field and in life."
A devoted father, Larry Thomas coached track and football at Copper Canyon and Mountain Pointe High School. He was set to run the freshman football program at MP under Rich Wellbrock, who coached Tehran at DEHS.
Big Men, Big Event…quietly, for nine years now, Desert Edge has hosted the Arizona West Valley Big Man Challenge featuring schools from around the area. The four-night event (every Wednesday in June) wrapped up this week with Edge taking home the overall trophy.
In a community littered with summer high school football events, the WVBMC ranks at the top of my list. There is competition, as well as sportsmanship which sometimes gets lost in the dog days of summer in the Valley.
"It used to be really small, we'd have six to eight teams on a good day," Desert Edge head coach Jose Lucero said to the "Zone Read." "[Wednesday] we had 14 teams out here. The teams that are here from Day 1, keep coming back. It's a lot of fun. We have a lot of camaraderie with the coaches and the players get along."
Here are the final results for the 9th annual West Valley Big Man Challenge! Congratulations to all the teams that came out and competed in our biggest challenge yet! pic.twitter.com/GHYQrNBJLr

— AZ West Valley Big Man Challenge (@WVBMChallenge) June 27, 2019
Lucero said they are always looking to expand and grow the event but is pleased with the number of schools who competed this summer.
Eye of the Tiger…one player to keep your eye on this season is Millennium senior Lee Sampson who's turned heads this summer after playing with and learning under Arizona State signee Anthonie Cooper.
Had a good time at ASUs big man challenge today @MillenniumFB @gridironarizona @JUSTCHILLY pic.twitter.com/tkMukksglq

— Lee Sampson (@leesampson71) June 5, 2019
The 6-foot-4, 280-pounder is prepped for a big season according to his head coach.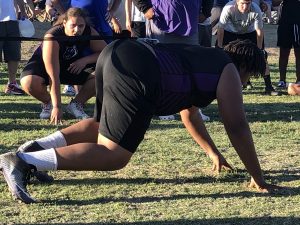 — Austin Jackson (@ChocoDro) March 30, 2019
Jackson has all the skill, phyisical tools and blood lines to one day play in the NFL. Jackson's grandfather, Melvin Jackson, played five years for the Green Bay Packers.
The only negative whispers I've been hearing about Jackson's pro prospects are in regards to his toughness.
Stability on SC's staff will likely help Jackson grow and develop over the next two seasons. The Trojans fired offensive line coach Neil Callaway midway through last season.
I'm expecting big season for Jackson.
Camp Stamp…last summer head coach Jason Mohns and his incredible staff were nice enough to let me go all-access with the Saguaro football team during their annual trek out to Cal Lutheran.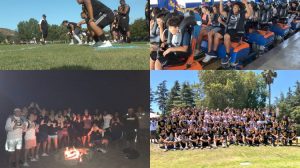 The experience was one of the best I've gotten to share since Sports360AZ was created nearly seven years ago.
Next month I'll be documenting a new school in a new location and am already looking forward to sharing a number of unique stories in and around this program. Full details next week.
Stay tuned.