Three weeks.
That's what it took for Williams Field interior offensive lineman Cooper Darling to get his Oregon State offer and commit to the Beavers.
Darling saw a surge in his recruitment, picking up offers from Oregon State, ASU and San Diego State after the Red Mountain showcase in early May.
Dreams do come true! Let's get to work! Go BEAVS!!! @Coach_Smith @FBCoachM @BeaverFootball @WFFootballTeam @WFCoachCampbell @CodyTCameron @azc_obert @RonTBAOL pic.twitter.com/WknvU6dNnE

— Cooper Darling (@cooperdarling55) May 30, 2019
"Oregon State had the hometown feel and amazing coaching staff that I connected really well with," Darling said. "I wanted to commit now because Oregon State felt right and I felt at home."
Williams Field head coach Steve Campbell said Darling may not have had "sexy measurables" early in his high school career, but the interior lineman transformed his body to a 6-foot-5, 300-pound frame.
"One of the things he had to change was his body style," Campbell said. "He took off some bad weight and put on some really good weight…When schools came out and saw him in person like in the spring, they were really surprised with how much he changed his body over the last year."
Colleges also loved that Darling brings a nastiness to the field.
"He wants to finish guys. He wants to finish guys to the ground. He just has that about him," Campbell said. "When he shows that nastiness and physicality, that's a huge bonus."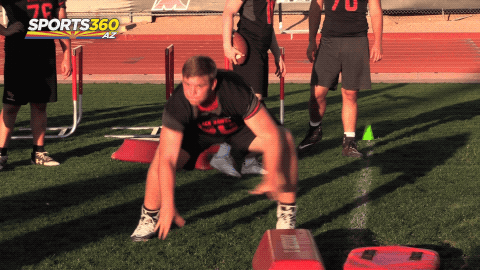 Darling is one of many seniors along the Black Hawk offensive, including Oklahoma commit Noah Nelson and tackle Andrew Garcia, who is seeing his recruitment pick up as well. Darling believes the experience and coaching he received at the varsity level will help him thrive when he gets to the Pac-12.
"Willams Field has prepared me for college football in the way Coach Campbell coaches, the type of offense we run and (intensity) of the practices and the quality of players that the program produces," Darling said. "I believe that Williams field has the best coaching staff in the state."
Having a great time at the @BeaverFootball spring game! Learning a lot about the program and touring the campus. Thank you to @FBCoachM for having me up. Loved my time here. @WFFootballTeam @WFCoachCampbell pic.twitter.com/Gyab7SAjol

— Cooper Darling (@cooperdarling55) April 20, 2019
The Beavers have recruited Arizona well over the past few years. Last year's roster featured former Chandler Wolves Kolby Taylor and Hamilcar Rashed Jr. and Mountain Pointe wide receiver Timmy Hernandez in the starting lineup.
Coach Campbell believes Darling can add some grit to the Oregon State trenches.
"They're getting an unbelievably hard-working kid who's committed to football," Campbell said. "He's a great teammate, loves to have passion for the game, plays it that way. They're getting a kid who understands (offensive line) play and how you have to be a tough guy playing o-line."