Red Mountain offensive lineman Ben Bray comes from a family of Sun Devils.
His dad got his Masters degree there and is a teacher at Red Mountain. His mother is currently attending Arizona State to become a nurse practitioner. His sister is in her first year at ASU studying nursing.
Ben will be the next Sun Devil in the family as he committed to ASU on Monday morning, 13 days after he received an offer from Herm Edwards' staff. He made the commitment public Tuesday night.
God is amazing! ASU COMMIT!!! ?@RedMtnFootball @ForceFootballA2 @Koach_C @lisabenchaim @gridironarizona @SirDouglasFresh @the_real_andro @ASUFootball pic.twitter.com/tUEy9Zzo6S

— Benjamin Bray (@__BenBray__) May 22, 2019
Bray committed to the Sun Devils for three reasons: the education, the overall feel of the program and the proximity to home. The offensive lineman holds a 4.7 GPA and wants to study actuary science or education, two majors that are available at Arizona State. He has developed a relationship with offensive line coach Dave Christensen, who watched the 6-foot-5, 270-pound offensive lineman intently at Red Mountain's spring showcase on May 7th and extended Bray an offer by phone later that night.
And finally, playing in front of his family was a priority for Bray.
"It's 20 minutes away, and my family has always been going to ASU," Bray said. "That wasn't the only deciding factor to go to ASU, but I've always been an Arizona man. I grew up in Mesa for 17 years. It's kind of in my blood. I definitely wanted to stay in-state and go to school somewhere in Arizona."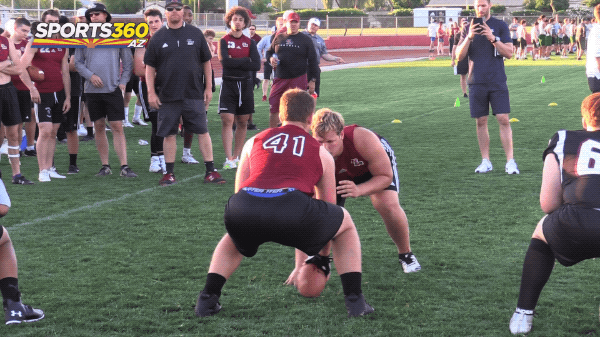 Bray also held offers from NAU, Columbia, Utah State, Oregon State, New Mexico State, UC Davis, Cal, San Diego State, Yale, Colgate, Boise State and Harvard.
When he thought about his options, he didn't want to waste any time committing to the Sun Devils.
"I talked to my folks and I decided why wait till later if I want to commit now?"
Coach Christensen made an impression on the lineman early in their interactions, and the newest commit is excited to work with him over the next few years.
"The whole recruitment process, he was very honest, and he laid out the work and what would be expected as a Sun Devil," Bray said. "The relationship has been good. I've been seeing him more and more and liking his personality and what he's doing for the Sun Devils."
Bray said ASU has recruited him as an interior lineman and he would be able to graduate and enroll early for 2020 spring ball. He is going over all the options with his family now to determine when he will head to Tempe.
This is the fourth public commit for ASU in the 2020 class and the first in-state commitment. Bray joins Chad Johnson, T Lee, and Alex Lemon as ASU's public 2020 pledges.