Outside of his trademark glasses, Treyson Bourguet is pretty unassuming. That is, until you see the 2022 Tucson Salpointe quarterback throw. Already standing 6-foot-2 and weighing close to 200 pounds the recent Marana High transfer has the size, smarts and blood lines to be a high-profile college prospect sooner rather than later.
"He's a really good-looking [player] for being so young," Salpointe head coach Dennis Bene said almost matter-of-factly to Sports360AZ.com. "Size is not an issue. Treyson's plenty big enough and he possesses all the skills to be really good."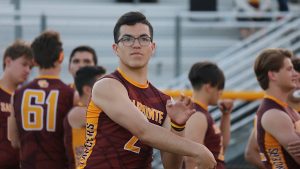 — Treyson Bourguet (@treysonbourguet) April 15, 2019
The Bourguet brothers aren't sure if they'll have to sit out the required five games by the AIA after transferring in for the spring semester but Treyson is taking the opportunity to not only get acclimated to the private school but his new teammates and coaches, as well.
"The biggest thing was probably the dress code," he said with a smile. "I like being "swagged out" but now we have to wear those polos. I had a 4.1 [GPA] at Marana and kept it at Salpointe…it's a great community and staff. They've welcomed me with open arms."
The transition has been well-received by the Lancers, as well. The Bourguet's are hard-working student-athletes and many believe the sky is the limit for Treyson.
"He's been really a joy to coach," Bene said. "Very, very talented. More importantly, he's got all the mental attributes you're looking for. He acts like a quarterback."
A quarterback who is expected to do big things over the next three years for the Lancers.