Not long ago it was simply a row of parking spots on the northwest part of campus. Now, Desert Edge High School has a beautiful multi-million dollar field house which has quickly become the crown jewel of campus.
"It's been everything we could ask for in a field house," head coach Jose Lucero said to Sports360AZ.com. "We're pretty lucky."
This weight room is amazing! Had to post a couple of my own shots! So happy for @DEdgeFootball and the entire Desert Edge Community to call this place home!!! pic.twitter.com/jDjkSRXQZe

— Coach Lucero (@Coach__Lucero) April 19, 2019
What may be the most impressive aspect of the new facility is the attention to detail.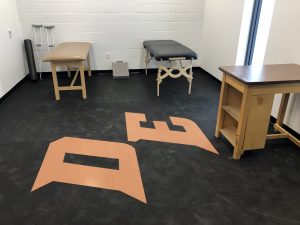 Most of the walls and interior are done in DE's school colors. The facility also includes a training room with tables where student-athletes can get treatment in a climate-controlled environment regardless of what the weather is outside.
There's also several other key elements for all different sports, both male and female.
"Brand new weight room, it's awesome in there with new racks," Lucero said. "A strip of field turf on the inside. Brand new locker rooms with just about anything you could ask for in there…it's cool to have something like this in the west Valley. For our football program it kind of raises the bar a little bit."