Few people will have days as good as the one Red Mountain lineman Ben Bray had last week.
The 6-foot-5, 270-pound offensive and defensive lineman recounted his big day by saying he did well on his AP test that morning. Oh, he also added offers from UC Davis and New Mexico State before the college showcase on Red Mountain's camps that afternoon. After the showcase, he was offered by Oregon State and ASU.
It's a day that Bray calls "one of the highlights of my life."
"It was crazy that Pac-12 school Oregon State called up," Bray said. "We talked about the culture, we talked about the weather there and stuff to do outside football."
ASU offensive line coach Dave Christensen watched Bray closely at the showcase before offering by phone that night.
"He just talked about how he really loved my offseason," Bray said. "He liked my grades, the overall character of me was great. He told me that he got here and just evaluated me on the field."
After a phone call from @Koach_C and a visit at Red Mtn Showcase, extremely excited to be offered from ASU! #forksup #hometown pic.twitter.com/Y6VxCGAJOm

— Benjamin Bray (@__BenBray__) May 8, 2019
Bray, who holds a 4.7 GPA and wants to study a field like mathematics, physics or actuary science, comes from a family Sun Devils both past and present.
"(I) always grew up an ASU fan. My dad went to ASU and got his masters in teaching, he actually teaches here at Red Mountain as a physics teacher," Bray said. "Shoutout to my mom. She's going there to be a nurse practitioner. She's one year from graduation, so keep going, Mom. My older sister is in her first year at ASU studying nursing."
Bray sees an opportunity in the classroom and on the field in Tempe. Bray predominantly plays at offensive tackle but is willing to play on the interior as well.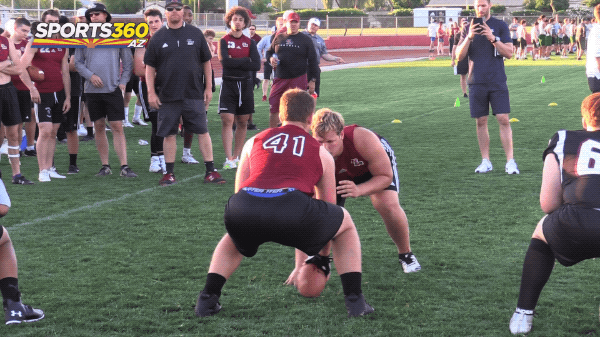 "ASU did talk about going out to compete because six offensive lineman are leaving, so there's opportunity to compete there."
Bray also holds offers from NAU, Columbia and Utah State. Since his four-offer day, he has also added Cal, San Diego State, Yale and Colgate to his offer list.
The lineman said his recruitment is going to be fun and tough to decide at the same time, and his initial plan is to be committed before the season start. He hopes to get up to 285 pounds by the start of the season while still keeping his athleticism.